December 14, 2021
Accenture Named a Leader in 'Data Management Service Providers: Q4, 2021' Report by Independent Research Firm

NEW YORK; Dec 14, 2021 – Accenture (NYSE: ACN) has been named a Leader among data management service providers in "The Forrester Wave™: Data Management Service Providers: Q4, 2021" report, which evaluated Accenture and 11 other leading vendors across 22 criteria spanning current offerings, strategy and market presence.
According to the report, "Accenture has superior DataOps and data engineering for outcomes at business speed." It also notes, "Accenture scored high marks in critical evaluation criteria for data engineering, DataOps, data governance, and training and literacy. These competencies are rounded out in specific areas of data security and privacy, data quality, and the ability to impact business outcomes," explaining that, "Accenture delivers an end-to-end offer backed by proven frameworks, business experts, and data experts to keep data aligned with business ambition."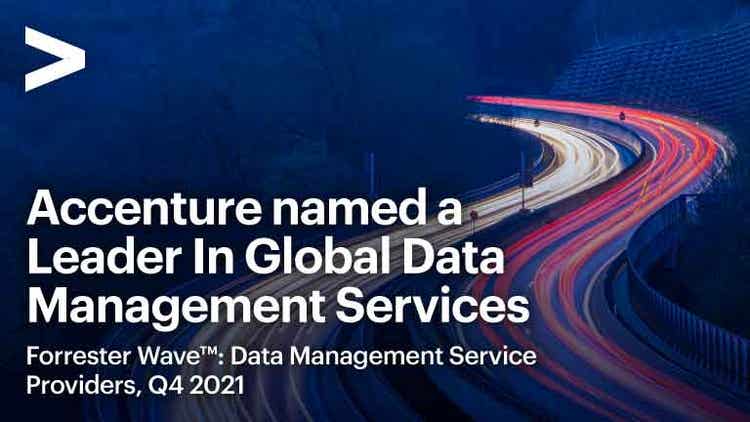 Additionally, "Client feedback backs up the assessment of [Accenture's] superior data expertise, practices, and advanced data engineering skills…clients that need a strong delivery partner versed in a variety of analytic, operational, and digital use cases and deployments will get the data outcomes they seek."

"In today's environment of compressed transformation, building a data foundation on cloud is essential for companies to compete. Cloud transforms data's value at unprecedented speed and scale. We help businesses accelerate cloud data adoption and realize this potential," said Shail Jain, Data & AI lead for Accenture Cloud First. "We believe that this recognition by Forrester reflects our differentiated capabilities, data expertise and cloud-first data practices, and the talent of our people – all of which come together to help our clients achieve optimal business outcomes."

Accenture Cloud First is a multi-service group of 106,000 cloud professionals dedicated to rapidly expanding Accenture's cloud service capabilities and offerings. Accenture Cloud First integrates the company's wide-ranging cloud expertise to help clients across every industry accelerate their digital transformation and realize greater value at speed and scale by rapidly becoming "cloud-first" businesses.

About Accenture
Accenture is a global professional services company with leading capabilities in digital, cloud and security. Combining unmatched experience and specialized skills across more than 40 industries, we offer Strategy and Consulting, Interactive, Technology and Operations services — all powered by the world's largest network of Advanced Technology and Intelligent Operations centers. Our 624,000 people deliver on the promise of technology and human ingenuity every day, serving clients in more than 120 countries. We embrace the power of change to create value and shared success for our clients, people, shareholders, partners and communities. Visit us at www.accenture.com.

# # #

Contact:

Christina McDonald
Accenture
+1 415 537 7997
christina.mcdonald@accenture.com

Copyright © 2021 Accenture. All rights reserved. Accenture and its logo are trademarks of Accenture.