December 14, 2021
Accenture Helps Disney Studios' StudioLAB Provide Fans with Immersive Experiences Through Interactive Movie Posters

NEW YORK and BURBANK, Calif.; Dec. 14, 2021 – Accenture (NYSE: ACN) is helping Disney Studios' StudioLAB develop and pilot interactive movie posters that incorporate digital technologies, including cloud and OLED displays, to provide moviegoers and fans with engaging, immersive and memorable content experiences.
Accenture and StudioLAB collaborated to design, build and install a prototype of an interactive movie poster in 2017 for Disney's live-action "Dumbo" premiere. The interactive movie poster used sophisticated software and hardware — including artificial intelligence and 4D cameras — to recognize and respond to individuals' emotions by showing film clips that fit a person's current mood.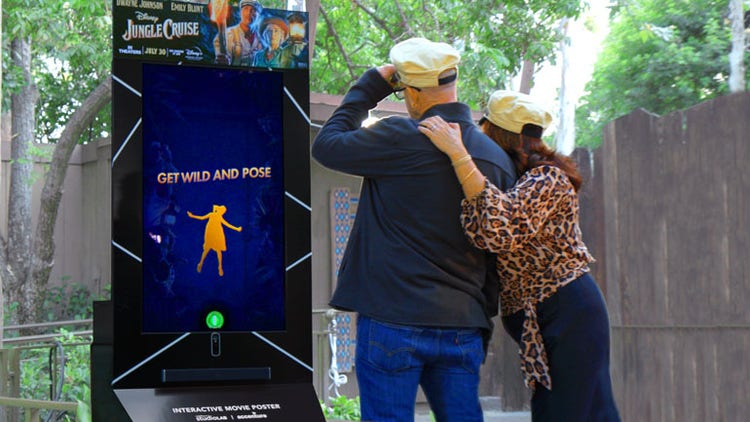 Visitors at Disneyland pose in front of the "Jungle Cruise" interactive movie poster created by Accenture and StudioLAB
"We learned from the "Dumbo" prototype that fans and guests loved the interactivity our digital posters provide, so we brainstormed with Accenture ways that we could take that engagement to a new level," said Alice Taylor, VP of content and innovation at StudioLAB. "The new advanced posters increase engagement by offering personalized experiences — for example, users can insert themselves in the movie poster and share that image instantly with friends or family. It transforms our audience's journey beyond just the main feature at the theater."
The companies' ongoing collaboration takes the technology one step further, using Microsoft Azure to enable the setup and monitoring of content virtually and data analytics to provide insights on how people interact with the posters. The ability to produce and distribute content from remote locations could enable interactive experiences for users in a variety of locations.

Since the new cloud-based platform was launched in June, fans have completed more than 1,000 interactive movie poster sessions and are also sharing their experiences on social media.

"Using this advanced technology, Disney can tell unique stories in a new and engaging way by delivering a range of digital experiences that deepen consumers' connections with their amazing franchises, stories, and characters," said John Peters, Accenture's Media & Entertainment industry group lead for the US west region.

The updated model of the interactive movie poster was first deployed at the El Capitan Theatre in Hollywood for the premiere of Marvel Studios' "Black Widow" earlier this year. It was also used to engage with visitors at Disneyland during the "Jungle Cruise" premiere, and at the premiere of Searchlight Pictures' "Nightmare Alley" this December.

"We extended our StudioLAB innovation partnership with Accenture for another three years because of their proven ability to combine top design and innovation capabilities with technology and industry expertise, which helps us create ground-breaking moments for our audiences," Taylor said.

CES 2022 attendees can experience interactive movie poster platform from Jan. 5th – 8th at the Accenture ballroom in the Venetian Hotel.

About Accenture
Accenture is a global professional services company with leading capabilities in digital, cloud and security. Combining unmatched experience and specialized skills across more than 40 industries, we offer Strategy and Consulting, Interactive, Technology and Operations services — all powered by the world's largest network of Advanced Technology and Intelligent Operations centers. Our 624,000 people deliver on the promise of technology and human ingenuity every day, serving clients in more than 120 countries. We embrace the power of change to create value and shared success for our clients, people, shareholders, partners and communities. Visit us at www.accenture.com.

Accenture's Communications & Media industry group helps communications service providers, as well as media and entertainment organizations become leading providers of next-generation IP services and immersive customer experiences. To learn more, visit https://www.accenture.com/us-en/industries/communications-and-media-index.

# # #

Contacts:

Melissa Curtis
Accenture
+1 617 488 5219
melissa.curtis@accenture.com

Copyright © 2021 Accenture. All rights reserved. Accenture and its logo are trademarks of Accenture.

This content is provided for general information purposes and is not intended to be used in place of consultation with our professional advisors. This document refers to marks owned by third parties. All such third-party marks are the property of their respective owners. No sponsorship, endorsement or approval of this content by the owners of such marks is intended, expressed or implied.