May 07, 2021
Accenture Earns Top Spot On List of 100 Best Companies for Women in Japan


Ranking recognizes 15-year focus on appointing female managers and
promoting the advancement of women

TOKYO; May 7, 2021 – Accenture (NYSE: ACN) has claimed the top spot on career and lifestyle magazine Nikkei Woman's annual ranking of the 100 best companies where women actively take part. Last year, Accenture took the second overall spot on the list, which recognizes companies that promote the active participation of female employees.
Officially called the Best 100 Companies for Women, the comprehensive ranking is now in its 19th year. It is based on workplace opportunity surveys conducted by Nikkei Woman and the Nikkei Womanomics Project at the Nikkei Business Publications Group. From the two perspectives of how female workers are motivated and how they are treated, the surveys measure the utilization of women's abilities under the following four categories: promotion to managerial positions, active use of women's abilities, work-life balance, and promotion of diverse work styles. The measurements are then scored and compiled into an overall ranking. Accenture was selected as the top overall company this year, as well as ranked second on companies in the managerial category, in particular recognition of its measures to promote the advancement of women, including the promotion of female managers.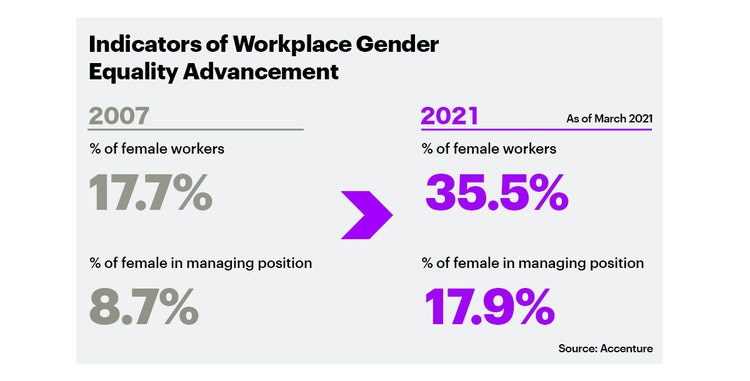 This high evaluation is due in large part to Accenture's longstanding commitment to equality and efforts to create a workplace where everyone can work comfortably, with the aim of realizing a corporate culture in which employees can maximize their talents and provide comprehensive value not only to clients but also to partner companies and local communities. Accenture aims to create an organization where all employees are treated with fairness and respect, where individuals can play an active role and build their career, and where management, human resources, and frontline employees work in unison to promote the following:

Gender Equality
Accenture has set inclusion and diversity as one of its management strategies, making the realization of true equality a top priority. The company is striving to create a workplace where diverse employees respect everyone's values and individuality and have equal opportunities for active participation. As such, the company has set the goal of increasing the percentage of 50:50 gender ratio worldwide by 2025 and is implementing a variety of measures, such as unconscious bias training, to promote the recruitment and retention including in Japan.

Organizational Reform
In fiscal 2015, Accenture launched Project PRIDE, an initiative to reform organizational culture and work styles to create a company in which all employees can be confident and proud professionals. This initiative encompasses a wide range of activities, from ensuring various systems reflect the diverse values and changing life stages of our employees to introducing automated processes to improve productivity.

Support for Careers
In 2006, Accenture launched an initiative to support the career development of female employees, which developed to be today's Gender Diversity Committee. This program promotes initiatives to strengthen recruitment of women, to maintain and improve motivation to stay in the workforce, and to consistently produce female leaders. As part of these efforts, JWI provides training for women at different levels, from new employees to general managers, and has also established a sponsorship system in which current executives support growth opportunities for female employees aiming for management positions. In addition, the company has been encouraging the development of internal communities for employees who are interested in balancing a career with pregnancy and childcare.

Modern, Flexible Work Styles
Accenture uses advanced technology, including a variety of communication and business support tools, to promote efficient work styles that are not restricted by location. By combining these technologies with a variety of human resource systems that allow for telecommuting, fewer working days, shorter working hours, and support for working parents, all employees are able to flexibly choose the work style that best suits their life, even as their circumstances change to include pregnancy, childcare, and nursing care. These measures also support Accenture's promotion of gender diversity.


"The potential of digital technology cannot be achieved without a diverse workforce," said Atsushi Egawa, president and CEO of Accenture. "That's why we led the Japanese market in reforming our organizational culture, and why we have continued to implement measures to ensure the talents of each and every employee can be fully realized. This recognition that women are more active at Accenture than anywhere else in Japan is the inevitable result of those efforts."

"Accenture is committed to creating a workplace environment where all employees can realize their full potential," said Akiko Horie, managing executive officer and head of inclusion and diversity at Accenture. "The creation of the innovative capabilities that will solve diverse client challenges requires to cooperation of people from diverse backgrounds. We are proud to have been selected as a leader in promoting the advancement of women in recognition of our efforts in the four areas of gender, disability, LGBTQ, and cross-cultural diversity. We will accelerate our initiatives to achieve equality for all, involving our clients, stakeholders, and society as a whole."

Accenture adds this achievement to a string of recognitions across diverse areas. These include its selection as one of the best companies to work for in Japan by the Great Place to Work® Institute Japan for five consecutive years and an 8th place ranking on Nikkei Dual's 2020 list of the best companies for duel income families with kids. It has also been awarded four consecutive gold PRIDE Index evaluations since 2016 from Work with Pride, a Japanese organization that evaluates corporate initiatives supporting sexual minorities.

For more information on Accenture's inclusion and diversity initiatives, please refer to www.accenture.com/jp-ja/about/inclusion-diversity-index (for Japanese), www.accenture.com/us-en/about/inclusion-diversity-index (for English).

About Accenture
Accenture is a global professional services company with leading capabilities in digital, cloud and security. Combining unmatched experience and specialized skills across more than 40 industries, we offer Strategy and Consulting, Interactive, Technology and Operations services — all powered by the world's largest network of Advanced Technology and Intelligent Operations centers. Our 537,000 people deliver on the promise of technology and human ingenuity every day, serving clients in more than 120 countries. We embrace the power of change to create value and shared success for our clients, people, shareholders, partners and communities. Visit us at www.accenture.com.

# # #

Contact:

Kazumi Yamada
Accenture Japan
+81 45 330 7157
accenture.jp.media@accenture.com