November 17, 2021
Accenture Announces Winners of 'Accenture Innovation Challenge' 2021


More than 10,000 college students in India participated in the national competition this year

BENGALURU, India; Nov. 17, 2021 – Accenture (NYSE: ACN) announced the winners of its Accenture Innovation Challenge 2021, a national-level competition aimed at inspiring students in India to apply their technology skills and creativity to develop innovative solutions which create value for society and businesses. The grand prize was awarded to the team from Velammal Engineering College, Chennai, for their solution Agrivery bags, which works as an alternative to plastic bags and helps prevent damage to food grains from rodents and pests.
This year's challenge saw a record number of submissions yielding more than 2,800 innovative ideas from over 10,000 students, of which 40 percent were women. The winners were identified based on their knowledge of new technologies and creative thinking abilities following a competitive evaluation process. Other winners in the competition included teams from National Institute of Technology (NIT), Durgapur, Narsee Monjee Institute of Management Studies (NMIMS), Mumbai, Mukesh Patel School of Technology Management & Engineering, Mumbai and Vellore Institute of Technology (VIT), Chennai.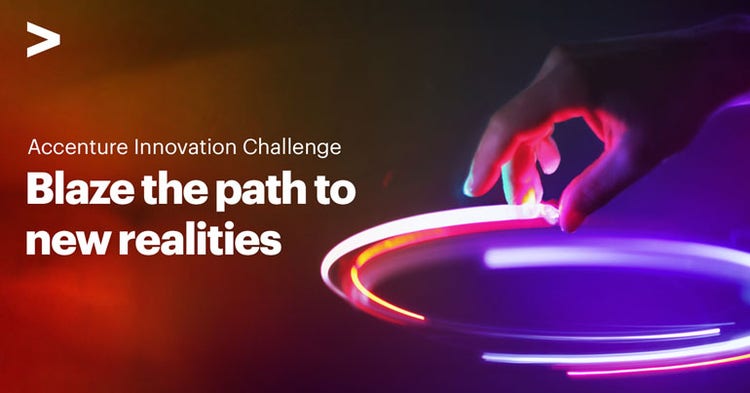 "It was inspiring to see this year's participants apply unique and out-of-the-box thinking to the problem statements in a way that brings together the best of human creativity and technology, and we heartily congratulate all the winners and participants for displaying such creative talent," said Mahesh Zurale, senior managing director and lead of Accenture's Advanced Technology Centers in India. "It is also promising to see strong participation from women in this year's challenge as we believe that diversity of perspectives drives innovation. We hope to encourage more women to build fulfilling careers in STEM through initiatives such as the Accenture Innovation Challenge."

The Accenture Innovation Challenge 2021 was open to students from various academic backgrounds, including non-IT disciplines. In alignment with the theme, 'Combining Technology with Human Ingenuity for a Better World,' the students created novel technology-based solutions by leveraging advanced technologies such as artificial intelligence, machine learning, analytics, automation and big data, among others.

The Accenture Innovation Challenge 2021 award winners are:
Grand Prize Winner: Won by Velammal Engineering College, Chennai, for presenting a unique product idea — Agrivery bags — which works as an alternative to plastic bags for storing harvested grains. Made of corn, rice, starch, glycerol, citric acid, and gelatin, these bags are infused with the fragrance of peppermint, tobacco, neem, and garlic which helps repel rodents and pests. The bags are also hydrophobic and can be printed on both sides.
'Innovate for Businesses' Category Award: Won by the team from NIT-Durgapur, for developing a unique solution based on AI and machine learning to address the pain point of mismatches in product life cycles for e-commerce platforms. The solution leverages advanced technologies to help ecommerce websites build customer stickiness and ensure customers have a better experience.
'Innovate for Society' Category Award: Won by the teams from NMIMS, Mumbai, and Mukesh Patel School of Technology Management & Engineering, Mumbai, for jointly developing an innovative solution based on machine learning that tracks illegal transactions and disinformation on social media sites. The solution aims to identify abusive comments, images, or any other data, and prevent malpractices such as cyber bullying, fake news transmission, mob lynching etc. by taking timely action.
Jury's Choice Award: Won by the team from VIT, Chennai, for building an online system using advanced technologies to help aggregate important messages on social media and SOS calls sent by various non-governmental organizations (NGO) on a single platform, and help relevant NGOs receive wider and faster reach quickly, especially during emergencies and crises.
The winners of the Grand Prize received prizes worth INR 100,000 each. The team members for the two categories — for 'Innovate for Business' and 'Innovate for Society' received prizes worth INR 75,000. Additionally, all eligible participants are given the opportunity to participate in a fast-track recruitment process conducted by Accenture for its Advanced Technology Centers in India (ATCI).

The winners for the Accenture Innovation Challenge 2021 were chosen from among 10 shortlisted teams that virtually presented the prototype of their solutions to a jury panel comprising of experts from Accenture, VCs, start-ups, and academia. The jurors included Gayathri Sharma, Director — Wadhwani Venture Fastrack (VFT); Srinivas Kollipara, Group President – Xelpmoc Design & Tech Ltd.; Vaibhav Lodha, Co-founder — Ftcash; Mudit Dandwate, Co-founder — Dozeehealth; Dr. B.Sheela Rani, Director Research — Sathyabama Institute of Science and Technology, Chennai; Ravi Kumar Dikshit, Managing Director, Innovation Lead — Europe Market, ATCI, Accenture; and Lavanya Lakshmi Balasubramanyan, Managing Director, Lead — Salesforce Business Group, ATCI, Accenture.

About Accenture
Accenture is a global professional services company with leading capabilities in digital, cloud and security. Combining unmatched experience and specialized skills across more than 40 industries, we offer Strategy and Consulting, Interactive, Technology and Operations services — all powered by the world's largest network of Advanced Technology and Intelligent Operations centers. Our 624,000 people deliver on the promise of technology and human ingenuity every day, serving clients in more than 120 countries. We embrace the power of change to create value and shared success for our clients, people, shareholders, partners and communities. Visit us at www.accenture.com.
# # #


Contact:

Keerthi Goutham
Accenture
+91 9900094099
keerthi.goutham@accenture.com

Copyright © 2021 Accenture. All rights reserved. Accenture, and its logo are trademarks of Accenture.

This content is provided for general information purposes and is not intended to be used in place of consultation with our professional advisors. This document refers to marks owned by third parties. All such third-party marks are the property of their respective owners. No sponsorship, endorsement or approval of this content by the owners of such marks is intended, expressed or implied.