November 17, 2021
Accenture and Organon Team Up to Drive Digital Transformation for Better Patient and Employee Experiences


Accenture to help build Organon's next generation enterprise capabilities with SAP S4/HANA® on AWS

NEW YORK; Nov. 17, 2021 – Accenture (NYSE: ACN) has been selected by Organon (NYSE: OGN), a global health care company, to help establish and manage the transformation of the company's enterprise resource planning (ERP) technology into a cloud-based digital core that will improve patient and employee experiences.
With a standardized technology platform that integrates business processes and people, Organon will have real-time analytics at its fingertips, allowing it to respond more rapidly to the needs of its patients, customers, and employees.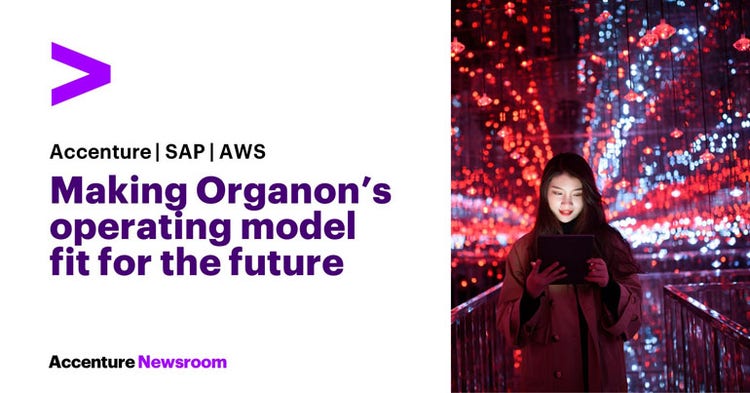 Organon will use SAP S/4HANA® to help simplify systems and processes while minimizing disruption. Accenture will deploy the solution using AWS cloud hosting for scalability and a faster implementation time, leveraging the jointly developed accelerators with AWS via the Accenture AWS Business Group. Additionally, Organon will use Accenture myConcerto® to identify business challenges, define a transformation vision and build a value case that guides its roadmap development, delivery, change management and underpins continuous innovation.

"We are excited to be modernizing technology, simplifying processes and supporting the flexible adoption of partners, and providing connected real-time data," said Davey Sehwani, VP IT account management at Organon. "By leveraging Accenture's comprehensive delivery approach combined with their functional knowledge across finance, commercial, supply chain and manufacturing we are putting in place a business operating model fit for the future."

"Organon is establishing a foundation that will be essential to its ability to continue to grow as a company and fulfill its promise to the various communities it serves, including patients and its employees," said Natalia Roberts, Accenture's client account lead for Organon. "Blending technology with human ingenuity, we look forward to helping Organon embrace the power of change to create holistic value to drive growth."

Steen Moller, Accenture's Global SAP Life Sciences industry lead, added: "Organon is investing in a modern and digital ERP core which will enable the next generation enterprise capabilities including analytics, automation and cloud. We are honored to support Organon in this journey to fuel their growth and innovation."

Accenture's Life Sciences industry group helps pharmaceutical, biotech, medical technology, distributor and consumer health companies combine the latest technology with scientific breakthroughs to revolutionize how medical treatments are discovered, developed and delivered to patients around the world. To learn more, visit https://www.accenture.com/us-en/industries/life-sciences-index.

For more information, visit http://www.organon.com and connect on LinkedIn and Instagram.

About Accenture
Accenture is a global professional services company with leading capabilities in digital, cloud and security. Combining unmatched experience and specialized skills across more than 40 industries, we offer Strategy and Consulting, Interactive, Technology and Operations services — all powered by the world's largest network of Advanced Technology and Intelligent Operations centers. Our 624,000 people deliver on the promise of technology and human ingenuity every day, serving clients in more than 120 countries. We embrace the power of change to create value and shared success for our clients, people, shareholders, partners and communities. Visit us at www.accenture.com.

Any statements in this release that are not historical facts are forward-looking statements as defined in the U.S. Private Securities Litigation Reform Act of 1995. All forward-looking statements are subject to various risks and uncertainties described in SAP's filings with the U.S. Securities and Exchange Commission ("SEC), including its most recent annual report on Form 20-F, that could cause actual results to differ materially from expectations. SAP cautions readers not to place undue reliance on these forward-looking statements which SAP has no obligation to update and which speak only as of their dates.

SAP and other SAP products and services mentioned herein as well as their respective logos are trademarks or registered trademarks of SAP SE in Germany and other countries. Please see https://www.sap.com/copyright for additional trademark information and notices. All other product and service names mentioned are the trademarks of their respective companies.

# # #

Contact:

Marchell Gillis
Accenture
+1 678 657 7515 (office)
+1 404 409 9430 (mobile)
marchell.gillis@accenture.com

Copyright ©2021 Accenture. All rights reserved. Accenture and its logo are registered trademarks of Accenture.