August 27, 2020
National Association of Corporate Directors Nominates Accenture's Robert Kress and Eva Sage-Gavin as 2020 Directorship 100™ Governance Professionals


Kress also recognized as a 2020 NACD Board Leadership Fellow

NEW YORK; Aug. 27, 2020 – Accenture today announced that the National Association of Corporate Directors (NACD), the authority on boardroom practices representing more than 21,000 board members, has named Robert Kress and Eva Sage-Gavin as awardees of 2020 Directorship 100™ Governance Professionals. Now in its 14th year, the NACD Directorship 100 recognizes leading directors and governance professionals who are honored as the most influential directors in the boardroom and leaders in the corporate governance community.
"This year's honorees have positively earned the recognition that these awards offer," said Peter R. Gleason, CEO of NACD. "Eva and Robert have both demonstrated excellent service to their boards and the governance community, and they have provided inspirational examples of what effective, purposeful, and accountable governance during difficult, exceptional times truly means."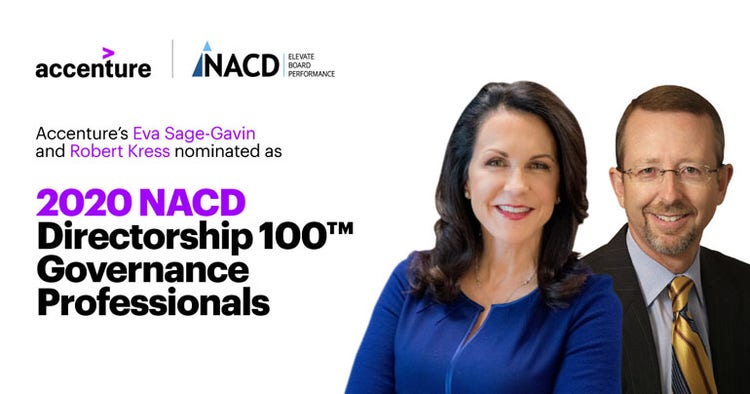 As the Global Quality and Risk officer at Accenture Security, this is Kress's third consecutive year receiving a nomination for the Directorship 100. In his role, Kress is responsible for identifying, assessing and managing risk in Accenture's Security business, along with overseeing the quality of security services delivered to clients. He focuses on Accenture Security offerings to boards of directors and is also a C-suite advisor. Over the past four years, Kress has been a dedicated NACD member and also chairs the Board of i.c.stars, a non-profit focused on technology and leadership training for low-income young adults, and chairs the advisory board for the College of Engineering at The University of Iowa.

In addition to the Directorship 100, Kress has been recognized for the second year in a row as a NACD Board Leadership Fellow. Board Leadership Fellows are recognized for their dedication to successfully maintaining continuous education and improvements as directors.
NEWS: @Accenture's Robert Kress and @sageeva3 nominated by the @NACD as 2020 Directorship 100™ Governance Professionals


As the global leader of Accenture's Talent & Organization/Human Potential practice, Sage-Gavin is responsible for helping clients harness digital technologies and evolve their workforces to innovate, unlock human potential, and drive transformation. She also plays a pivotal role in shaping the practice's market strategy, including offerings and investments. As the first female member of multiple public technology company boards, Sage-Gavin served as Co-Chair of Women Corporate Directors, Bay Area chapter. She is also an executive in residence at Cornell University School of Industrial and Labor Relations and serves as an advisor to the Innovation Resource Center for Human Resources. Sage-Gavin is a Fellow of the National Academy of Human Resources, and faculty and advisor for Santa Clara University's Women Corporate Board Ready program.

For more information, see the NACD Directorship 100 honorees listed here.

About Accenture
Accenture is a leading global professional services company, providing a broad range of services in strategy and consulting, interactive, technology and operations, with digital capabilities across all of these services. We combine unmatched experience and specialized capabilities across more than 40 industries — powered by the world's largest network of Advanced Technology and Intelligent Operations centers. With 513,000 people serving clients in more than 120 countries, Accenture brings continuous innovation to help clients improve their performance and create lasting value across their enterprises. Visit us at www.accenture.com.

About NACD
The National Association of Corporate Directors (NACD) empowers more than 21,000 directors to lead with confidence in the boardroom. As the recognized authority on leading boardroom practices, NACD helps boards strengthen investor trust and public confidence by ensuring that today's directors are well prepared for tomorrow's challenges. World-class boards join NACD to elevate performance, gain foresight, and instill confidence. Fostering collaboration among directors, investors, and corporate governance stakeholders, NACD has been setting the standard for responsible board leadership for more than 40 years. To learn more about NACD, visit www.nacdonline.org.

This document makes descriptive reference to trademarks that may be owned by others. The use of such trademarks herein is not an assertion of ownership of such trademarks by Accenture and is not intended to represent or imply the existence of an association between Accenture and the lawful owners of such trademarks.
# # #


Contacts:

Tourang Nazari
Accenture
+1 202 262 5574
tourang.nazari@accenture.com

Alison Geib
Accenture
+1 703 947 4404
alison.geib@accenture.com

Denise Berard
Accenture
+1 617 488 3611
denise.berard@accenture.com

Susan Oliver
NACD
+1 703 216 4078
susanboliver@gmail.com