December 16, 2020
Medable Named Life Sciences Innovation Champion in the Accenture HealthTech Innovation Challenge

NEW YORK; Dec. 16, 2020 – Medable has been named the Accenture HealthTech Innovation Challenge – Life Sciences Innovation Champion for providing patients with an integrated digital and physical experience during clinical trials, allowing them to access clinical care sites and clinical trial teams from their mobile phones. Medable was one of five finalists invited to pitch their innovative solutions to a panel of life sciences leaders during a virtual event held earlier this week.
Accenture HealthTech Innovation Challenge, launched in 2016, announced a Life Sciences track this year to help tackle some of the world's key health challenges. Startups across the globe were invited to demonstrate their solutions to transform the patient experience. This year, five finalists presented their innovations to a panel of leading industry executives, providing exposure and mentorship opportunities with life sciences industry experts and accelerators.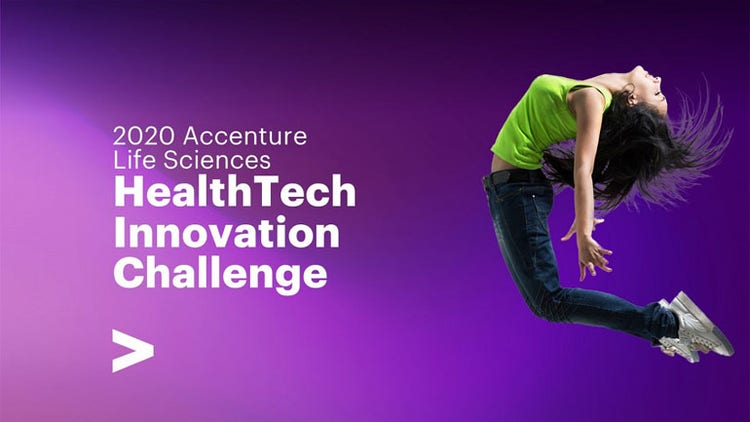 "This year, we launched the Life Sciences award as part of our HealthTech Innovation Challenge to help bridge the gap between startups and life sciences companies as they reimagine how to put innovation at the heart of their businesses and patient care," said Stuart Henderson, who leads Accenture's Life Sciences industry group. "I'd like to congratulate all five startups that showcased innovations that are helping shape the future of how biopharma and life sciences companies can help improve healthcare services for patients and providers."

The 2020 finalists are:
"We are extremely honored to receive this recognition from the Accenture HealthTech Innovation Challenge," said Tyler Pugsley, vice president of Life Sciences at Medable. "Clinical innovation is only possible through the great contributions of patients. This recognition from Accenture allows us to further improve the patient experience so that any person, anywhere, can participate in a clinical trial."

"As with every year, the competition for the Accenture HealthTech Innovation Challenge was strong, and we are very pleased with the caliber of startups competing for our first life sciences award," continued Henderson. "I have admired the great work that Medable CEO Michelle Longmire and her team have done to make the patient clinical trial experience better – and more importantly, helping to keep clinical trials going throughout the various stages of lockdown due to the pandemic. Medable's mission of reducing clinical trial times by more than 50% has never been more important, which is demonstrated by the massive acceleration in the industry's adoption of its solution. Congratulations to the Medable team, we look forward to seeing their continued momentum and success in 2021 and beyond."

This year's challenge moved to a virtual format due to the COVID-19 pandemic. The application process took place from Jan. 27 – Feb. 29, 2020, and was open to growth-stage companies, regardless of size, with at least a beta product to showcase. Shortlisted startups were notified in November 2020.
About Accenture
Accenture is a global professional services company with leading capabilities in digital, cloud and security. Combining unmatched experience and specialized skills across more than 40 industries, we offer Strategy and Consulting, Interactive, Technology and Operations services — all powered by the world's largest network of Advanced Technology and Intelligent Operations centers. Our 506,000 people deliver on the promise of technology and human ingenuity every day, serving clients in more than 120 countries. We embrace the power of change to create value and shared success for our clients, people, shareholders, partners and communities. Visit us at www.accenture.com.

Accenture's Life Sciences industry group helps pharmaceutical, biotech, medical technology, distributor and consumer health companies combine the latest technology with scientific breakthroughs to revolutionize how medical treatments are discovered, developed and delivered to patients around the world. To learn more, visit https://www.accenture.com/us-en/industries/life-sciences-index.

# # #

Contact:

Melissa Volin
Accenture
+1 267 216 1815
melissa.volin@accenture.com


Copyright © 2020 Accenture. All rights reserved.

This document makes descriptive reference to trademarks that may be owned by others. The use of such trademarks herein is not an assertion of ownership of such trademarks by Accenture and is not intended to represent or imply the existence of an association between Accenture and the lawful owners of such trademarks.