June 22, 2020
Diebold Nixdorf Extends Strategic Relationship with Accenture to Accelerate Its Digital Transformation and Cloud Migration

NEW YORK and NORTH CANTON, Ohio, June 22, 2020 – Accenture (NYSE: ACN) and Diebold Nixdorf (NYSE:DBD), a global leader in services, software and hardware for the banking and retail industries, announced today the companies have agreed to extend their strategic relationship to accelerate Diebold Nixdorf's multiyear digital and cloud transformation program, which includes streamlining its finance, human resources, IT and sales systems.
The companies' collaboration will unlock approximately $50 million of incremental savings for Diebold Nixdorf through 2023, while improving business productivity, consolidating operations and performance and enabling investment in innovation and growth opportunities. The accelerated program will leverage digital automation tools and empower a more agile and customer-focused workforce. Diebold Nixdorf's corporate IT systems will be migrated to the cloud, and improvements will be made to the global processes and applications for the company's 22,000 employees across more than 100 countries.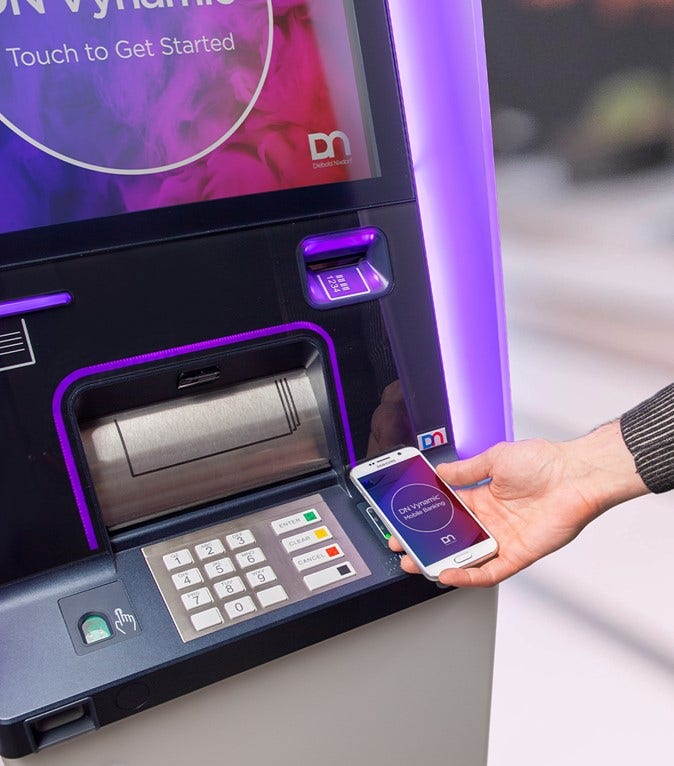 Diebold Nixdorf is a global leader in services, software and hardware
for the banking and retail industries

"Partnering with Accenture enables us to meaningfully accelerate our digital roadmap and DN Now transformation program," said Gerrard Schmid, Diebold Nixdorf's president and chief executive officer. "Automation, improved applications and more agile processes will not only provide better operational performance, but also an enhanced customer experience through new services and solutions."

According to research from Accenture, leaders in adopting the latest technologies — including digital and cloud — are unlocking trapped value and see more than two times the revenue growth than those who do not.

"In this period of great uncertainty, leaders are seeking ways to reinvent their businesses and build operational agility in order to respond to the unpredictable," said Jimmy Etheredge, Accenture's CEO for North America. "Diebold Nixdorf's bold steps today will help the company continue to innovate, to drive business performance and value. We are pleased to partner with Diebold Nixdorf to realize its vision."

The agreement between Diebold Nixdorf and Accenture is a continuation of the companies' long-standing relationship to drive and deliver business transformation across Diebold Nixdorf.

About Accenture
Accenture is a leading global professional services company, providing a broad range of services in strategy and consulting, interactive, technology and operations, with digital capabilities across all of these services. We combine unmatched experience and specialized capabilities across more than 40 industries — powered by the world's largest network of Advanced Technology and Intelligent Operations centers. With 509,000 people serving clients in more than 120 countries, Accenture brings continuous innovation to help clients improve their performance and create lasting value across their enterprises. Visit us at www.accenture.com.

About Diebold Nixdorf
Diebold Nixdorf, Incorporated (NYSE: DBD) is a world leader in enabling connected commerce. We automate, digitize and transform the way people bank and shop. As a partner to the majority of the world's top 100 financial institutions and top 25 global retailers, our integrated solutions connect digital and physical channels conveniently, securely and efficiently for millions of consumers each day. The company has a presence in more than 100 countries with approximately 22,000 employees worldwide. Visit www.DieboldNixdorf.com for more information.

# # #

Contacts:

Melissa Curtis
Accenture
+1 617 480 8590
melissa.curtis@accenture.com

Rachel Frey
Accenture
+1 917 452 4421
rachel.frey@accenture.com

Mike Jacobsen, APR
Diebold Nixdorf Media Relations
+1 330 490 3796
michael.jacobsen@dieboldnixdorf.com

Steve Virostek
Diebold Nixdorf Investor Relations
+1 330 490 6319
steve.virostek@dieboldnixdorf.com

Copyright © 2020 Accenture. All rights reserved. Accenture and its logo are trademarks of Accenture.