January 14, 2020
Companies That Govern Innovation Extensively Achieve Twice the Revenue Growth of Those That Don't, Accenture Report Finds


Just 12% of companies govern innovation extensively today; the rest govern it more haphazardly

NEW YORK; Jan. 14, 2020 – Fewer than one in eight companies govern innovation extensively, and those that do have achieved twice the revenue growth of the vast majority of companies that govern innovation in a more haphazard way, according to a new report from Accenture (NYSE: ACN).
The report, titled Governing Innovation: The Recipe for Portfolio Growth, is based on a global survey of executives at nearly 1,100 companies, a financial analysis of those companies, and in-depth interviews with innovation experts in business and academia. The goal of the research was to determine how organizations apply different types of innovation across their business portfolios, identify how they allocate innovation investments, and help executives understand how to govern more strategically across their business portfolios to get greater value from their innovation investments.

A key finding: Only 12% of companies govern innovation extensively, and those companies achieved a compound annual growth rate (CAGR) of 5.9%, on average, from 2013-2018, compared with a CAGR of 2.9%, on average, for the 88% of companies that govern innovation more haphazardly.

Accenture defines extensive innovation governance as adoption of at least six of 12 governance practices, or "rituals." (see Figure 1).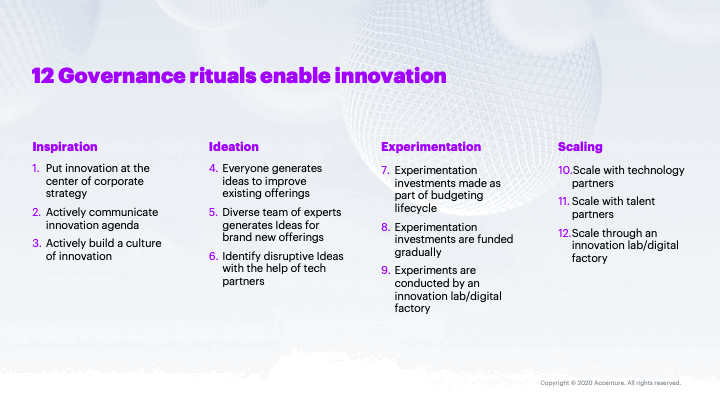 Figure 1

While the vast majority (84%) of executives surveyed said they direct innovation centrally — e.g., through a chief innovation officer or an innovation committee — the report notes that centralized direction and management might not be enough.

"The growing hunger for innovation is putting it at the core of every new business decision, but many companies lack the discipline needed to turn their innovation investments into growth," said Paul Daugherty, Accenture's chief technology & innovation officer. "While many see innovation as a creative force that can't be controlled, our research reveals that a systematic approach to managing innovation and governing it extensively can provide tangible financial impact."

The report leverages Accenture's Portfolio Innovation model, which looks at the application of three types of innovation (incremental, breakthrough and disruptive) across businesses of all maturity levels (legacy, growth and emerging; see Figure 2).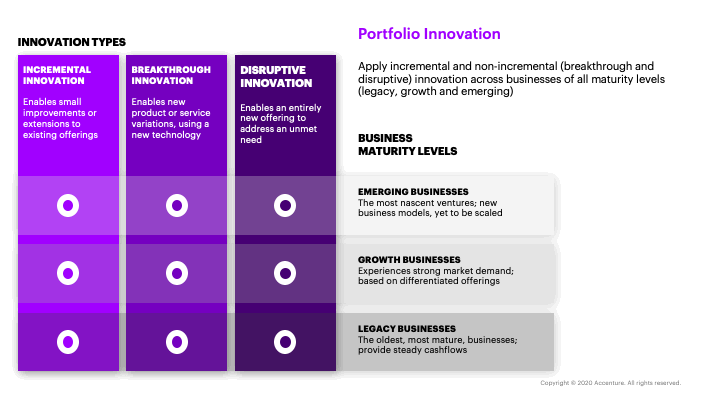 Figure 2

Once it's clear which type of innovation is needed — and in which businesses — organizations need to identify the right governance rituals to ensure that their innovation investments are geared toward achieving the desired growth.

One example illustrated in the report is Schneider Electric, a leading company specializing in energy management and industrial automation. The company takes a pervasive approach to innovation, applying incremental and non-incremental innovation across its entire portfolio of businesses. Doing this has enabled Schneider to generate balanced growth — increasing revenues in both its core and newer businesses in 2018 by 7% and 9%, respectively.

Accenture discovered that organizations are better able to exert control over their innovation investments when they follow at least some of the 12 rituals — and that the more rituals they follow, the greater their revenue growth. In fact, organizations that approach innovation haphazardly today, but plan to switch to governing innovation investments extensively, expect to more than double their compound annual revenue growth at the portfolio level — from 2.9% today to 6.5% in the future, on average.

"Innovation governance rituals are the bread and butter for insatiable portfolio growth," said Dr. Vedrana Savic, a managing director with Accenture Research. "While some people fear that governance will stifle innovation, the reality is that having a systematic approach to managing innovation is the key to achieving greater financial performance. This new and active form of governance is ultimately about being a more strategic innovation investor at the portfolio level."

For more information on Governing Innovation: The Recipe for Portfolio Growth, please visit: http://www.accenture.com/portfolioinnovation.

About the research
Governing Innovation: The Recipe for Portfolio Growth examines how innovation is and will likely be governed in the future. The research comprised three components: (1) a telephone survey of 1,090 executives at 1,090 companies above $1billion in annual revenues across 11 industries in 15 countries — Australia, Brazil, Canada, China, France, Germany, India, Italy, Japan, Netherlands, South Africa, Spain, Switzerland, the United Kingdom and the United States; (2) a financial performance analysis on the 1,090 companies; and (3) in-depth interviews with 20 innovation experts in business and academia. The research was conducted between January and June 2019.

About Accenture
Accenture is a leading global professional services company, providing a broad range of services and solutions in strategy, consulting, digital, technology and operations. Combining unmatched experience and specialized skills across more than 40 industries and all business functions — underpinned by the world's largest delivery network — Accenture works at the intersection of business and technology to help clients improve their performance and create sustainable value for their stakeholders. With 505,000 people serving clients in more than 120 countries, Accenture drives innovation to improve the way the world works and lives. Visit us at www.accenture.com.

# # #

Contact:

Tourang Nazari
Accenture
+1 202 262 5574
tourang.nazari@accenture.com