February 10, 2020
Capital Rx Wins Top Award at Accenture HealthTech Innovation Challenge

HOUSTON ; Feb. 10, 2020 – Capital Rx has been named Innovation Champion of the Accenture HealthTech Innovation Challenge, which recognizes innovative approaches and solutions that improve the way people access, manage and finance healthcare in North America.
Established in 2016, the Accenture HealthTech Innovation Challenge pairs participating start-ups with prominent health organizations. This partnering between tech innovators and the broader health-tech ecosystem facilitates the co-creation of solutions designed to solve real-world challenges.
Congrats to our 2020 #HealthTechChallenge winners! Innovation Champion @cap_rx and Top Innovator @Carrot_Health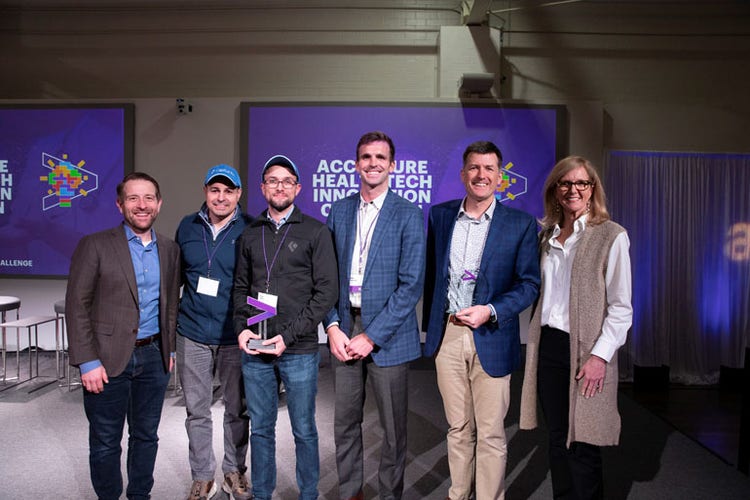 Capital Rx awarded Innovation Champion and Carrot Health awarded Top Innovator at the 2020 Accenture HealthTech Innovation Challenge. Pictured left to right: Brian Kalis, managing director of digital health and innovation at Accenture; AJ Loiacono, CEO of Capital Rx; Ryan Kelly, CTO of Capital Rx; Mike Hartwell, director of business development of Carrot Health; Kurt Waltenbaugh, CEO and founder of Carrot Health; Kristin Ficery, managing director of Accenture's North America provider practice.
Capital Rx, based in New York City received the top award — Innovation Champion — for its Clearinghouse ModelSM that connects pharmacies and employers to establish a marketplace for drug pricing to reduce costs and create a better experience for both plan sponsors and patients. Capital Rx is a pharmacy benefit manager redefining prescription drug pricing for employers, unions and government entities.

"Receiving the designation as Innovation Champion is a validation of our mission to change the way drugs are priced and administered, and it represents the broad support across the country to transform the antiquated and opaque pricing model for prescription drugs," said AJ Loiacono, CEO of Capital Rx.

The second-place award for Top Innovator, was given to Minneapolis-based Carrot Health. Carrot Health provides consumer data analytics to highlight social determinants of health, engage healthcare consumers, close gaps in care, and optimize performance for payer and provider systems. Its MarketView platform leverages a consumer database — which includes social, economic, behavioral and environmental information — and predictive modeling to deliver a 360-degree view of individual patients/members.

Kurt Waltenbaugh, CEO and founder of Carrot Health, said, "It's been a great opportunity to be with Accenture and a broad spectrum of health care players. Being recognized as the Top Innovator will help us expand our footprint toward our goal to change health and serve every person in the U.S."

Brian Kalis, managing director of digital health and innovation at Accenture, said, "The submissions we received this year demonstrate the momentum of discovery and digital innovation in healthcare. "Healthcare organizations continue to advance their digital transformation agendas — enhancing access, affordability, quality and experience to drive innovation that improves the lives of consumers and clinicians. We look forward to working with these companies and others to continue to help advance solutions that address the industry's toughest challenges."

All 11 finalists — winners of the regional rounds of the Accenture HealthTech Innovation Challenge held at Accenture's Innovation Hubs in Boston and San Francisco — presented their solutions to an exclusive panel of judges comprising senior executives from leading global health organizations.

The awards were presented Feb. 6 at TMCx, which is an accelerator program housed in the Texas Medical Center Innovation Institute that provides startup companies with shared workspace, a curriculum tailored to the needs of healthcare entrepreneurs and the guidance of highly sought-after advisors from the front lines of the industry.

William F. McKeon, TMC president & CEO, said, "Texas Medical Center maintains a high level of appreciation for Accenture and its evolving role as a major collaborator for healthcare innovation within Houston's larger entrepreneurial ecosystem. The opportunity to host the HealthTech Innovation Challenge in Houston for the first time re-enforces our city's prominent and ever-expanding designation as a major hub for healthcare innovation nationwide. As Texas Medical Center heads into a new era of collaborative healthcare research on our forthcoming TMC3 campus, we look forward to maintaining a fruitful long-term partnership with Accenture."

The other nine finalists were: Cleo, DynamiCare Health, InsightRX, Lantum, Mira, Orderly Health, Paloma Health, TCARE and Xealth. Key criteria on which the finalists were judged included their solution's innovativeness, design quality, potential impact on patient outcomes, scalability, and effectiveness as a disruptive business model.

About Accenture
Accenture is a leading global professional services company, providing a broad range of services and solutions in strategy, consulting, digital, technology and operations. Combining unmatched experience and specialized skills across more than 40 industries and all business functions — underpinned by the world's largest delivery network — Accenture works at the intersection of business and technology to help clients improve their performance and create sustainable value for their stakeholders. With 505,000 people serving clients in more than 120 countries, Accenture drives innovation to improve the way the world works and lives. Visit us at www.accenture.com.

Accenture Disclaimer
Accenture's support of the selected companies will help them as they further develop their solutions and products. In supporting such initiatives, however, Accenture is in no way promoting or intending to market any one particular solution or product or otherwise offer or market a medical device or clinical solution. Each company uses its own operations to ensure compliance with applicable laws and regulations.
# # #


Contact:

Cam Granstra
Accenture
+1 312 693 5992
cameria.l.granstra@accenture.com