December 22, 2020
Accenture Recognized with Two 2020 Vodafone Supplier Awards


Honored with 'Supplier of the Year' and 'Outstanding Technology Provider' Awards

LONDON, UK; Dec. 22, 2020 – Accenture has been honored by Vodafone with its 'Supplier of the Year' and 'Outstanding Technology Provider' awards in the 2020 Vodafone Supplier Awards. The awards recognize the success of Accenture's long-term collaboration supporting some of the communications company's most complex transformational programs.
The awards recognize companies that have performed exceptionally in supporting Vodafone's c ontinuous drive for operating efficiency and to deliver greater benefits to its customers.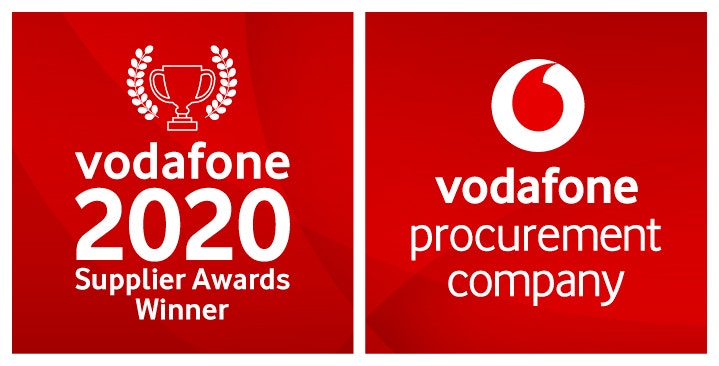 "Accenture has developed a joint go-to-market proposition with our Vodafone Business unit, in areas like security and artificial intelligence, that enables us to deliver value for our customers," said Ninian Wilson, global supply chain director and CEO, Vodafone Procurement Company. "Together, we are committed to building a digital society, connecting people, companies, communities and things, and promoting digital inclusion."

Chris Howarth, global client account lead for Vodafone at Accenture, commented on the win: "We are thrilled to receive these supplier awards and would like to thank the team at Vodafone for the recognition. We are focused on helping companies harness change to transform their business and drive shared success through our relationship with Vodafone. Our security collaboration and our intelligent care program are testaments to that."

Vodafone Business and Accenture are transforming the communication services provider's customer experience. In the area of security, they are delivering managed security services to business customers in Europe that do not have the experience, time or resources to keep up with the rapidly evolving threat landscape. They are also using artificial intelligence for their intelligent care program that proactively reaches out to customers with information and steers them to the best possible channel for their individual needs when they call.

About Accenture
Accenture is a global professional services company with leading capabilities in digital, cloud and security. Combining unmatched experience and specialized skills across more than 40 industries, we offer Strategy and Consulting, Interactive, Technology and Operations services—all powered by the world's largest network of Advanced Technology and Intelligent Operations centers. Our 514,000 people deliver on the promise of technology and human ingenuity every day, serving clients in more than 120 countries. We embrace the power of change to create value and shared success for our clients, people, shareholders, partners and communities. Visit us at www.accenture.com.

Accenture's Communications & Media industry group helps communications service providers, as well as media and entertainment organizations, become leading providers of next-generation IP services and immersive customer experiences. To learn more, visit: https://www.accenture.com/us-en/industries/communications-and-media-index.
# # #


Contact:

Molly McDonagh
Accenture
+44 7825 023 622
molly.mcdonagh@accenture.com