February 10, 2020
Accenture Recognized as Product and Platform Engineering Leader by Zinnov

NEW YORK; Feb. 10, 2020 – Accenture (NYSE: ACN) has been positioned as the leading provider of Product and Platform Engineering Services — Enterprise Software Ratings — by Zinnov in the Zinnov Zones 2019: Engineering Research & Development (R&D) report. In addition, Accenture was positioned as the leading provider of both Platform Engineering Services and User Experience Engineering Services, ahead of all competitors.
Zinnov, a global research, consulting and advisory company, evaluated Accenture and 49 other global service providers on their prowess and capabilities in the Engineering R&D segment for 2019. The report analyzed the providers on multiple factors, including spread and maturity of delivery and services capabilities, scalability, growth rate, innovation and intellectual property, and ecosystem linkages, as well as customer feedback. The report highlights Accenture's "strong focus on platform engineering services," noting Accenture's recent acquisition of Fairway Technologies, a premier provider of engineering services, and focus on innovation as a demonstration of its strength in this area.

"We're proud to be recognized by Zinnov for our ability to make innovative technology a reality for our clients," said Ram Ramalingam, global lead of Accenture's Product and Platform Engineering Services practice. "By helping our clients scale and enhance their platforms to introduce new business models and revenue streams, we help them thrive in today's platform economy."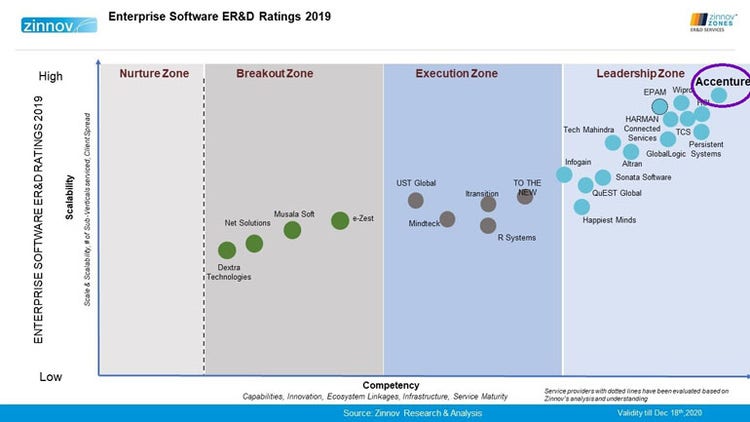 "Accenture's strong legacy of building industry software for clients and ability to provide full stack product and platform engineering services across the product lifecycle has enabled the firm to be the industry leader across platform engineering and enterprise software engineering," said Sidhant Rastogi, partner and practice head, Zinnov. "Accenture's committed investments towards building additional capabilities, through niche acquisitions like Fairway Technologies and the opening of additional global Innovation Centers, has further fortified its positioning."

More information on the report can be found here.

About Accenture
Accenture is a leading global professional services company, providing a broad range of services and solutions in strategy, consulting, digital, technology and operations. Combining unmatched experience and specialized skills across more than 40 industries and all business functions — underpinned by the world's largest delivery network — Accenture works at the intersection of business and technology to help clients improve their performance and create sustainable value for their stakeholders. With 505,000 people serving clients in more than 120 countries, Accenture drives innovation to improve the way the world works and lives. Visit us at www.accenture.com.

About Zinnov
Zinnov was founded in 2002, and is headquartered in Bangalore, with presence in Gurgaon, Silicon Valley, and Houston. Since its inception, Zinnov has built in-depth expertise in Product Engineering and Digital Transformation. With their team of experienced professionals and research teams, Zinnov serves clients across software, semiconductor, consumer electronics, automotive, storage, telecom & networking, healthcare, banking, financial services, and retail verticals in US, Europe, Japan, and India. For more information, visit http://zinnov.com.

# # #

Contact:

Julie Bennink
Accenture
+1 312 693 7301
julie.l.bennink@accenture.com

Copyright © 2020 Accenture. All rights reserved. Accenture and its logo are trademarks of Accenture.