January 28, 2020
Accenture Receives Two XCelent Industry Awards for Life Insurance Policy Administration


Accenture earns top honors for Breadth of Functionality and Depth of Service for its life insurance and annuity platform

NEW YORK; Jan. 28, 2020 – Accenture (NYSE: ACN) has received two XCelent awards for its life insurance and annuity platform in a recent report from research and advisory firm Celent.
In the report, "North American Policy Administration Systems ABCD Vendor View," Celent recognized the Accenture Life Insurance and Annuity Platform (ALIP) as the top performer among 20 life and annuity policy administration systems in the "Breadth of Functionality" and "Depth of Service" categories.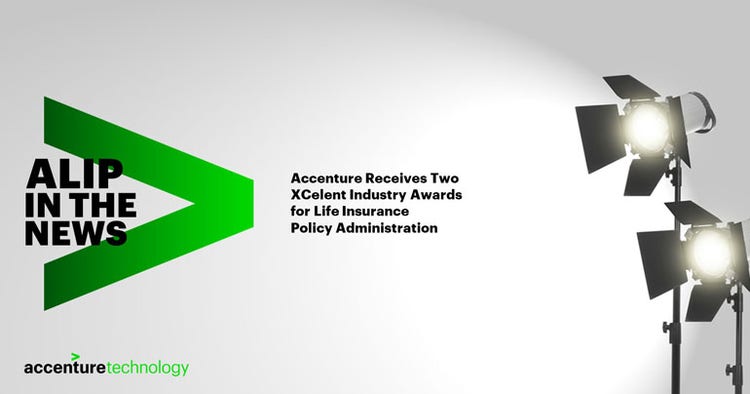 "The process Celent follows is quite rigorous," said Karen Monks, director of Celent's Knowledge management center and report co-author. "It is very much like a system selection process, and to receive awards across two of our four metrics is a compliment to Accenture and their product."

According to a client quoted in the report, Accenture "consistently demonstrates a long-term perspective and investment in keeping their platform relevant and evolving to meet needs and stay state-of-the-art."

The report also highlights ALIP's growing customer base and production implementations along with its expanding partner relationships.

"We are honored to be recognized for our continued leadership in moving the life and annuity industry forward with advanced technology, people and processes," said Shay Alon, who leads Accenture's Life and Annuity Products and Platforms business. "We work closely with our clients to ensure that ALIP provides the functionality they need, and we believe the awards further validate our strategic and forward-thinking approach to policy administration and implementation services on our platform."

The XCelent Awards are designed to help financial institutions and technology providers stay abreast of industry trends by evaluating the shifting vendor marketplace and recognizing top-performing vendors.

Accenture's life and annuity software is part of Accenture Life Insurance Services. By applying extensive industry knowledge to continuously enhance its software, Accenture helps insurers reduce operating costs, manage risk and drive growth through improved product development and distribution, enhanced policy administration and distribution, and technology platform consolidation and modernization. Learn more at www.accenture.com/lifeandannuitysoftware.

About Accenture
Accenture is a leading global professional services company, providing a broad range of services and solutions in strategy, consulting, digital, technology and operations. Combining unmatched experience and specialized skills across more than 40 industries and all business functions — underpinned by the world's largest delivery network — Accenture works at the intersection of business and technology to help clients improve their performance and create sustainable value for their stakeholders. With 505,000 people serving clients in more than 120 countries, Accenture drives innovation to improve the way the world works and lives. Visit us at www.accenture.com.

# # #

Contact:

Natalie de Freitas
Accenture
+44 7380 799 196
natalie.de.freitas@accenture.com

Copyright © 2020 Accenture. All rights reserved.
Disclaimer: This blog makes descriptive reference to trademarks that may be owned by others. The use of such trademarks herein is not an assertion of ownership of such trademarks by Accenture and is not intended to represent or imply the existence of an association between Accenture and the lawful owners of such trademarks.