February 19, 2020
Accenture Receives Four Regional SAP® Partner Excellence Awards Based on Contributions to Strengthen Intelligent Enterprises

NEW YORK; Feb. 19, 2020 – Accenture (NYSE: ACN) recently received four 2020 SAP® Partner Excellence Awards, presented each year to top alliance partners that have made outstanding regional contributions toward driving companies' digital transformations. Accenture earned the following awards this year:
SAP APJ Award for Partner Excellence 2020 for SAP S/4HANA® Innovation Partners
SAP APJ Award for Partner Excellence 2020 for ISV Solution Partners
SAP EMEA Service Partner Excellence Award 2020 for Overall Contribution
SAP EMEA Service Partner Excellence Award 2020 for SAP S/4HANA
Accenture was also named the SAP® Ariba® and SAP® Fieldglass® EMEA South Services Partner of the Year.
"This year, Accenture has taken home awards across numerous areas, which we believe showcases our ability to lead our clients along their journey toward becoming intelligent enterprises," said Christophe Mouille, senior managing director and lead for Accenture's Global SAP Business Group. "Accenture and SAP have worked together for decades to revolutionize the future of business through innovative solution development and delivery, creating tremendous opportunities for our clients."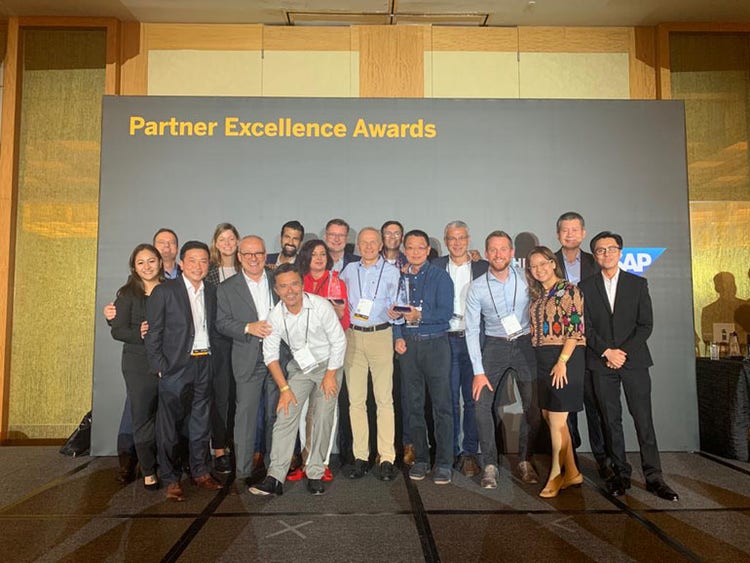 Accenture executives accept SAP Partner Excellence Awards
at the SAP Field Kick Off Meeting (FKOM) in Singapore
Stephane Mermet, vice president of alliances for SAP EMEA North, said "The FKOM award ceremony recognizes top-performing SAP partners in EMEA that have consistently engaged with SAP to help ensure the success of customer transformation projects." Peter Roberts, vice president of alliances for SAP EMEA South added: "It is a great pleasure to recognize Accenture's outstanding contribution to SAP business in EMEA and as an instrumental partner supporting customers moving to SAP S/4HANA."

Accenture also recently announced that it is the first company to achieve SAP® Model Company certification, which can accelerate custom deployment of SAP S/4HANA by as much as 30 percent. This certification distinguishes Accenture's intelligent enterprise solutions for oil and gas and life sciences companies that are delivered through Accenture myConcerto®.

Awards were presented by SAP to top-performing SAP alliance partners in different regions that have made outstanding contributions to driving companies' digital transformation. Recipients of this year's awards have been – in partnership with SAP – helping customers adopt innovation easily, gain results rapidly, grow sustainably and run more simply with SAP solutions. Nominations for the SAP Partner Excellence Awards were based on internal SAP sales data. A steering committee composed of regional and global SAP representatives determined winning partners in each category according to numerous criteria such as sales achievement and performance. Awards were presented in a variety of categories, including overall sales, innovation, technology, services and solution-specific areas.

About Accenture
Accenture is a leading global professional services company, providing a broad range of services and solutions in strategy, consulting, digital, technology and operations. Combining unmatched experience and specialized skills across more than 40 industries and all business functions — underpinned by the world's largest delivery network — Accenture works at the intersection of business and technology to help clients improve their performance and create sustainable value for their stakeholders. With 505,000 people serving clients in more than 120 countries, Accenture drives innovation to improve the way the world works and lives. Visit us at www.accenture.com.

# # #

Contact:

Julie Bennink
Accenture
+1 312 693 7301
julie.l.bennink@accenture.com

Copyright © 2020 Accenture. All rights reserved. Accenture and its logo are trademarks of Accenture.