June 29, 2020
Accenture Ranked #1 in HFS Report for Salesforce Services 2020

NEW YORK; June 29, 2020 – Accenture (NYSE: ACN) has been ranked #1 in the "HFS Top 10 for Salesforce Services 2020" report, ahead of all 10 competitors assessed. The report considered planning, implementation, and management services for Salesforce solutions globally.
In addition to earning the top position overall, the report also rated Accenture #1 in innovation capability and #1 in ability to execute, leading in eight of the nine categories evaluated.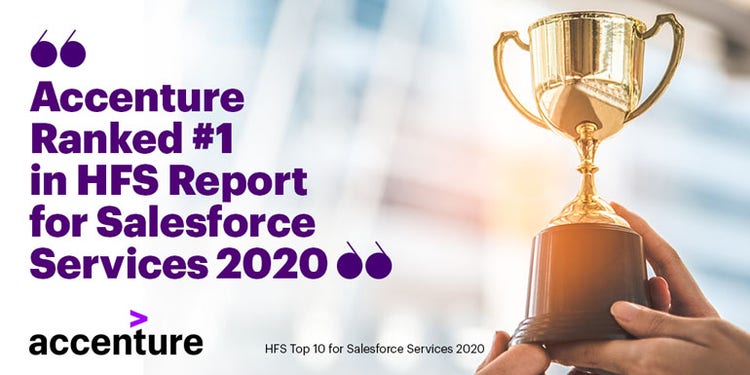 "Accenture is a strong leader in the Salesforce services market," said Khalda De Souza, research director at HFS Research, and author of the HFS Salesforce Services Top 10 report. "This is a highly competitive market, but Accenture excels in execution and innovation. It has the biggest pool of certified consultants, and delivers a strong breadth and depth of Salesforce services with a focus on continuous innovation. Moreover, clients commend Accenture on its true partnership relationship."

Accenture strengths cited in the report include:
Breadth of services and market experience: "Accenture has an intense focus on training, re-skilling, and upskilling Salesforce consultants. Its full value chain coverage of offerings is strengthened by investment in partnership and acquisitions…Its digital arm, Accenture Interactive, has acquired more than 30 digital marketing agencies around the world, including MXM in 2018. Accenture has the biggest Salesforce practice and number of Salesforce certified consultants in this research. Clients highlight that accessibility to the strong resources is a big strength for Accenture. One client said that Accenture was 'the best we have encountered or could hope for' to support a global deployment."
Depth of services: "Accenture's Salesforce Business Group continues to invest in developing new solutions, including industry and horizontal Salesforce assets. Examples include its myConcerto digital platform to create a business case and roadmap for Salesforce clients."
Business transformation strength: "Accenture's Salesforce services methodologies promote interaction between IT, the business, and the service provider. This is supported by more than 200 tools and accelerators, including organizational change management services. Accenture's Living Business strategy adapts to customer's continually evolving needs."
Continual innovation focus: "In 2018, Accenture launched a new Innovation Center for Salesforce in its San Francisco office, located in Salesforce Tower. This highlights the strength of Accenture as a leading Salesforce partner."
Partnership relationship: "Clients commend Accenture on its true partnership relationship. One client said that Accenture was the 'primary contributor to our success.'"
Yusuf Tayob, senior managing director, Accenture Salesforce Business Group, said, "Our relentless commitment to designing and implementing experiences that deliver data-driven results using Salesforce solutions and our obsession with industry-led innovation is reflected by our top placement in this HFS report. With the world's largest Salesforce practice, we're continually investing in our people and skills to help our clients solve their most complex business problems."

Accenture has completed over 1,400 Salesforce implementations for more than 1,100 global enterprises across all industries. With more than 18,500 Salesforce-skilled professionals, Accenture is certified in all Salesforce industries and clouds. For more information on the Accenture and Salesforce relationship, visit https://www.accenture.com/salesforce.

About Accenture
Accenture is a leading global professional services company, providing a broad range of services in strategy and consulting, interactive, technology and operations, with digital capabilities across all of these services. We combine unmatched experience and specialized capabilities across more than 40 industries — powered by the world's largest network of Advanced Technology and Intelligent Operations centers. With 513,000 people serving clients in more than 120 countries, Accenture brings continuous innovation to help clients improve their performance and create lasting value across their enterprises. Visit us at www.accenture.com

# # #

Contact

Hannah Unkefer
Accenture
+1 206 839 2172
hannah.m.unkefer@accenture.com


Copyright © 2020 Accenture. All rights reserved. Accenture and its logo are trademarks of Accenture

Salesforce and others are among the trademarks of salesforce.com.