February 10, 2020
Accenture Positioned as Leader in Everest Group PEAK Matrix for Cloud Services and Cloud ERP 2020 Reports

NEW YORK; Feb. 10, 2020 – Accenture (NYSE: ACN) has been positioned as the overall leader in Vision and Capability in Everest Group's PEAK Matrix for Cloud Services and Cloud ERP 2020 reports. The PEAK Matrix is a framework for identifying the relative market success and capabilities of service providers.
For the Cloud Services 2020 report, Accenture was the only provider to receive perfect scores across all elements for the Vision and Capability areas. These areas specifically analyzed criteria including vision and strategy, the scope of services offered, innovation and investments, and delivery footprint. Accenture has also been named as a Leader in Market Impact, which examines market adoption, portfolio mix, and value delivered.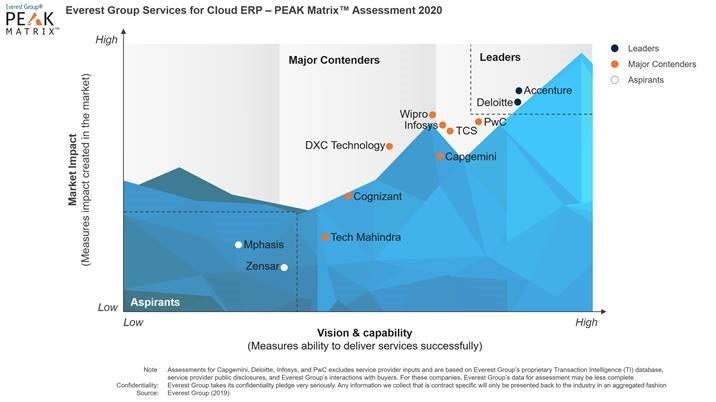 Everest Group rates Accenture as overall leader in Cloud ERP 2020 report
Accenture's strengths cited within the Cloud Services 2020 report include:
Strong partnerships: Creating and supporting industry partnerships with hyperscalers including AWS, Azure, Alibaba and GCP through joint Go-To-Market business groups that strengthen its cloud offerings
Industry contextualized solutions: Focusing on the creation of solutions that combine and integrate cloud provider solutions, third party SaaS solutions and Accenture's unique industry solutions
Cloud-led approach: Leading with a transformation-focused cloud approach combining a mix of platforms, architectures and assets backed by ongoing investments in next-generation solutions
For the Cloud ERP 2020 report, Accenture was rated highly for its "vision for its services for cloud ERP, which encompasses innovation, client-centricity, and IP assets creation." In addition, high scores in vision were given to Accenture's ability to "become a transformational partner, guide its clients to adopt cloud-based intelligent platforms, and enable them to rotate the business to the cloud."

For Accenture's strengths cited within the Cloud ERP 2020 report, Everest Group highlighted Accenture's strong IP assets, notably myConcerto with pre-configured solutions across multiple technologies including Oracle and SAP, quality resources and domain expertise, consistency in winning partner awards, strong ecosystem, ability to put industry at the core, geographic spread, consulting capabilities, becoming a change partner, and pricing.

Yugal Joshi, vice president, Everest Group said, "Business outcomes are increasingly getting impacted by cloud adoption. Providers must continue to highlight the value cloud transformations bring to the business, with strong partnerships and industry contextualized solutions. Given Accenture's strong focus on delivering cloud implementation solutions that achieve a digital business model, we have recognized them as the overall leader in both reports on cloud services and cloud ERP."

Kishore Durg, senior managing director of Accenture Cloud and growth & strategy lead for Accenture Technology Services, said, "Enterprise clients value our global footprint, extensive cloud services portfolio and focus on business outcomes. Accenture's overall leader position in these two Everest Group reports demonstrate that our priorities are aligned to the complex needs of our clients, which include unique industry solutions, deep and broad cloud expertise, and vast investments across multiple cloud providers."

The Cloud Services 2020 report assessed the 25 leading IT service providers in the areas of cloud consulting, cloud infrastructure design/build, cloud modernization, SaaS implementation, private cloud hosting, cloud operating, internal cloud platforms and products and cloud security services.

The Cloud ERP 2020 report assessed 12 leading service providers with detailed profiles. Each profile provides a comprehensive picture of the service provider's service focus, key partnerships, domain investments, and relevant case studies. The assessment is based on Everest Group's annual RFI process for calendar year 2019, interactions with leading services for cloud ERP providers, client reference checks, and an analysis of the cloud ERP market.

About Accenture
Accenture is a leading global professional services company, providing a broad range of services and solutions in strategy, consulting, digital, technology and operations. Combining unmatched experience and specialized skills across more than 40 industries and all business functions — underpinned by the world's largest delivery network — Accenture works at the intersection of business and technology to help clients improve their performance and create sustainable value for their stakeholders. With 505,000 people serving clients in more than 120 countries, Accenture drives innovation to improve the way the world works and lives. Visit us at www.accenture.com.

# # #

Contact:

Mylissa Tsai
Accenture
+1 917 452 9729
mylissa.tsai@accenture.com

Copyright © 2020 Accenture. All rights reserved. Accenture and its logo are trademarks of Accenture.