June 21, 2020
Accenture Positioned as a Leader in Independent Research Report on IoT Consultancies in Asia Pacific

SINGAPORE; June 21, 2020 – Accenture (NYSE: ACN) has been named a Leader in the latest report evaluating internet-of-things (IoT) consultancies in Asia Pacific from Forrester Research Inc., a leading research and global advisory firm.
The report, titled "The Forrester Wave™: IoT Consultancies In Asia Pacific, Q2 2020," evaluates Accenture and seven other vendors on 23 criteria across three areas: current offering, strategy and market presence.

Accenture received the highest score in the current offering and strategy categories. Lead author Achim Granzen stated that "Accenture's Industry X.0 practice puts IoT initiatives into overdrive," adding, "Accenture's strength is in its well-executed engagement model, which is strong in innovation, transformation, and business strategy, along with solid IoT implementation services and top-notch data, analytics, and cybersecurity capabilities."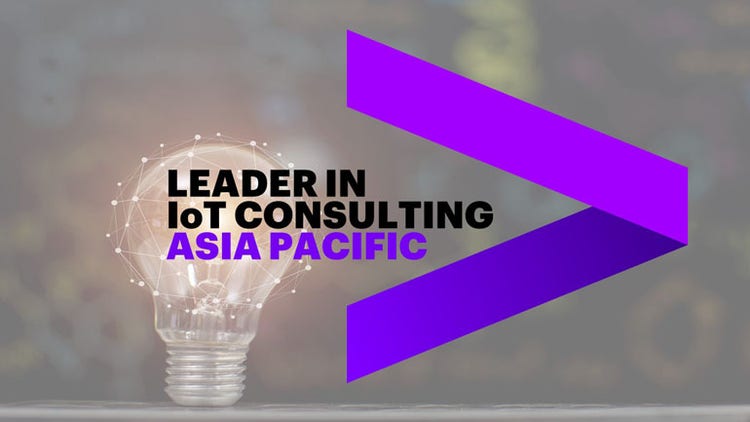 Valentin de Miguel, senior managing director for Strategy & Consulting across Growth Markets at Accenture said, "We are thrilled to be recognized as a leader among IoT consultancies in Asia Pacific. We believe this report recognizes the depth and breadth of Accenture's IoT capabilities in Asia Pacific. It is a region that is leading the way in IoT adoption and innovation, with an increasing number of companies moving to implementation at scale."

He added, "Accenture is deeply committed to driving value for our clients in the IoT space, leveraging our industry knowledge and the experience and capabilities in implementing these technologies with regional and global leaders around the world."

Accenture has seven innovation hubs in Asia Pacific and a strong business presence in China and Japan.

The report noted that Accenture's portfolio features plan, build and run services in equal measure, with top industries supported in retail, manufacturing, automotive, logistics and energy and utilities. Accenture also received the highest score possible in the IoT partner ecosystem, Asia Pacific market approach and commercial model criteria.

About Accenture
Accenture is a leading global professional services company, providing a broad range of services in strategy and consulting, interactive, technology and operations, with digital capabilities across all of these services. We combine unmatched experience and specialized capabilities across more than 40 industries — powered by the world's largest network of Advanced Technology and Intelligent Operations centers. With 509,000 people serving clients in more than 120 countries, Accenture brings continuous innovation to help clients improve their performance and create lasting value across their enterprises. Visit us at www.accenture.com.

Accenture Industry X.0 helps businesses master the digital reinvention of industry when they use advanced digital technologies to transform core operations and unlock new revenue streams and business models. We support every aspect of our clients' multi-phase transformation, including workforce, customer experience, R&D, engineering, manufacturing, business support, and ecosystems. Visit https://www.accenture.com/us-en/services/industryx0-index.

# # #

Contacts:

Junaidah Dahlan
Accenture
+65.6410.8362
junaidah.dahlan@accenture.com

Elzio Barreto
Accenture
+852 9509 3236
elzio.barreto@accenture.com


Copyright © 2020 Accenture. All rights reserved. Accenture, its logo, and New Applied Now are registered trademarks of Accenture.