June 01, 2020
Accenture Positioned as a Leader in IDC MarketScape for Worldwide Cloud Professional Services 2020

NEW YORK; June 1, 2020 – Accenture (NYSE: ACN) has been positioned as a Leader in the IDC MarketScape: Worldwide Cloud Professional Services 2020 Vendor Assessment.*
The IDC MarketScape assessed the 2020 cloud professional services market through the IDC MarketScape model, providing a quantitative and qualitative analysis of the characteristics that highlight each vendor's success in the marketplace. This evaluation is based on a comprehensive framework and set of parameters expected to be most conducive to success in providing cloud professional services in both the short term and the long term.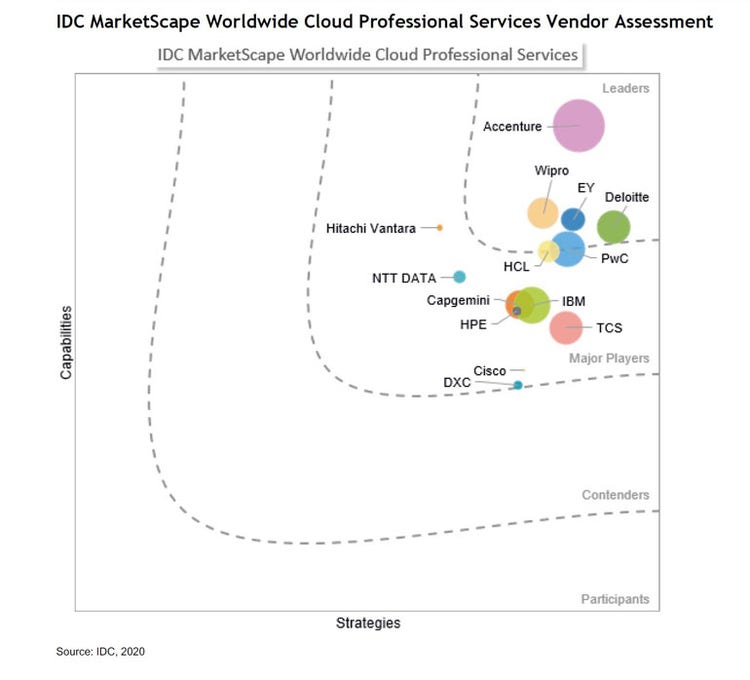 Accenture's strengths for end-to-end cloud solutions include strong capabilities in the underlying cloud technology platforms and applications, accelerating migration to cloud and driving innovation and growth. Additional strengths cited within the report include:
Applications-centric platforms: To help clients navigate changes to build a cloud solution that best fits their unique strategic business needs, Accenture launched its myNav platform. myNav is assisting businesses to lower the risk, cost, and the time required to achieve strategic business objectives while navigating the cloud.
Innovation capabilities: Accenture continues to invest heavily to mature its capabilities, and its strategy continues to focus on scaling and integrating its existing services. It also develops new services to adapt to buyers' preferences around industry-specific or horizontal cloud stacks.
Overall growth: Starting approximately 12 years ago, Accenture has deep experience as an early mover implementing cloud services for its customers, and that continues to benefit it today.
"Consider Accenture when you are looking for end-to-end cloud solutions that not only include innovative strategy and design but also the enablement of underlying cloud technology," said Gard Little, vice president of Global Services, Markets and Trends at IDC MarketScape. "Accenture, with its strong industry knowledge and industry cloud offers and breadth of technology services that span from consulting all the way to managed services, can fulfill cloud technology implementation needs at a global scale."
NEWS: @Accenture positioned as a leader in #cloudservices, per IDC MarketScape report @AccentureTechnology


Kishore Durg, senior managing director and Accenture Cloud lead for Accenture Technology Services, added, "Our enterprise clients need the cloud to create business resilience in order to outmaneuver uncertainty. More importantly, we are helping our clients use the cloud to grow their digital services with speed and scale while accelerating their business value and growth."

The report assessed 14 service providers in global cloud professional services. The scope of this analysis included both IT consulting and systems integrations – professional services around the plan, design, and build phase for both hybrid and multi-cloud delivery models.

Source: * Doc #US45439120, April 2020

About IDC MarketScape:
IDC MarketScape vendor assessment model is designed to provide an overview of the competitive fitness of ICT (information and communications technology) suppliers in a given market. The research methodology utilizes a rigorous scoring methodology based on both qualitative and quantitative criteria that results in a single graphical illustration of each vendor's position within a given market. IDC MarketScape provides a clear framework in which the product and service offerings, capabilities and strategies, and current and future market success factors of IT and telecommunications vendors can be meaningfully compared. The framework also provides technology buyers with a 360-degree assessment of the strengths and weaknesses of current and prospective vendors.

About Accenture
Accenture is a leading global professional services company, providing a broad range of services in strategy and consulting, interactive, technology and operations, with digital capabilities across all of these services. We combine unmatched experience and specialized capabilities across more than 40 industries — powered by the world's largest network of Advanced Technology and Intelligent Operations centers. With 509,000 people serving clients in more than 120 countries, Accenture brings continuous innovation to help clients improve their performance and create lasting value across their enterprises. Visit us at www.accenture.com.

# # #

Contact:

Mylissa Tsai
Accenture
+1 917 452 9729
mylissa.tsai@accenture.com

Copyright © 2020 Accenture. All rights reserved. Accenture, its logo, and High Performance Delivered are trademarks of Accenture.