The Verdantix Green Quadrant assessed the capabilities of the 12 most prominent vendors in the market on their ability to meet customer demands for operational excellence digital services. That is defined as consulting engagements that blend knowledge of industrial processes with digital technologies, to deliver improvements in operational excellence strategies across asset reliability, maintenance, turnarounds and environment, health and safety.

Accenture was recognized for key strengths, including its ability to successfully deliver a wide gamut of asset reliability and integrity projects. These range from traditional reliability-based inspection deployments and consulting on process design to implementing predictive analytics, robotics and mobility solutions. Verdantix also highlighted that this ranking is supported by long-standing partnerships with well-known engineering, Internet of Things and data system providers.

Other differentiators included Accenture's expertise in maintenance optimization and plant turnaround management, with specific recognition for a host of relevant digital solutions. These include those for managing contractors, including onboarding, gate security, certification management, safety analytics and location visibility for continuous improvement.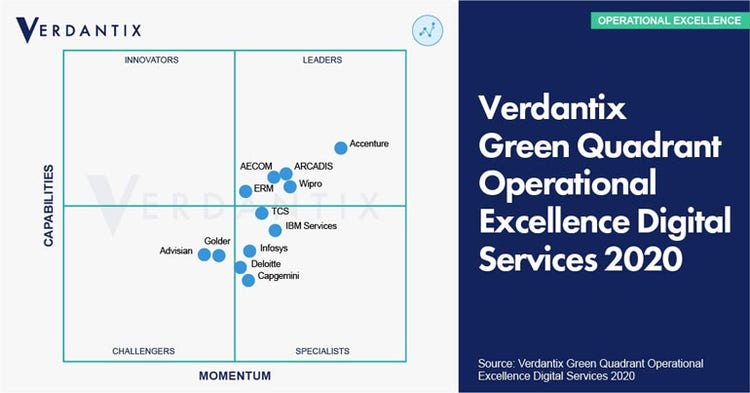 "We are delighted to be named a leader in the fast-growing and highly competitive operational excellence digital services market by this Verdantix Green Quadrant report," said Tracey Countryman, a managing director, and global lead for Industry X.0 Digital Manufacturing and Operations, Accenture. "We feel this reflects the success our Industry X.0 group has enjoyed in enabling clients to digitally transform their operations in key industries, including oil and gas, chemicals, utilities and metals and mining, supported by an ongoing program of strategic acquisitions and alliance partnerships. Verdantix recognized that Accenture can help companies in these sectors realize operational excellence by offering capabilities across the whole digital transformation project lifecycle, from formulating the value case, vision and roadmap to reimagining business processes, final implementation and change management."

Additionally, the report highlighted Accenture's deep capabilities for digital innovation, enabling companies to genuinely transform their operations with digital technology, rather than fix tactical issues at a single plant.

[Tweet link: Accenture positioned as a leader in 'Operational Excellence Digital Services' market worldwide in latest Verdantix Green Quadrant report #IndustryX0 #OpEx]

"Accenture should be considered a key strategic partner for the most complex operational excellence digital projects," said Malavika Tohani, Principal Analyst, Verdantix. "Accenture excels in delivering end-to-end digital projects using its FORM methodology, an insight-driven framework and innovation architecture, that leverages Accenture's cross-disciplinary thinking and intellectual property from design, business and technology across 40 industries, to inform, formulate, co-create, transform, outperform and unlock innovation in operational excellence digital projects."

The analysis was based on interviews with practice executives at each vendor, vendor responses to a 108-point questionnaire, interviews with 10 corporate managers in the oil and gas, chemicals, mining and aerospace industries, who have engaged and managed service providers for operational excellence projects, and a survey of 284 operations, maintenance, engineering and process safety executives.

The Verdantix 2020 Green Quadrant for Operational Excellence Digital Services can be found here.

More information about Accenture's Industry X.0 services can be accessed here.

About Accenture.
Accenture is a leading global professional services company, providing a broad range of services in strategy and consulting, interactive, technology and operations, with digital capabilities across all of these services. We combine unmatched experience and specialized capabilities across more than 40 industries — powered by the world's largest network of Advanced Technology and Intelligent Operations centers. With 505,000 people serving clients in more than 120 countries, Accenture brings continuous innovation to help clients improve their performance and create lasting value across their enterprises. Visit us at www.accenture.com.

# # #

Contacts:

Guy Cantwell
Accenture
+1 281 900 9089
guy.cantwell@accenture.com

Matt Corser
Accenture
+44 755 784 9009
matthew.corser@accenture.com