August 10, 2020
Accenture Named a Leader in the First IDC MarketScape Assessment on Blockchain Services


Accenture's strategy, demonstrated commitment and use cases cited as strengths in the report

NEW YORK; Aug. 10, 2020 – Accenture (NYSE: ACN) has been positioned as a Leader in blockchain capabilities by the IDC MarketScape.
The report — IDC MarketScape: Worldwide Blockchain Services 2020 Vendor Assessment (Doc # US46393920, June 2020) — is the first IDC MarketScape assessment of vendors providing professional services supporting blockchain technologies. Each of the 12 companies included in the report has a standalone blockchain practice or business unit and is actively working with clients to build blockchain implementations that have been deployed outside of a test environment.

Among Accenture's notable strengths cited in the report are:
a comprehensive and well-articulated strategy that puts blockchain into a larger context across multiple industries, including finance, supply chain and capital markets;
a focus on using blockchain for business transformation and to improve underlying processes;
strong business relationships across protocols and industry consortiums — including Hyperledger, the Enterprise Ethereum Alliance and Corda — as well as partnerships with IBM Global Technology Services, Microsoft and Amazon Web Services, showing a commitment to supporting the evolution of the blockchain community; and
the company's dedication to digital identity innovations from biometric- and blockchain-based digital identity, shared homomorphic encryption, and interoperability to technical architecture blueprints and security has delivered a significant number of mature production implementations.
a large number of completed blockchain engagements or projects, including proofs of concept and pilots that provide a level of familiarity and expertise. These projects include a significant number of mature production implementations, with noteworthy examples in insurance and capital markets, indicating a deep understanding of those industries and verticals.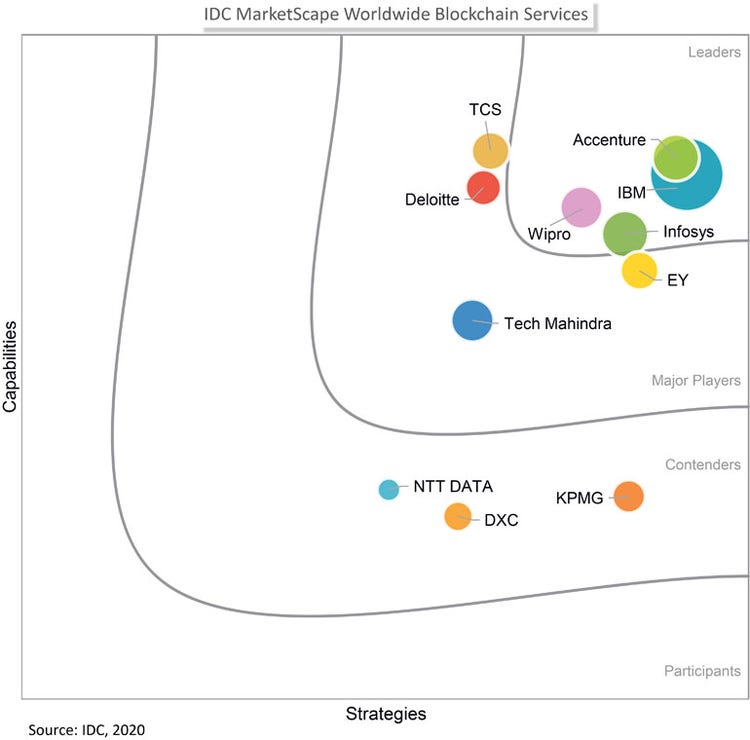 "We are honored to be recognized for our leadership in developing the blockchain capabilities and strategies that help clients take their digital transformation to the next level,'' said David Treat, a senior managing director at Accenture who leads its Blockchain and Multiparty Systems business. "This next wave of innovation is enabling greater collaboration, trust and resiliency as entire ecosystems reshape and reinvent their business models. From making supply chains more nimble, to transforming money for our digital world, to facilitating seamless travel and providing greater control over our data and personal information – we're helping our clients make new markets and capture more value amidst change, with greater consistency and confidence."

"Accenture's strategy and demonstrated commitment to blockchain, its technology, consortiums, and use cases make the company a good partner for organizations looking to build out their blockchain implementations beyond pilots or proofs of concept," said James Wester, Research Director, Worldwide Blockchain Strategies, IDC.
NEWS: Accenture is named a leader in @IDC's first-ever MarketScape for Worldwide Blockchain Services 2020 #blockchain @accenturetech


In addition to being named a Leader in the IDC MarketScape, Accenture was recently positioned as a Leader in the Everest Group PEAK Matrix™ Assessment for Blockchain Services and recognized in the HFS Top 10 Enterprise Blockchain Services 2020 Report.

More information about Accenture's Blockchain and Multiparty Systems business can be found here.

About Accenture
Accenture is a leading global professional services company, providing a broad range of services in strategy and consulting, interactive, technology and operations, with digital capabilities across all of these services. We combine unmatched experience and specialized capabilities across more than 40 industries — powered by the world's largest network of Advanced Technology and Intelligent Operations centers. With 513,000 people serving clients in more than 120 countries, Accenture brings continuous innovation to help clients improve their performance and create lasting value across their enterprises. Visit us at www.accenture.com.

About IDC MarketScape
IDC MarketScape vendor assessment model is designed to provide an overview of the competitive fitness of ICT (information and communications technology) suppliers in a given market. The research methodology utilizes a rigorous scoring methodology based on both qualitative and quantitative criteria that results in a single graphical illustration of each vendor's position within a given market. IDC MarketScape provides a clear framework in which the product and service offerings, capabilities and strategies, and current and future market success factors of IT and telecommunications vendors can be meaningfully compared. The framework also provides technology buyers with a 360-degree assessment of the strengths and weaknesses of current and prospective vendors.

# # #

Contacts:

Alison Geib
Accenture
+1 703 947 4404
alison.geib@accenture.com

Denise Berard
Accenture
+1 617 488 3611
denise.berard@accenture.com

This document makes descriptive reference to trademarks that may be owned by others. The use of such trademarks herein is not an assertion of ownership of such trademarks by Accenture and is not intended to represent or imply the existence of an association between Accenture and the lawful owners of such trademarks.

Copyright © 2020 Accenture. All rights reserved. Accenture and its logo are trademarks of Accenture.