July 13, 2020
Accenture Named a Leader in Everest Group's Medical Devices Digital Services PEAK Matrix® Assessment 2020

NEW YORK; July 13, 2020 – Accenture (NYSE: ACN) is positioned as a Leader in medical devices digital services in a new report from independent research firm Everest Group.
The report, "Medical Devices Digital Services PEAK Matrix® Assessment 2020," analyzed 21 information technology (IT) service providers specific to the medical devices sector globally. These service providers were mapped on the Everest Group PEAK Matrix®, which is a composite index of a range of distinct metrics related to a provider's capability and market impact.

Accenture emerged as a Leader because of a strong innovation focus with dedicated MedTech hubs across the globe and extensive partnerships with independent software vendors and tech firms.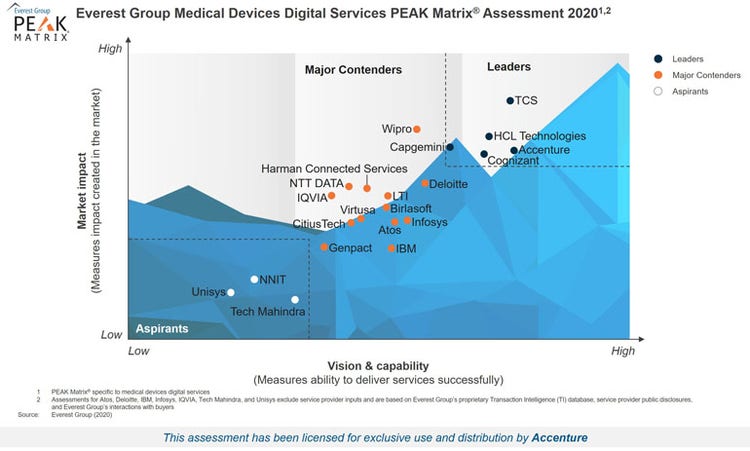 "We are seeing a surge in demand for digital services in the medical devices industry, driven largely by the proliferation of smart medical devices, the ever-changing regulatory landscape, and pressure to reduce product development timelines," said Chunky Satija, practice director, Everest Group. "Digital is helping medical device enterprises remain competitive by reducing costs, introducing operational efficiencies, and improving customer experience. Accenture's innovation focus with dedicated MedTech hubs and platform solutions such as the INTIENT patient and clinical platforms, coupled with its strong consulting-led approach, has helped it to earn large digital engagements with medical devices enterprises, as well as a Leader position in Everest Group's Medical Devices Digital Services PEAK Matrix Assessment 2020."

Everest Group forecasts the medical devices IT service market will grow at a compound annual growth rate of 7% to 9% from 2018 to 2021, while the digital services market will grow at a CAGR of 22% to 24% during the same period. It forecasts that growth will largely be driven by digital initiatives focused on reducing product development timelines, developing smart medical devices and adapting to the evolving regulatory landscape.

"More than ever we see the need for digitally enabled medical technologies that meet regulatory and cybersecurity standards and can help make patients' lives better. Our recent survey of 2,700 patients around the globe showed a 44% uptake in medical devices and apps to support treatments in oncology, immunology and respiratory since COVID-19 hit," said Maximilian Schmid, Accenture global MedTech lead in the Life Sciences industry. "We are at the forefront of the industry helping life sciences clients make these critical technologies available, and so we are honored by this recognition from Everest Group."

Everest Group defined the medical devices digital services market as one that was a laggard in the past, but is currently witnessing an uptick in demand, given the smaller size of the industry and increasing interest in remote monitoring and telehealth solutions, particularly considering COVID-19.

"We recognize that self-care, personalization of treatments and predictability of outcomes is defining the smart medical devices landscape and we are supporting solutions in all of the major medical speciality areas in over 30 markets," said Tom Kawalec, Accenture North America MedTech lead in the Life Sciences industry. "Going forward, connected devices and home healthcare will be key to helping address high unmet healthcare needs."

An excerpt of the "Medical Devices Digital Services PEAK Matrix® Assessment 2020," is available here. To learn more about Accenture's MedTech capabilities, click here.

# # #

Contact:

Lara Wozniak
Accenture
+1 858 252 8208
lara.wozniak@accenture.com

Copyright © 2020 Accenture. All rights reserved. Accenture and its logo are trademarks of Accenture.