February 17, 2020
Accenture Named a Leader for Network Transformation and Managed Services by Independent Research Firm Everest Group

NEW YORK; Feb. 17, 2020 – Accenture (NYSE: ACN) has been strongly positioned as a Leader in both Market Impact and Vision & Capability in the inaugural Everest Group PEAK Matrix for Network Transformation and Managed Services 2020.
Vision & Capability, according to Everest Group, measures the ability to deliver services successfully. This is captured through four subdimensions: vision and strategy; scope of services offered; innovation and investments; and delivery footprint. Market Impact measures the value created in the market captured through three subdimensions: market adoption; portfolio mix; and value delivered.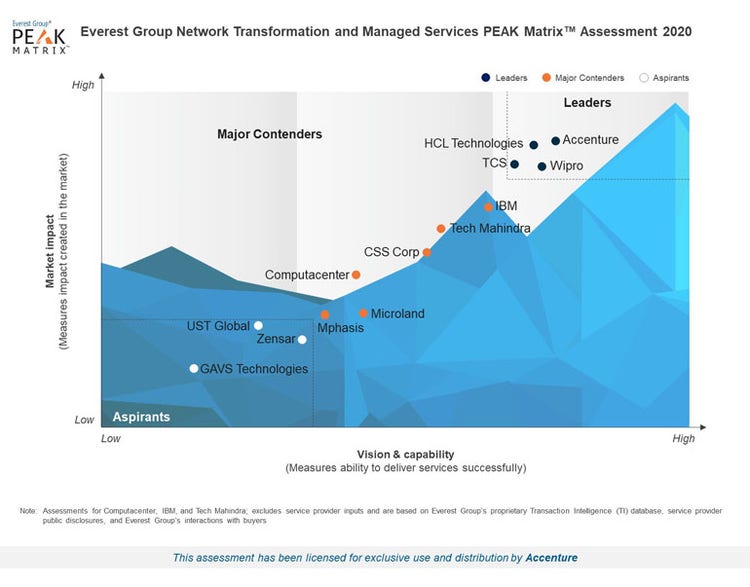 Everest Group positions Accenture as a Leader in both Market Impact and Vision & Capability
for Network Transformation and Managed Services
Accenture's highlighted strengths include a wide and flexible services portfolio, innovation-driven solutions underpinned by analytics and automation, build of contextualized business cases, and positive ROI for network investments.

Accenture was also highly rated in vision and strategy "rearchitecting enterprise networks to drive agility, improve performance, and aid customers to benefit from cloud innovation." In addition, Accenture received high scores for the highly-weighted subcriteria of value delivered and innovation, and investments.

"Enterprises have begun to realize the relevance of networks in their broader digital transformation initiatives. Automating network operations through AI and analytics is gaining traction as a primary network transformation lever," said Ashwin Venkatesan, vice president, Cloud and Infrastructure Services, at Everest Group. "Accenture is focused on delivering innovation-driven solutions underpinned by analytics and automation tailored to the challenges of each client."

Kishore Durg, senior managing director of Accenture Cloud and growth & strategy lead for Accenture Technology Services, said, "Accenture is leading the market with network innovations tuned to our clients' most complex business challenges for digital transformation. This Everest Group report is a testament to the value we deliver for our clients and will help us continue to drive breakaway growth in 2020 and beyond."

The Everest Group report offers an assessment and detailed profiles of 13 network service providers featured on the network services PEAK Matrix™. Each service provider profile provides a comprehensive picture of its service focus, key Intellectual Property (IP)/solutions, domain investments, and case studies. The assessment is based on Everest Group's annual Request For Information (RFI) process for calendar year 2019, interactions with leading network service providers, client reference checks, and an ongoing analysis of the network services market.

About Accenture
Accenture is a leading global professional services company, providing a broad range of services and solutions in strategy, consulting, digital, technology and operations. Combining unmatched experience and specialized skills across more than 40 industries and all business functions — underpinned by the world's largest delivery network — Accenture works at the intersection of business and technology to help clients improve their performance and create sustainable value for their stakeholders. With 505,000 people serving clients in more than 120 countries, Accenture drives innovation to improve the way the world works and lives. Visit us at www.accenture.com.

# # #

Contact:

Mylissa Tsai
Accenture
+1 917 452 9729
mylissa.tsai@accenture.com

Copyright © 2020 Accenture. All rights reserved. Accenture and its logo are trademarks of Accenture.