August 13, 2020
Accenture Named a Leader and Star Performer in IT Security Services by Analyst Firm Everest Group

NEW YORK; Aug. 13, 2020 – Accenture (NYSE: ACN) has been named a "Leader" and emerged as one of only three "Star Performers" in information technology (IT) security services in a recent report from industry analyst Everest Group.
The report, "PEAK Matrix® for IT Security Services 2020," analyzes the changing dynamics of the IT security services landscape and assesses 22 service providers across several key dimensions.
Everest Group's PEAK Matrix framework provides an objective, data-driven and comparative assessment of IT security services providers based on their absolute marketing success and delivery capability globally.

Since the last report, Accenture has strengthened its position as a Leader, which is characterized by the ability to offer large-scale security transformation, leveraging strong service delivery capabilities.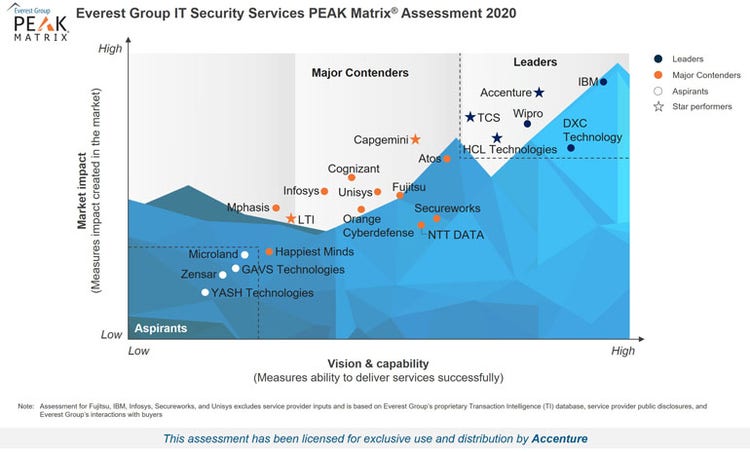 Among Accenture's strengths that the report cites are its:
comprehensive portfolio of IT security services, built on an approach focused on business resilience and brand trust protection;
emphasis on industry contextualization within IT security services go-to-market, backed by continuous investments in fusing industry-specific nuances into security services solutions;
investments in acquisitions and ventures to enhance capabilities and broaden delivery scale, with 10+ security-specific acquisitions and venture investments in the last five years;
strong intellectual property portfolio focused on next-generation demand themes such as IT-OT convergence, the internet of things, 5G and artificial intelligence; and
extensive partner ecosystem built on global alliances with a co-development agenda.

In addition, the report notes that enterprise buyers have identified Accenture's depth and breadth of expertise, thought leadership in strategy and architecture, and talent management as key strengths.

"We help our clients secure the overall ecosystem of their enterprise and innovations, plus third parties, in this remote business environment with an ever-evolving cyberthreat landscape," said Kelly Bissell, who leads Accenture Security globally. "This recognition by Everest Group further validates the significant investments we've made globally to expand our extensive cybersecurity consulting portfolio with additional expertise and technology that helps our clients be resilient through this current crisis and whatever comes next."

"A business-critical need to support distributed workers and operations is exponentially increasing digital touch points and stressing traditional security perimeters," said Ashwin Venkatesan, Vice President, Everest Group. "Accenture is helping enterprises build resiliency and operate confidently in the face of evolving threats by placing digital trust at its core and leveraging its strong IP and extensive partner ecosystem. Its clients highlight the depth and breadth of its expertise, and its strategic thought leadership, focus on co-innovation, and talent management as key strengths, helping to position it as a Leader in Everest Group's IT Security PEAK Matrix."

Everest Group's assessment is based on its annual Request for Information process conducted during Q4 2019 and Q1 2020, interactions with leading IT security service providers, and analysis of the IT security services marketplace.

The full report, "PEAK Matrix® for IT Security Services 2020," is available to Everest Group subscribers here. For more information, please visit: https://www.accenture.com/us-en/insights/security/star-performer-it-security-services

About Accenture
Accenture is a leading global professional services company, providing a broad range of services in strategy and consulting, interactive, technology and operations, with digital capabilities across all of these services. We combine unmatched experience and specialized capabilities across more than 40 industries — powered by the world's largest network of Advanced Technology and Intelligent Operations centers. With 513,000 people serving clients in more than 120 countries, Accenture brings continuous innovation to help clients improve their performance and create lasting value across their enterprises. Visit us at www.accenture.com.

Accenture Security is a leading provider of end-to-end cybersecurity services, including advanced cyber defense, applied cybersecurity solutions and managed security operations. We bring security innovation, coupled with global scale and a worldwide delivery capability through our network of Advanced Technology and Intelligent Operations centers. Helped by our team of highly skilled professionals, we enable clients to innovate safely, build cyber resilience and grow with confidence. Follow us @AccentureSecure on Twitter or visit us at www.accenture.com/security.

This document makes descriptive reference to trademarks that may be owned by others. The use of such trademarks herein is not an assertion of ownership of such trademarks by Accenture and is not intended to represent or imply the existence of an association between Accenture and the lawful owners of such trademarks.

Copyright © 2020 Accenture. All rights reserved. Accenture, and its logo are trademarks of Accenture.
# # #


Contact:

Alison Geib
Accenture
+1 703 947 4404
alison.geib@accenture.com

Denise Berard
Accenture
+1 617 488 3611
denise.berard@accenture.com