September 26, 2020
Accenture Finds Chinese Companies That Excel at Digital Transformation Stayed Resilient and Competitive Post COVID-19


Other Chinese companies are still struggling in their journey to digital maturity

BEIJING; September 26, 2020 – New research by Accenture (NYSE: ACN) has revealed that only a small number of Chinese companies stayed resilient and competitive against COVID-19 impact. These companies are able to achieve success because of their sustained and successful digital transformation efforts.
This is the third consecutive year that Accenture has conducted the China Digital Transformation Index research in collaboration with China Industrial Control Systems Cyber Emergency Response Team (CICS-CERT). The research studied nearly 400 Chinese companies across nine industries and found only 11% of companies surveyed can be designated as Digital Transformation Champions, have successfully digitized their businesses and achieved stronger performance in both their operations and innovation.

According to the research, aside from these Champions, most Chinese companies still lag in digital maturity though some responded flexibly and overcame a few challenges brought by the crisis. However, there is a clear lack of digital integration and interoperability across production, operation and organization due to inadequate long-term digital strategy in many companies.

For example, most Chinese companies have started to adopt digital tools and methods such as remote working and online channels in their operations. However, only 39% of companies have fully deployed cloud services, while just 22% use real-time data to adjust and optimize production.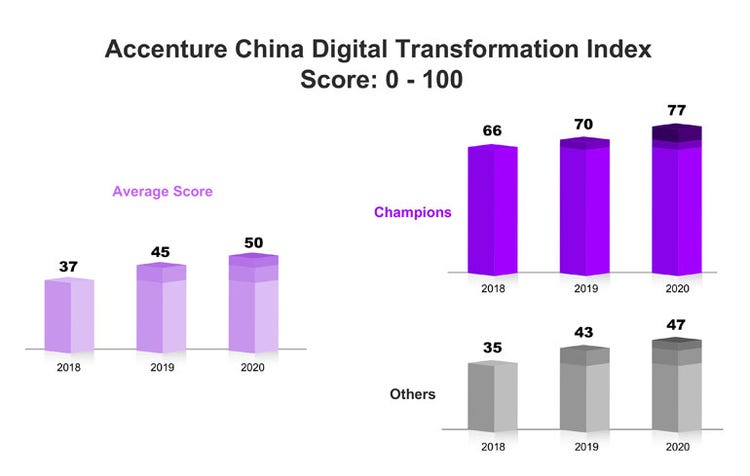 Figure 1. Accenture China Digital Transformation Index Score from 2018 to 2020
Source: Accenture Research
"In times of crisis, the Champions have demonstrated strong resilience and capabilities to keep innovating their businesses. However, most Chinese companies are threatened not only by the pandemic and market uncertainties, but also by their digital immaturity," said Wei Zhu, chairman of Accenture Greater China and a member of Accenture's Global Management Committee. "Companies should continue to accelerate digital transformation and drive innovation relentlessly to improve their overall business performance."

The research found that the Champions are recovering from the crisis faster and are achieving better financial performance. By embedding digital solutions across their operations, these companies achieved a higher degree of integration and collaboration, which helped to improve the level of insights, rapid response and decision-making – allowing them to better outmaneuver uncertainties.

As a result they were able to achieve competitive advantages: 63% Champions returned to their pre-crisis levels of productivity within three months, compared with 47% of other companies; 74% of the Champions expected to achieve positive revenue growth in 2020, compared with fewer than half (49%) of other companies.

The study also found that there are different drivers for digital investments. Many of the companies surveyed would steer digital transformation in more pragmatic ways, with 85% saying they would like to acquire some tangible results within 12 months of their digital investment.

"The digital economy is growing fast in China. Companies with top-notch digital maturity can better manage risks and navigate market changes. When applying new technologies, Chinese companies should build up digital proficiency across their core business and processes. They also need to prioritize agile innovation to meet customer expectations, unlock the potentials of technologies and adapt to challenging business environments," added Wei Zhu.

The report recommends six actions for business leaders to better seize opportunities during recovery and drive future growth:
Develop data transparency of all businesses: These are companies that rely extensively on achieving real-time data analysis that enable intelligent decision-making, which help companies stay ahead of the curve by reacting proactively to trends and events.
Elevate omnichannel "games": Shift business focus to redesign a great customer experience and digitize various channels through which a business connects with customers more closely.
Build resilient digital supply chains: Enhance data-architecture capabilities and processes and create data synergies with upstream and downstream companies to establish early alert systems, improve the flexibility from procurement to production.
Create Future Systems to enhance IT adaptability and business flexibility: Deploy cloud-based systems that learn and adapt. This also means freeing up space for innovation and ensuring data security, as well as supporting rapid business expansion and changes.
Nurture a flexible organization: Innovate the way of working, employee engagement and management to promote the organizational culture of shared success.
Grow agile innovation capabilities: Pursue a more pragmatic attitude to innovation, such as by releasing product upgrades and tweaking product portfolios faster. This would lead to making flexible and prudent investments on new businesses to help spur innovation.
About Accenture China Digital Transformation Index
The Accenture China Digital Transformation Index is a cross-industry framework to assess a company's rotation progress based on 52 key metrics of four-level indicators. The study surveyed 398 Chinese companies in nine industries, including electronics components and materials, high-tech devices and equipment, automotive and engineering, life science, consumer goods, logistics and airline, retail, chemicals/construction material and metallurgy.

About Accenture
Accenture is a leading global professional services company, providing a broad range of services in strategy and consulting, interactive, technology and operations, with digital capabilities across all of these services. We combine unmatched experience and specialized capabilities across more than 40 industries — powered by the world's largest network of Advanced Technology and Intelligent Operations centers. With 506,000 people serving clients in more than 120 countries, Accenture brings continuous innovation to help clients improve their performance and create lasting value across their enterprises. Visit us at www.accenture.com.

# # #

Contacts:

Minjie Zha
Accenture
+86 135 6438 2350
minjie.zha@accenture.com