August 19, 2020
Accenture and Intel Support Neuromorphic Research Project to Develop Robotic Arm for Wheelchair-Bound Pediatric Patients


Companies collaborate with researchers from Open University of Israel to develop and test wheelchair-mounted robotic arm with patients at ALYN Hospital Pediatric Rehabilitation Center

NEW YORK, SANTA CLARA, Calif. and RA'ANANA, Israel; Aug. 19, 2020 – Accenture (NYSE: ACN) and Intel are supporting a neuromorphic computing research project led by the Neuro-Biomorphic Engineering Lab (NBEL) at the Open University of Israel in collaboration with ALYN Hospital, Israel's leading pediatric and adolescent rehabilitation center. Funded by Accenture through its participation in the Intel Neuromorphic Research Community (INRC), the project is focused on developing and testing a wheelchair-mounted robotic arm to assist patients with performing daily tasks.
Researchers from Accenture Labs and Intel Labs are working with researchers from Open University of Israel to build a wheelchair-mounted robotic arm with adaptive controls, using an algorithm developed by Applied Brain Research (ABR) and Intel's neuromorphic computing hardware. Wheelchair users will be able to independently control the robotic arm to perform daily tasks that require strength and dexterity of arms and hands, such as drinking from a glass, with 50% fewer errors and a 48% improvement in energy efficiency over traditional control methods. The device will undergo clinical testing and evaluation with patients at ALYN Hospital who rely on electric wheelchairs and have motor impairment of their upper extremities.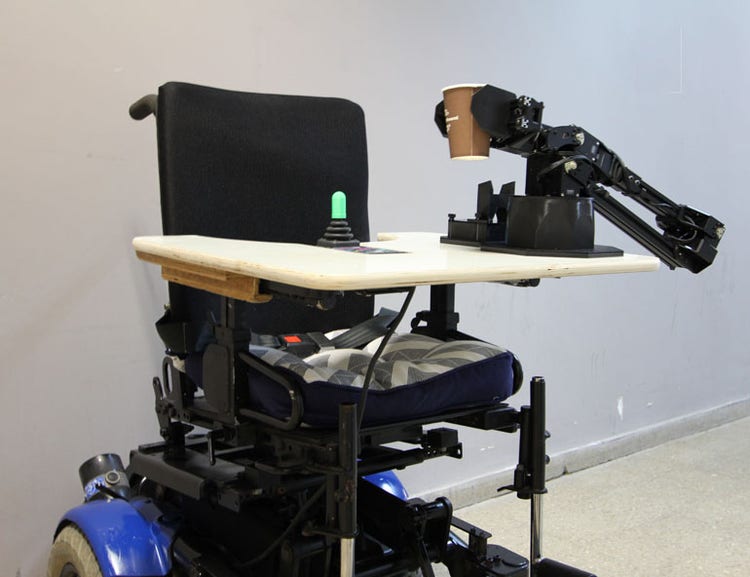 An early prototype of a robotic arm designed to assist patients with spinal injuries in performing daily tasks. Using funding and technology support from Accenture, as well as Intel's neuromorphic technology, researchers from the Open University of Israel and ALYN Hospital will refine the device and clinically evaluate it with pediatric patients. Credit: ALYN Hospital
Studies suggest that wheelchair-mounted robotic arms provide an increased sense of independence for users, and that these assistive tools can reduce the need for caregiver time by up to 41 percent. Today, however, the cost of these devices is incredibly high, making them inaccessible to many people who need them.

"The ability of robotic arms to benefit people today is largely limited due to high cost and excessive power consumption," said Elishai Ezra Tsur, lead project researcher at the Open University of Israel. "This funding from Accenture, along with additional support from Intel and ABR, is allowing us to explore the implementation of adaptive controls on neuromorphic hardware in an effort to address the need for a collaborative, user-friendly, accurate robotic arm at a significantly reduced cost."

The real-time learning capability of Intel's neuromorphic research chip, Loihi, shows potential to reduce the cost of creating and operating assistive devices. By utilizing Loihi's real-time learning, researchers predict they can implement adaptive control to enhance the arm's functionality, while using affordable parts that could reduce the cost by more than 10x. Because Loihi is up to 1,000 times more energy efficient than general purpose processors, a Loihi-based device could require less frequent charging, making it more ideal for use in daily life.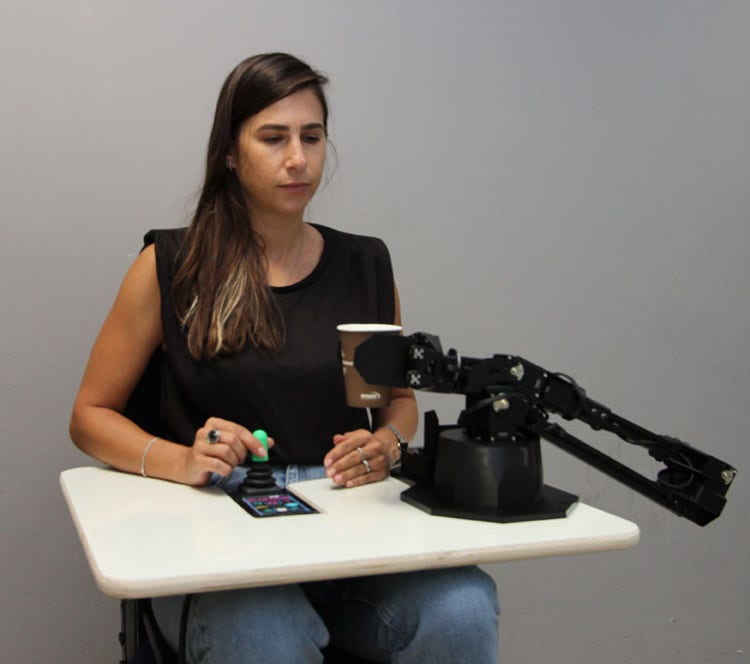 A member of the ALYN Hospital team demonstrates the use of an early prototype robotic arm designed to assist patients with spinal injuries in performing daily tasks. Using funding and technology support from Accenture, as well as Intel's neuromorphic technology, researchers from the Open University of Israel and ALYN Hospital will refine the device and clinically evaluate it with pediatric patients. Credit: ALYN Hospital

"We believe that the development of a robotic arm based on neuromorphic computing can be a game-changer for people with disabilities," said Arie Melamed-Yekel, general manager of ALYNnovation at ALYN Hospital. "It could make it easier for them to engage with the community, boost their independence and grant them new employment opportunities. The expected cost and performance improvements are potentially disruptive to this market. We are proud to lead this revolution together with the Open University, Intel and Accenture."

Accenture Labs and Intel Labs will leverage their experience in neuromorphic computing and artificial intelligence to assist the Open University research team with the development of the neuromorphic algorithm, as well as provide support for the design of the study.

Edy Liongosari, Technology Innovation growth and strategy lead and chief research scientist at Accenture, said, "This research project is a powerful demonstration of the impact that neuromorphic computing can have on the development of affordable intelligent assistive devices. Making these devices accessible, particularly to such young patients, can have a profound impact on their independence, improving the way they live. We are looking forward to teaming closely with the Open University of Israel researchers, ALYN and Intel, contributing our technical and industry experience to advance this technology for those who need it the most."

Mike Davies, director of Intel's Neuromorphic Computing Lab, added, "Neuromorphic computing is a natural fit for assistive technologies, given its low power requirements and ability to learn and adapt to new situations in real time. Through Intel and Accenture's work with the Open University of Israel and ALYN Hospital, we hope to unlock new capabilities for mobility impaired children and improve the patients' quality of life."

If this project is successful, the research team plans to explore how to produce the assistive robotic arm for patients, as well as explore applications of adaptive control technology in flexible manufacturing and industrial automation.

Intel and Accenture will continue to collaborate to identify and fund additional neuromorphic research that has the potential to advance the field.

About Accenture
Accenture is a leading global professional services company, providing a broad range of services in strategy and consulting, interactive, technology and operations, with digital capabilities across all of these services. We combine unmatched experience and specialized capabilities across more than 40 industries — powered by the world's largest network of Advanced Technology and Intelligent Operations centers. With 513,000 people serving clients in more than 120 countries, Accenture brings continuous innovation to help clients improve their performance and create lasting value across their enterprises. Visit us at www.accenture.com.

About Intel:
Intel (Nasdaq: INTC) is an industry leader, creating world-changing technology that enables global progress and enriches lives. Inspired by Moore's Law, we continuously work to advance the design and manufacturing of semiconductors to help address our customers' greatest challenges. By embedding intelligence in the cloud, network, edge and every kind of computing device, we unleash the potential of data to transform business and society for the better. To learn more about Intel's innovations, go to newsroom.intel.com and intel.com.

For more context, visit Neuromorphic Computing (Press Kit), Intel Labs (Press Kit), How Neuromorphic Computing Uses the Human Brain as a Model (Video)

About NBEL at the Open University of Israel
The Open University of Israel aims to make higher education accessible. By conducting state-of-the-art research, offering challenging academic programs, developing advanced distance learning methods, and reaching out to the geographic and socioeconomic periphery, the Open University strives to be a leading force for social inclusion and academic empowerment in Israel, while maintaining excellence in academic teaching and research. At the Neuro-Biomorphic Engineering Lab (NBEL) of the Open University, we are innovating at the intersections of disciplines. We aim to develop the next generation of nature-inspired computing architectures while utilizing trans-disciplinary engineering to uncover complex biological behavior. Visit us at NBEL-lab.com and openu.ac.il/en

About ALYN Hospital and ALYNnovation
ALYN Hospital is a world-leading pediatric and adolescent rehabilitation hospital, and the only facility of its kind in Israel. With a reputation for a comprehensive, multidisciplinary approach, we proudly treat young patients of all religions and nationalities. Over nearly 90 years of experience, we have been driven by resolute professionalism, dedication to each child, and a standard of excellence and innovative thinking. To support and encourage the development of assistive technologies (AT), ALYNnovation was established in 2017 as ALYN Hospital's innovation track for the development of pediatric assistive technologies. By combining access to a state-of-the-art facility and eminent key medical, clinical therapists and research experts in the field with strong business acumen and industry networks, ALYNnovation has become the ultimate R&D partner for growing AT startups. To learn more about ALYN Hospital and ALYNnovation, visit us at alyn.org, or write us at innovation@alyn.org.

# # #

Contacts:

Hannah Unkefer
Accenture
+1 206 839 2172
hannah.m.unkefer@accenture.com

Alexa Korkos
Intel
+1 415 706 5783
alexa.korkos@intel.com

Elishai Ezra Tsur
Open University of Israel, Neuro-Biomorphic Engineering Lab
+972 50 8785518
elishai@nbel-lab.com

Arie Melamed-Yekel
ALYN Hospital and ALYNnovation
+972 54 926 6297
ariemy@alyn.org