December 11, 2019
Traditional Cable and Wireless Brands Are Catching Up to Big Tech and Digital Brands in Terms of Customer Affinity, According to Accenture's "Global Keep Me Index"

NEW YORK; Dec. 11, 2019 – Customer affinity toward traditional communications and media companies is closing the gap with that for big tech and digital companies, according to a new report from Accenture (NYSE: ACN).
For its "2019 Global Keep Me Index: Are you a keeper?" report Accenture surveyed nearly 24,000 consumers in 18 countries on their likeliness to stay with a brand long-term based on how they think, feel and talk about that brand. A key finding: The gap between consumer affinity for digital brands and that for traditional cable, satellite and wireless brands shrunk by more than two-thirds since 2017.

Specifically, the gap between affinity for digital brands and that for traditional cable and satellite brands is now just 23%, compared with 75% in 2017. The gap between the affinity for digital brands and that for traditional wireless brands is now just 9%, compared with 28% in 2017.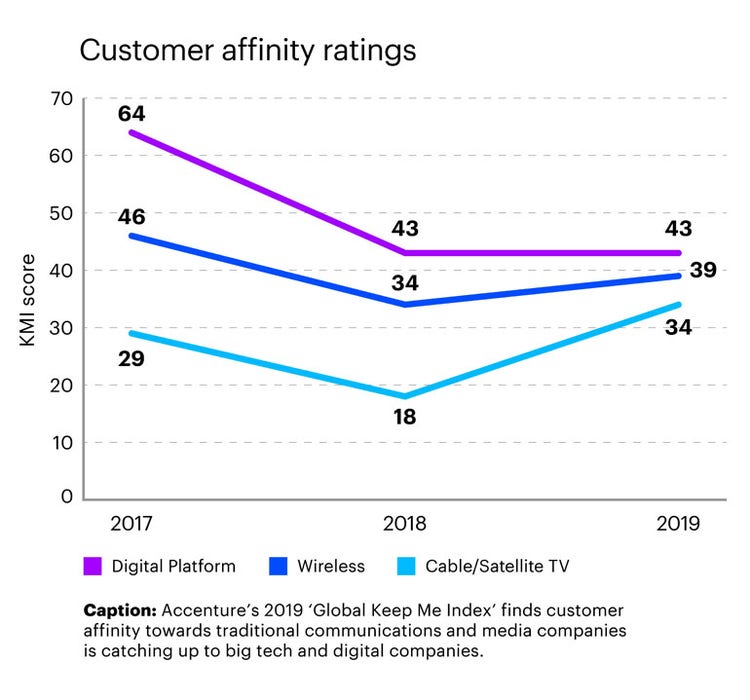 According to the survey, customer perception of service quality from traditional communications and wireless companies increased 10% over the past two years, driven by more-personalized services, better control over personal data, and more fun and engaging user experiences. Perception of service quality from digital platform companies, which include big technology and digital brands, decreased by 10% during that time, though they remain the highest ranked providers.

"Digital platforms continue to lead in customer affinity ratings, but this survey shows that traditional communications and wireless companies are stepping up their game in the fierce competition for digital mindshare," said Dawn Anderson, who leads management consulting in Accenture's Communications, Media & Technology practice in North America. "Our research suggests that all these brands need to keep a sharp focus on building trust, investing in personalized experiences and offering more variety of service."

Among the study's other findings:
Multiple, integrated service offerings matter. Customers with three or more services from a provider are twice as likely as single-service customers to stay with their service provider. Additionally, only 14% of customers want to manage multiple on-demand video services with different providers.
Price is not a leading influencer this year on customers' likeliness to stay with a brand.
Innovative offerings matter. Brands that embrace ecosystem partnerships are better able to provide value for customers in unique ways. One example is with the connected home, as companies that offer digital home monitoring services drive 30% more customer "stickiness" than providers that don't offer it.
Personal data sharing and trust are aligned. Customers who trust a brand highly are three times more likely than those who distrust a brand to stay with it for the next 12 months. They are also likely to share four times more personal data than those who do not trust a brand.
"Gaining or losing ground with your 'Keep Me Index' score is a big deal," said Anderson. "In fact, on average, increasing a 'Keep Me Index' score by 5 percent decreases customer churn risk by 4-5 percent."

For Accenture's complete "2019 Global Keep Me Index: Are you a keeper?" report, visit: www.accenture.com/keepmeindex.

Methodology
Accenture Research conducted an online survey of 23,930 consumers in 18 countries: Australia, Canada, China, France, Germany, India, the Netherlands, Italy, Japan, Malaysia, Saudi Arabia, Singapore, South Africa, Spain, Sweden, the United Arab Emirates, the United Kingdom and the United Sates. The sample in each country was based on which brands were prioritized in each region according to number of subscribers and tiered based on comparative relative sizes for each brand. Ages of respondents ranged from 18 to over 55. The survey and Accenture's proprietary algorithms apply weighted values to five relationship factors to calculate brand-level Keep Me Index scores that correlate to customers' likelihood to stay with a brand for the next 12 months.

About Accenture
Accenture is a leading global professional services company, providing a broad range of services and solutions in strategy, consulting, digital, technology and operations. Combining unmatched experience and specialized skills across more than 40 industries and all business functions — underpinned by the world's largest delivery network — Accenture works at the intersection of business and technology to help clients improve their performance and create sustainable value for their stakeholders. With 492,000 people serving clients in more than 120 countries, Accenture drives innovation to improve the way the world works and lives. Visit us at www.accenture.com.

# # #

Contact:

Melissa Curtis
Accenture
+1 617 480 8590
melissa.curtis@accenture.com

Copyright © 2019 Accenture. All rights reserved. Accenture and its logo are trademarks of Accenture.