March 25, 2019
State Government Leaders Face Big Challenges in the Public-Sector Workforce, According to Report from NASCA, Accenture and NEOGOV


Improving recruitment and the employee experience are key to closing the gap

ARLINGTON, Va; March 25, 2019 – U.S. state governments face growing challenges attracting, building and retaining critically important talent and workforce skills, according to new research from the National Association of State Chief Administrators (NASCA) in collaboration with Accenture (NYSE: ACN) and NEOGOV.
Based on surveys of chief administrators and human resource (HR) directors in 33 states, a survey of nearly 3,000 state-government job seekers, and analyses of over 14,000,000 public sector job postings, the research — published today in a report titled Job One: Reimagine Today's State Government Workforce — shows a widening gap between the number of open jobs and the number of applicants but also highlights strategies to help reverse the trend.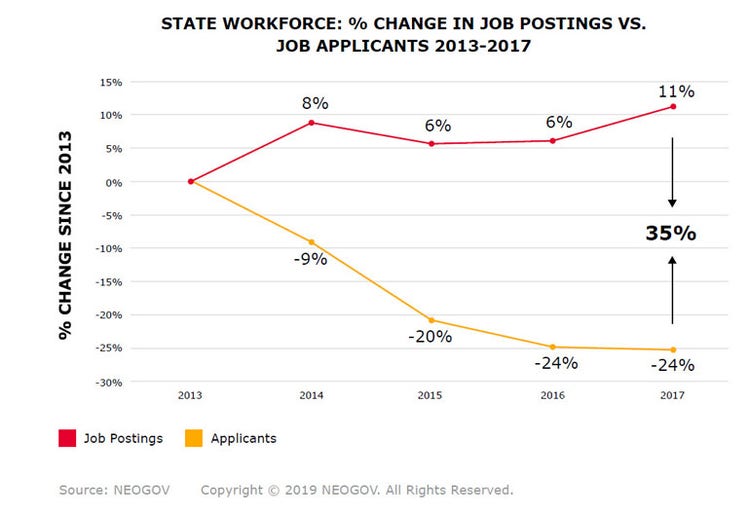 According to the research, chief administrators and HR directors find "difficulty attracting new employees" as the top workforce management challenge. When respondents were asked which trends have the greatest impact on their workforce strategy, nearly two-thirds (64 percent) of state administrators cited the growing skills gap, indicating that recruiting the best talent, with the right skills, is a top issue for these leaders in state governments.

"As the hub of government operations and management, state chief administrators are uniquely positioned to play a significant role in strategic talent management, as well as elevating and supporting our human resource executives," said Daniel C. Kim, Director of the California Department of General Services and NASCA's Programs Committee Chair. "This survey addresses one of the greatest challenges facing the government workforce. NASCA will use the findings in this report to advocate for sharing best practices and the resources necessary to reimagine the state government workforce."

The research also identified several factors widening the gap between the number of state job openings and applicants for those positions. Key factors included changes in workforce expectations, especially the reduced appeal of "lifetime employment" among younger generations, less-competitive salaries, rising competition from the private sector, and negative perceptions about working for government.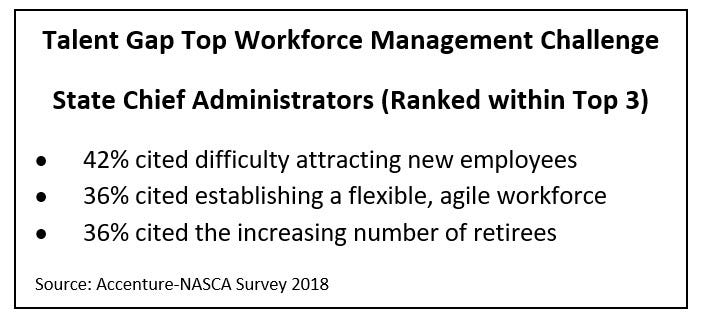 "In this era of fast-paced change, with lots of implications for workforces, state government leaders would do well to evolve their HR functions and people practices, with emphasis on recruiting and the employee experience," said Ryan Oakes, who leads Accenture's public-sector practice in North America. "This is a big part of the modernization agenda facing public leaders, and indeed efforts to streamline citizen services and seize new digital opportunities depend on thriving, creative workforces."

The report includes examples from a number of states with creative initiatives to attract and build talent but says more is needed. Recommendations tied to the research findings call for more vigorous, focused action by states to start closing the talent/skills gap. Among the key steps the report includes as part of its 'roadmap for change' are:
Reshaping recruiting — rethink job descriptions, emphasize training, and improve the branding for public service.
Transforming the employee experience — improve onboarding, automate recruiting, modernize performance evaluations, and get serious about succession planning.
"There has never been a more critical time to be hyper-focused on the recruitment and succession of state employees," said Shane Evangelist, CEO of NEOGOV. "Over the last 5 years, the number of applicants per job opening has dropped 30 percent, requiring state leaders to focus on making their jobs more attractive, broadening their hiring search, and developing their existing employees for succession."

Methodology
Accenture and NASCA surveyed state chief administrators and human resource directors in 33 states from August to October 2018. The survey included questions aligned with Accenture's "Reworking the Revolution" research, enabling comparison between state-government and private-sector leaders. NEOGOV surveyed 2,959 state-government job seekers in September and October 2018 and analyzed recruitment data of over 14,000,000 applicants from 27 state agencies spanning 2013 to 2017.

About Accenture
Accenture is a leading global professional services company, providing a broad range of services and solutions in strategy, consulting, digital, technology and operations. Combining unmatched experience and specialized skills across more than 40 industries and all business functions — underpinned by the world's largest delivery network — Accenture works at the intersection of business and technology to help clients improve their performance and create sustainable value for their stakeholders. With 469,000 people serving clients in more than 120 countries, Accenture drives innovation to improve the way the world works and lives. Visit us at www.accenture.com.

About NASCA
Founded in 1976, the National Association of State Chief Administrators (NASCA), is a nonprofit, 501(c)3 association representing state chief administrators—public officials in charge of departments that provide support services to other state agencies. NASCA provides a forum to exchange information and learn new ideas from each other and private partners. NASCA's mission is to help state chief administrators and their teams strategically transform state government operations through the power of shared knowledge and thought leadership. More information at www.nasca.org.

About NEOGOV
NEOGOV is the leading provider of an integrated HR, payroll, and talent management solution for the public sector. NEOGOV customers report increased employee productivity and engagement, time and cost savings, improved regulatory requirement compliance, and reduced paper processes, with a net result of better services for citizens. Serving over 6,000 organizations, NEOGOV supports organizations with intelligent HR for the public sector. More information at http://www.neogov.com/.

# # #

Contacts:

Joe Dickie
Accenture Health & Public Service
+1 512 694 6422
joseph.r.dickie@accenture.com

Carol Mendelsohn
NEOGOV
+1 310 658 5736
cmendelsohn@neogov.net

Jamie Rodgers, MPA
National Association of State Chief Administrators (NASCA)
+1 859 402 9811
jrodgers@nasca.org