August 21, 2019
Semiconductor Industry Leads in Artificial Intelligence Adoption, Accenture Report Finds


Four in five semiconductor executives currently using and piloting AI within their business – the highest among 20 industries surveyed

NEW YORK; Aug. 21, 2019 – The semiconductor industry is the most bullish about adopting artificial intelligence (AI) and understanding the significant impact it will have on their industry, according to Accenture Semiconductor Technology Vision 2019, the annual report from Accenture (NYSE: ACN) that predicts key technology trends likely to redefine business over the next three years.
Three-quarters of semiconductor executives surveyed for the report (77%) said they have adopted AI within their business or are piloting the technology. In addition, nearly two-thirds of semiconductor executives (63%) expect that AI will have the greatest impact on their business over the next three years, compared with just 41% of executives across 20 industries. This ranks AI higher for chipmakers than other new disruptive technologies surveyed, including d istributed ledgers, extended reality and q uantum computing.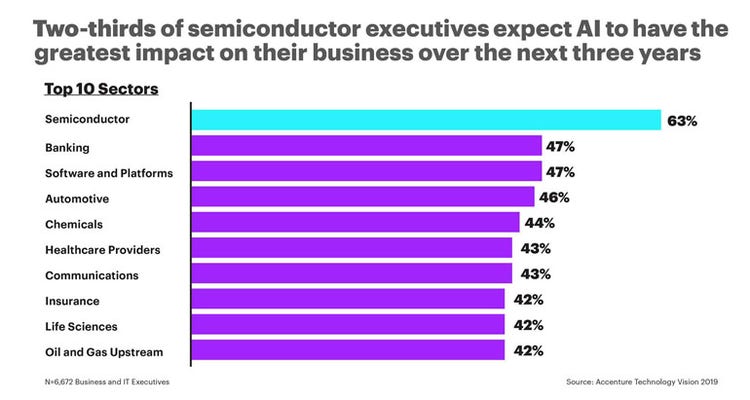 AI, comprising technologies that range from machine learning to natural language processing, enables machines to sense, comprehend, act and learn in order to extend human capabilities. According to the report, AI will have a two-fold impact on chipmakers: opening new market opportunities for them and improving the design and fabrication process.

"AI will be a major growth driver for the semiconductor industry in light of high manufacturing costs and the growing complexity of chip development," said Syed Alam, a managing director at Accenture who leads its Semiconductor practice globally. "To capture this opportunity, chipmakers should leverage AI technologies and partnerships to increase efficiency across their operations."

A 5G Revolution
Nearly nine in 10 semiconductor executives (88%) say that 5G, the next generation of wireless technology, will revolutionize their industry by offering new ways to provide products and services. This revolutionary impact is being driven by the high demand for 5G-enabled smartphones, growth in autonomous vehicle manufacturing, and the rise in government initiatives for building smart cities.

The report also cites challenges that 5G network implementations pose for the semiconductor industry, including the high costs for technology and infrastructure advancements and the concerns around privacy and security.

Workforce reskilling
The report finds that companies must support a new way of working for their employees. Three in five semiconductor executives (37%) expect to move more than 40% of their workforce into new roles in the next three years, which will require substantial reskilling.

"Technology advancements such as AI, 5G and IoT will force semiconductor companies to fundamentally reimagine the skilling of their workforces," said Dave Sovie, senior managing director and global High Tech industry lead. "To do that, they will need to empower and skill their workforce to conceive, make, distribute and support the next generation of products in the marketplace."

About the Methodology
The Accenture Semiconductor Technology Vision 2019 report is derived from the Accenture Technology Vision 2019, which is developed annually by the Accenture Labs and Accenture Research. The research process included gathering input from the Technology Vision External Advisory Board, a group comprising more than two dozen experienced individuals from the public and private sectors, academia, venture capital firms and entrepreneurial companies. In addition, the Technology Vision team conducted interviews with technology luminaries and industry experts, as well as with nearly 100 Accenture business leaders. In parallel, Accenture Research conducted a global online survey of 6,672 business and IT executives to capture insights into the adoption of emerging technologies. The survey helped identify the key issues and priorities for technology adoption and investment. Respondents were C-level executives and directors at companies across 27 countries and 20 industries, with the majority having annual revenues greater than US$6 billion. The Semiconductor Technology Vision 2019 report is based on survey responses from 52 semiconductor executives.

About Accenture
Accenture is a leading global professional services company, providing a broad range of services and solutions in strategy, consulting, digital, technology and operations. Combining unmatched experience and specialized skills across more than 40 industries and all business functions — underpinned by the world's largest delivery network — Accenture works at the intersection of business and technology to help clients improve their performance and create sustainable value for their stakeholders. With 482,000 people serving clients in more than 120 countries, Accenture drives innovation to improve the way the world works and lives. Visit us at www.accenture.com.

# # #

Contact:

Melissa Curtis
Accenture
+1 617 480 8590
melissa.curtis@accenture.com

Copyright © 2019 Accenture. All rights reserved. Accenture and its logo are trademarks of Accenture.