October 16, 2019
New Global Research from Accenture Interactive Urges CMOs to Put People Before Data Collection to Deliver a Better Digital Advertising Experience


Nearly 69% of consumers would stop doing business with a brand if data usage became too invasive

NEW YORK; Oct. 16, 2019 – New global research released by Accenture Interactive offers guidance to chief marketing officers (CMOs) on strategies to use data respectfully and responsibly at a time when a majority of consumers (69%) would not do business with a brand if their data usage was invasive.
As the industry celebrates the 25th anniversary of what has been celebrated as one of the first digital banner advertisements and as digital advertising has given rise to unprecedented amounts of first party data, Accenture Interactive's 2019 Consumer Pulse Survey: See People, Not Patterns, which surveyed over 8,000 consumers globally, offers greater insight into how brands are creating paths to success with digital advertising campaigns.

"Today's leading brands are using data not only to make relationships with customers more relevant and useful but more meaningful too — creating experiences with a purpose — and learning where to draw the line between invasive and inventive," said Glen Hartman, head of Accenture Interactive, North America and global digital marketing lead. "The good news is there is a big opportunity for brands to take a thoughtful approach to data and create an impactful customer experience while doing so – building trust and an emotional connection customers crave."

Data in exchange for transparency
The research finds that around 73% of consumers are willing to share more personal information if brands are transparent about how it is used, up from 66% in 2018. The changing landscape represents an opportunity for brands that provide consumers with value for their data, ensure the brand won't lose or abuse their data and recognize consumers in a way that puts them at ease.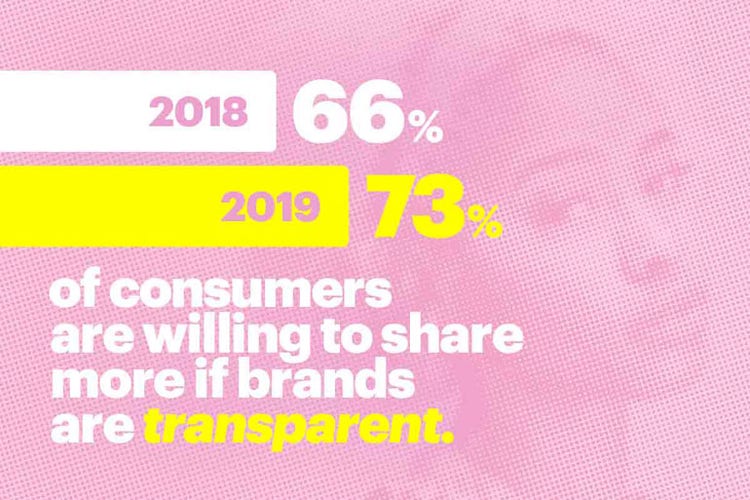 "The research findings pose a question to brands when thinking about data: 'Has data collection gone too far?'" said Scott Tieman, global lead for Programmatic Services, Accenture Interactive. "Many consumers report that brands don't know them well enough to serve them in a way that makes them feel special, but when brands seem to know too much — and act on that knowledge — they can inadvertently lose consumers' trust. We are at an important point in digital advertising where brands need to be purposeful with their data acquisition approach that is transparent and good for the brand – and the consumer."

The research finds that among consumers who said a brand had communicated in a way that was too personal, over 71% said it was because a brand had information about them or their family that they didn't share directly.

As the report notes, "People expect someone they've never met not to recognize them and the same logic applies digitally. Forward-thinking brands are finding ways to approximate how humans behave, in a humane and ethical way."

Data gathering, within reason
The research found consumers want brands to know and understand them; 87% of consumers said it's important to purchase from a brand or retailer that "understands the real me."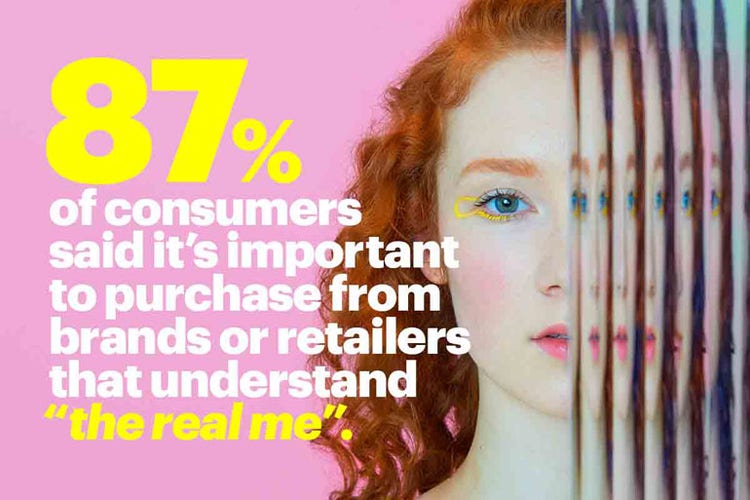 However, consumers don't want brands to go too far and violate their privacy. More than 75% of consumers say they are uncomfortable with data collection via microphone or voice assistant and 51% said invasive ads are on the rise. Nearly 30% of consumers said a brand had gotten "too personal" – and 69% of these consumers would stop doing business with a brand or reconsider their relationship to the brand because of this. More than nine out of 10 consumers (93%) agree it's important that every interaction with a brand is "excellent."

The demand for a seamless experience
Consumers would like to be treated holistically and see their entire experience improve, the research found. To achieve this, brands should focus on consumers' experiences at every interaction during the customer journey, from websites and mobile apps to physical stores and the retail experience.

The data brands gather and how they use it is key to shaping customers' experiences. However, consumers should not be expected to have to opt out of collecting or licensing data as part of this experience.

To create a seamless experience, Accenture Interactive recommends brands can benefit from:
Using fresh opt-in alternatives to track users, such as encouraging consumers to authenticate on websites and mobile applications;
Bringing ad tech contracts in-house to access more effective, transparent data collection methods; and
Building the data architecture of enterprise systems in a way that reflects current regulations.
Brands should extend their approach throughout their advertising efforts, as the report finds "consumers expect companies to take note of all of the information about themselves that they've chosen to share."

An evolving regulatory environment
Brands also need to pay close attention to the evolution of privacy regulations, such as the General Data Protection Regulation (GDPR) and California Consumer Privacy Act (CCPA), as they inform advertising decisions. What should and shouldn't be done in the current environment will be shaped by how rights granted under these laws are interpreted. Regulators are increasing oversight and enforcement, imposing substantial fines against violators. Between May 2018 and January 2019, more than 140,000 complaints and queries were filed with authorities.

As the report recommends, "Brands should build the data architecture of enterprise systems in a way that reflects current regulations. Ultimately, brands must be respectful of the rights of consumers to get access to their data, be 'forgotten' or request portability. This must be baked into their technology."

Methodology
Accenture surveyed 8,000 consumers in Canada, France, Germany, Italy, Spain, Sweden, the U.K. and the U.S. to find what their experiences with digital advertising have been and what drives their digital advertising preferences when it comes to interacting with brands, retailers and service providers.

About Accenture
Accenture (NYSE: ACN) is a leading global professional services company, providing a broad range of services and solutions in strategy, consulting, digital, technology and operations. Combining unmatched experience and specialized skills across more than 40 industries and all business functions — underpinned by the world's largest delivery network — Accenture works at the intersection of business and technology to help clients improve their performance and create sustainable value for their stakeholders. With 492,000 people serving clients in more than 120 countries, Accenture drives innovation to improve the way the world works and lives. Visit us at www.accenture.com.

Accenture Interactive helps the world's leading brands transform their customer experiences across the entire customer journey. Through our connected offerings in design, marketing, content and commerce, we create new ways to win in today's experience-led economy. Accenture Interactive is ranked the world's largest digital agency in the latest Ad Age Agency Report for the fourth year in a row, and was named a 2019 Most Innovative Company in Advertising by Fast Company. To learn more, follow us @AccentureSong and visit www.accentureinteractive.com.
# # #


Contact:

Kelly Coffed
Accenture
+1 404 219 3100
kelly.coffed@accenture.com

Copyright © 2019 Accenture. All rights reserved. Accenture and its logo are trademarks of Accenture.