March 27, 2019
Innovative CMOs Are Creating Superior Business Value by Rewiring Their Organizations to Deliver Hyper-Relevant Customer Experiences, Accenture Study Finds


Businesses that prioritize customer experience generate 11 percent higher shareholder returns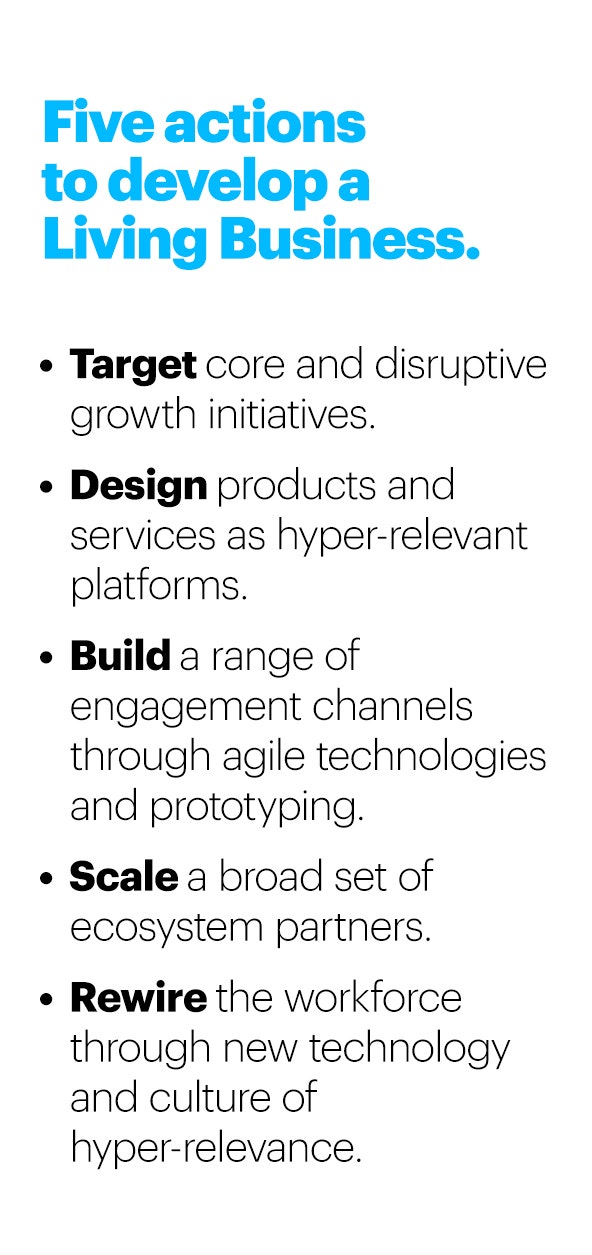 NEW YORK; March 27, 2019 – A small number of innovative chief marketing officers (CMOs) are helping their organizations generate shareholder returns 11 percent higher than those of their industry peers by delivering hyper-relevant customer experiences, according to a new report from Accenture (NYSE: ACN).
Based on a survey of nearly 1,000 CMOs and more than 500 CEOs at the world's largest organizations, the report — Way Beyond Marketing — The Rise of The Hyper-Relevant CMO — found that these marketing leaders — the top 17 percent — are driving transformational change at the highest levels of their organizations, helping them respond quickly to changing customer needs by rewiring their organizations to enable better integration and collaboration and deliver superior customer experiences.

"These marketing leaders are finding creative ways to reinvent the customer experience, which is setting them apart from competitors," said John Zealley, who leads Accenture's Customer Insight & Growth practice. "They are challenging the status quo of traditional organizational structures, taking the reins of innovation and disruptive growth and unlocking value through new C-suite collaborations. Their actions are enabling organizations to become what we call 'living businesses' — able to constantly anticipate and respond to changing customer needs at speed and deliver significant business value."
Innovative group of marketing leaders creating significant business value (11% percent higher shareholder returns) through hyper-relevant #CX new @Accenture study finds. http://www.accenture.com/CMOInsights #CMOInsights


Marketers leading the growth agenda
Nearly one-third (31 percent) of the CEOs surveyed expect CMOs to drive growth using customer data and insights to create new products, services and experiences. The study found that innovative CMOs (the top 17 percent) actively partner with others in the C-suite to create customer-obsessed organizational cultures. Far more likely than their industry peers to spend most of their time driving disruptive growth, these CMOs also describe themselves as 'innovators,' using emerging technologies to predict customer behavior and identify untapped revenue streams.

"While the digital revolution has more than delivered in bringing companies closer to their customers, many large incumbents have struggled to capitalize on the growth opportunity. To truly become a 'living business' where companies are able to anticipate and respond to fast-changing consumer needs, they need to design experiences steeped with empathy for customers and enable cross-functional agility with a focus on helping customers achieve their goals," said Glen Hartman, head of Accenture Interactive, North America.

Purpose driving profit
With consumers increasingly buying from brands that have a clear purpose that aligns to their personal values and beliefs, leading CMOs understand the importance of being highly relevant to their customers' lives. Three-quarters (76 percent) of CMOs believe that consumers have higher expectations today of a brand's purpose. CEOs agree, with 70 percent saying that companies that stand for a bigger purpose achieve higher levels of commercial success.

New skills driving growth
As the role of marketers continues to undergo a profound shift, the vast majority (90 percent) of CEOs and CMOs agree that the function will change fundamentally over the next three years. The report notes that leading CMOs are ahead of the curve, thinking entirely differently about the kind of roles and skills their teams will need to be successful in the future — with immersive experience designers, storytellers, growth hackers and futurologists topping their list.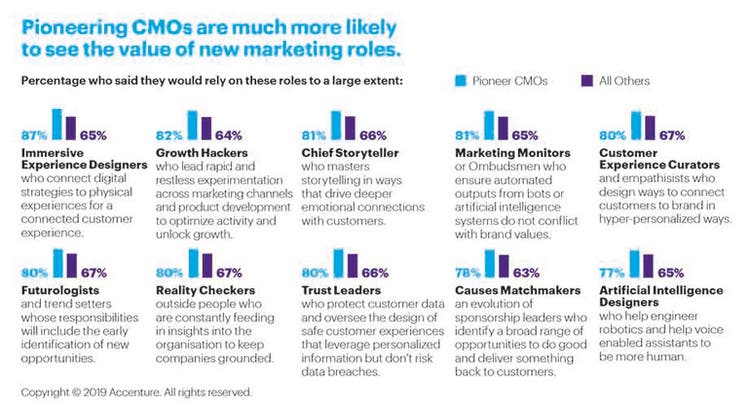 "CMOs need to lead an effective, joined-up customer experience at all touch points, at pace and at scale, to drive growth," said Mhairi McEwan, managing director and marketing practice lead, Customer Insight & Growth, Accenture. "In essence, there are four key actions they must take: using advanced customer insight and analytics to shape the future; building the marketing and sales capabilities of their people and organization; leveraging partnerships to create innovative new products, services and solutions; and delivering cost-effective technological activation of personalized and scalable marketing programs."

To find out more about the report, visit: http://www.accenture.com/CMOInsights

About the research
As part of a study exploring the CMO's role in driving the growth agenda, Accenture surveyed 935 chief marketing officers and 564 CEOs across 17 industry groups in 12 countries: Australia, Brazil, Canada, China, France, Germany, Italy, Japan, Singapore, Spain, the United Kingdom and the United States. Participants from the survey, conducted between March and May 2018, were from companies with at least US$500 million in annual revenues.

About Accenture
Accenture is a leading global professional services company, providing a broad range of services and solutions in strategy, consulting, digital, technology and operations. Combining unmatched experience and specialized skills across more than 40 industries and all business functions — underpinned by the world's largest delivery network — Accenture works at the intersection of business and technology to help clients improve their performance and create sustainable value for their stakeholders. With 469,000 people serving clients in more than 120 countries, Accenture drives innovation to improve the way the world works and lives. Visit www.accenture.com .

# # #

Contacts:

Tara Burns
Accenture
+44 7850 435 158
tara.burns@accenture.com

David LaBar
Accenture Interactive
+1 646 456 4505
david.labar@accenture.com

Tourang Nazari
Accenture
+1 202 322 4640
tourang.nazari@accenture.com