October 15, 2019
Federal Requirements for Sharing Patient Medical Records Pose Major Challenges and Opportunities for Healthcare Organizations


New research indicates many healthcare industry executives are not yet focused on upcoming law and its potential impact on their organization and customers

NEW YORK; Oct. 15, 2019 – Most technology executives polled in the U.S. are relatively unfamiliar with a key federal law requiring greater patient access to healthcare records and the sharing ("interoperability") of such records across health networks, according to new research findings from Accenture (NYSE: ACN).
A centerpiece of the 21st Century Cures Act, which became law as H.R. 34 in 2016, are new regulations designed to help drive increased efficiency and transparency in healthcare through a variety of measures, including preventing information blocking and expanding how patients can access their healthcare information. Organizations that do not comply with the new regulations — which apply to essentially any organization handling patient medical records — could face substantial penalties.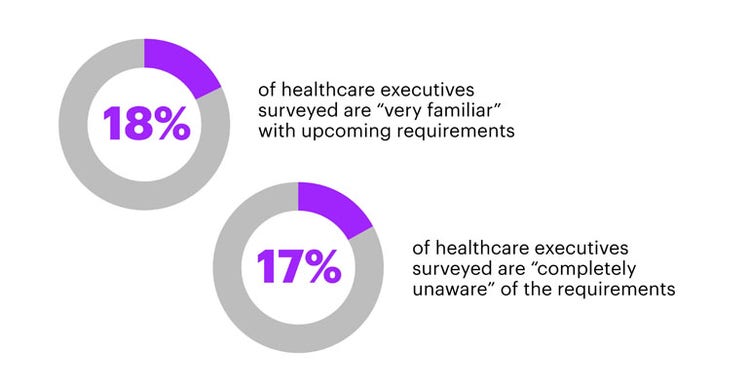 Fewer than one in five (18%) of the executives surveyed in key leadership positions at U.S. healthcare companies said they are "very familiar" with the new regulations, while 17% said they are completely unaware of it. Around 53% said they are "somewhat familiar," with 12% "vaguely familiar."

Healthcare payers (insurance companies) appear somewhat better informed and prepared for the new regulations than do healthcare providers (hospitals, health systems, medical practices). Specifically, 26% of payers surveyed said they are "very familiar" with the regulations, compared to 16% of providers. Similarly, 26% of payers believe their organization is "very prepared," compared to only 5% of providers who share that view.

Overall, 40% of those polled believe the requirements will have little or no impact on the IT operations of their organization, and 30% see little impact on their organization's ability to meet the needs of their patients and customers.

"The ultimate goal of the upcoming regulations is to enhance customer choice and improve patient services and outcomes by vastly improving patient and cross-network access to patient medical records," said Andy Truscott, managing director and technology consulting lead in Accenture's Health practice and a member of U.S. federal government advisory groups on health IT and Health Level Seven (HL7). "Our survey findings are a wake-up call for health organizations and agencies that remain relatively uninformed about the regulations, or who are not actively preparing. Complying with the regulations will provide them with a major opportunity to enhance the services they provide and to fundamentally improve consumer engagement in their healthcare."

"In addition to moving the health care ecosystem in the direction of interoperability, this legislation should also enable a more holistic approach to providing comprehensive health and human services within communities," says Adelaide O'Brien, research director IDC Government Insights. "Communities are forming collaborative partnerships and ecosystems with health and social service providers and connecting citizens to services such as mental health professionals, so ensuring individuals and providers have access to health care information should impact better outcomes."

Implications for Organizations
As a result of the findings, Accenture recommends healthcare providers and insurance companies and other health organizations handling patient medical records become well-versed in the upcoming rules. Development of compliance plans and preparations needed to reach compliance in 2020 should be a priority. Beyond basic compliance objectives, there is current and growing opportunity to explore and prioritize ideas to use the new regulatory framework to improve services and value to their customers – patients, insurance plan members, Medicaid beneficiaries, partner agencies and programs.

Specifically, healthcare organizations lagging in awareness and preparedness need to:
Ensure their technology and compliance leadership are familiar with the new rules,
Assess and analyze their organization's current interoperability provisions,
Complete gap analyses and develop remediation plans for a 12-18 month timeframe,
Manage communications — internally and externally — to help healthcare professionals and consumers adapt to the new rules.
Medicaid agencies, state health information exchanges, and state chief information officers will also be impacted by the new law. "The new regulations will have major implications for public sector health entities, including Medicaid departments, state health information exchanges, and state chief information officers," said Phil Poley, Accenture managing director for public sector health. "These organizations will need to understand what the regulations mean for them in terms of technology requirements, processes and serving their customers, which include citizens and organizations alike. Given the timetable and requirements for compliance, they need to be in heavy preparation and planning mode now."

About the Research
Accenture surveyed 76 chief information officers, chief technology officers and VPs of information technology at U.S. healthcare providers and healthcare payers with more than $1 billion in annual revenue. comprised 57 of the interviews, and healthcare payers comprised 19, all from organizations with annual revenues of at least $1 billion. Executives from providers comprised 57 of the interviews, and executives from payers comprised 19. The survey was conducted during June and July 2019.

About Accenture
Accenture is a leading global professional services company, providing a broad range of services and solutions in strategy, consulting, digital, technology and operations. Combining unmatched experience and specialized skills across more than 40 industries and all business functions — underpinned by the world's largest delivery network — Accenture works at the intersection of business and technology to help clients improve their performance and create sustainable value for their stakeholders. With 492,000 people serving clients in more than 120 countries, Accenture drives innovation to improve the way the world works and lives. Visit us at www.accenture.com.

# # #

Contact:

Joe Dickie
Accenture
+1 512 694 6422
joseph.r.dickie@accenture.com