June 12, 2019
Cultural Transformation Crucial to Helping Organizations on a Journey to a Zero-Based Mindset, According to New Book from Accenture


"The Big Zero" by Accenture Strategy shows how companies can shift resources to fund
innovation and growth

NEW YORK: June 12, 2019 – With sustainable growth increasingly difficult to achieve and cost-cutting efforts not enough to spur it, organizations need a new approach to meet their business goals. A new book from Accenture (NYSE: ACN) highlights how instilling a "zero-based mindset" (ZBx) can help companies release funds that can drive innovation, growth and competitiveness.
The Big Zero: The Transformation of ZBB into a Force for Growth, Innovation and Competitive Advantage – co-authored by Kris Timmermans and Christopher Roark of Accenture Strategy, along with Rodrigo Abdalla – shows how a transformation of employees' behaviors toward aligning investments and costs around the strategic priorities of the organization can help boost competitive agility by ensuring lasting and sustained growth.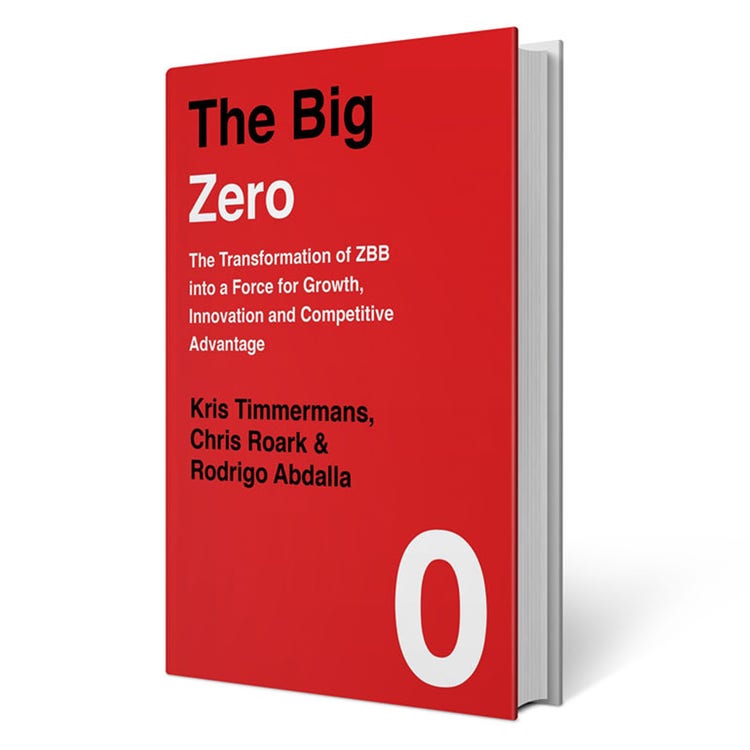 A zero-based mindset is an organization-wide approach centered around forensic visibility into resources that allows companies to take non-working money and reinvest it to ignite growth via new products, capabilities, services and skills. The approach calls for action in four areas: zero-based spend (ZBS), zero-based organization (ZBO), zero-based commercial (ZBC) and zero-based supply chain (ZBSC).
A zero-based mindset helps companies shift resources to fund innovation and growth. New book from @AccentureStrat explores how. #TheBigZero #ZBx


"Companies across all industries and markets are under pressure to innovate and grow. But the cost of nurturing new growth sources is high," said Kris Timmermans, senior managing director at Accenture Strategy. "Through this book, we show how a zero-based mindset can help organizations shift resources to growth strategies and pivot to new business models. It requires an entire cultural transformation, but the rewards are high when done right."

The Big Zero is a must-read for companies that are starting out or already on a zero-based journey and looking for inspiration on how to transform culture and engender buy-in and ownership across the organization – from the executive team down. The book features compelling stories from global companies across industries including consumer goods, healthcare, industrial products, retail, and others that are applying zero-based principles to fuel greater competitive agility and accelerate growth.

The zero-based mindset principles showcased in the book have been endorsed by C-Suite of leading companies and academics from top universities alike. For more information on The Big Zero, please visit: www.thebigzero.com.

About Accenture
Accenture is a leading global professional services company, providing a broad range of services and solutions in strategy, consulting, digital, technology and operations. Combining unmatched experience and specialized skills across more than 40 industries and all business functions — underpinned by the world's largest delivery network — Accenture works at the intersection of business and technology to help clients improve their performance and create sustainable value for their stakeholders. With 477,000 people serving clients in more than 120 countries, Accenture drives innovation to improve the way the world works and lives. Visit us at www.accenture.com.

Accenture Strategy combines deep industry expertise, advanced analytics capabilities and human-led design methodologies that enable clients to act with speed and confidence. By identifying clear, actionable paths to accelerate competitive agility, Accenture Strategy helps leaders in the C-suite envision and execute strategies that drive growth in the face of digital transformation. For more information, follow @AccentureStrat or visit www.accenture.com/strategy.
# # #


Contact:

Maggie Nolan
Accenture
+1 845 661 0952
margaret.d.nolan@accenture.com

Copyright © 2019 Accenture. All rights reserved. Accenture, its logo, and High Performance Delivered are trademarks of Accenture.