February 25, 2019
Business and Technology Executives Underestimate the Disruptive Prospects of 5G Technology, Accenture Study Finds

NEW YORK; Feb. 25, 2019 – Business and technology executives globally underestimate the disruptive potential of 5G technology that will result from increased network speeds and capacity, according to results of a global study from Accenture (NYSE: ACN). A survey of more than 1,800 executives from midsized and large businesses across industries in 10 countries found that most of them (53 percent) believe there are "very few" things that 5G will enable them to do that they cannot already do with 4G networks. Fewer than two in five executives (37 percent) expect 5G to bring a "revolutionary" shift in speed and capacity.
At the same time, executives acknowledge that the technology has important competitive implications. Sixty percent of executives believe that 5G will cover nearly all the population by the year 2022, and 70 percent believe that 5G applications will give them a competitive edge with customers. More than two in five executives also expect 5G to have a "significant" impact on speed (46 percent) and capacity (42 percent).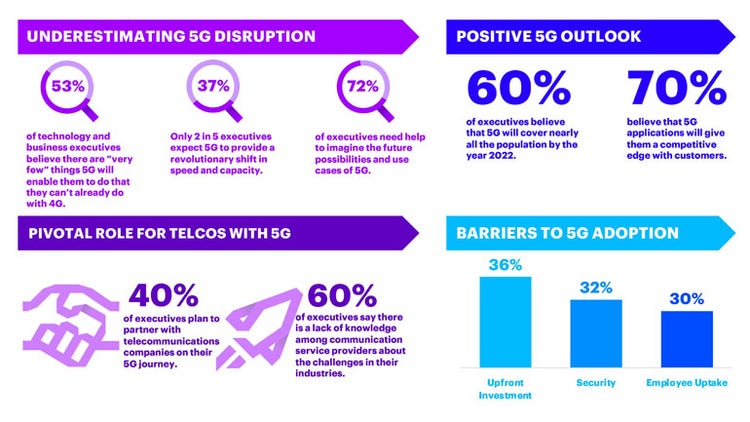 Accenture's 2019 findings on the disruptive prospects of 5G technology

"The reality is that 5G will bring a major wave of connectivity that opens new dimensions for innovation and commercial and economic development," said George Nazi, Accenture's Network practice global lead. "Breakthroughs in three-dimensional video, immersive television, autonomous cars and smart-city infrastructure will unleash opportunities that are difficult to imagine today but will soon be transformative. Telecommunications companies will play a pivotal role in bringing these prospects to light."

Role of telecommunications providers
Nearly three-quarters (72 percent) of executives said they need help imagining the future possibilities and use cases of 5G, and telecommunications companies are one of the leading service providers that executives plan to partner with on their 5G journeys, cited by 40 percent of respondents. However, 60 percent of executives said there is a lack of knowledge among communications services providers about the challenges in their industries, like how diverse industries can apply 5G technology to innovate.

Executives also cited a number of perceived barriers to 5G adoption, including the upfront investment (cited by 36 percent of respondents), security (32 percent) and employee buy-in (29 percent). While 78 percent of executives believe that using 5G in the workplace will make their business more secure, one-third (32 percent) have concerns about the security of 5G.

Anders Lindblad, Accenture's Communications & Media industry lead for Europe, said, "Despite the knowledge gap, there is excitement among business leaders about the value that 5G can bring to enterprises. This value is currently trapped within the perceived risks and uncertainty around 5G, which can be unlocked by organizations that understand customer needs, can overcome barriers to adoption and can drive collaboration among service providers."

Among the study's other findings:
The perceptions of 5G vary across industries, with more than half (53 percent) of executives in the energy sector believing that 5G will have a revolutionary impact with its ability to reach new places — like remote and inhospitable areas — compared with just 41 percent of all executives surveyed.
The government/public sector has the lowest awareness of 5G, with 59 percent believing it will be 10 times faster than 4G, compared with 67 percent of all respondents. Additionally, only 66 percent of government executives, compared with 78 percent overall, believe that using 5G for connectivity in the workplace will make businesses more secure.
To learn more about Accenture's Communications & Media practice, as well as our 5G capabilities, visit: https://www.accenture.com/telecoms and http://accenture.com/accelerate5G.

Methodology
Loudhouse Research conducted an online survey on behalf of Accenture of 915 IT decision makers and 913 business decision makers across 12 industry sectors in the United States, United Kingdom, Spain, Germany, France, Italy, Japan, Singapore, United Arab Emirates and Australia. The survey and related data modelling quantify perceptions about industry and employee knowledge about 5G and its potential impact on their business and their lives, respectively. The online surveys were conducted between December 2018 and January 2019.

About Accenture
Accenture is a leading global professional services company, providing a broad range of services and solutions in strategy, consulting, digital, technology and operations. Combining unmatched experience and specialized skills across more than 40 industries and all business functions — underpinned by the world's largest delivery network — Accenture works at the intersection of business and technology to help clients improve their performance and create sustainable value for their stakeholders. With 469,000 people serving clients in more than 120 countries, Accenture drives innovation to improve the way the world works and lives. Visit us at www.accenture.com

# # #

Contact:

Molly McDonagh
Accenture
+44 7825 023 622
molly.mcdonagh@accenture.com