May 08, 2019
Accenture to Help Hawaiian Airlines Recruit Professionals for New IT Center in Arizona

PHOENIX; May 8, 2019 – Accenture (NYSE: ACN) has been selected by Hawaiian Airlines (NASDAQ: HA) to support recruiting efforts for the company's recently opened information technology (IT) center in greater Phoenix.
Drawing on its expertise in developing proactive recruiting models to deliver high-value, IT-focused and skilled talent, Accenture will help create a recruitment program that is closely integrated with the airline's corporate strategy and human capital strategies.

Hawaiian Airlines expects to hire more than 100 IT professionals for its Phoenix Technology Center. Combined with the over 250-person Honolulu Technology Center, Hawaiian Airlines will develop solutions that enhance and transform its operations, as well as provide additional layers of security and redundancy for the airline's IT systems and personnel. The Arizona facility is the airline's first such center outside of Hawai'i, and is a complement to the carrier's current IT workforce.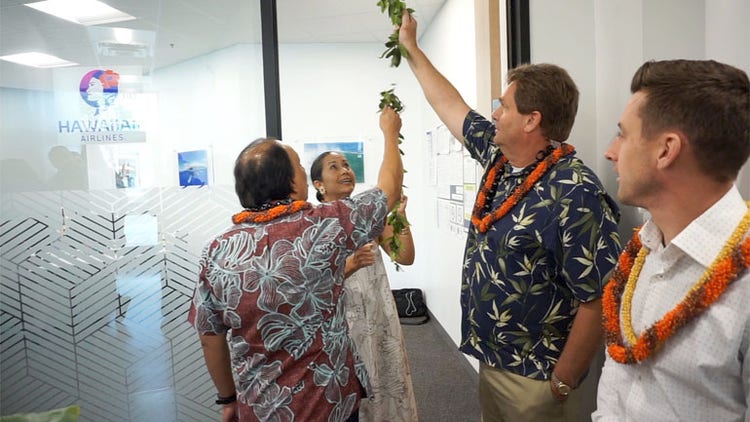 A traditional Hawaiian blessing ceremony at the Hawaiian Airlines Phoenix Technology Center. Featured
is the untying of the maile lei - made from a plant sacred to Hawaiians — which officially opens the space
being blessed. Hawaiian Airlines expects to hire more than 100 IT professionals fori ts Phoenix
Technology Center. Pictured from Hawaiian Airlines from left to right: Shafi Mohammed,
director of Enterprise Data Management and Analytics; Debbie Nakanelua-Richards,
director of Community Relations; John Jacobi, senior vice president of IT; and,
Jim Sidler, Software Development manager.
"This facility serves as an additional incubator for continued IT innovation and development. Working as one team, our Honolulu and Phoenix centers will deliver customer experience and operational solutions for the airline," said John Jacobi, senior vice president of IT at Hawaiian Airlines. "Commercial aviation is heavily dependent on technology and creating better connections with customers through IT innovations can also pay dividends in improving our brand affinity and customer loyalty. We're excited to have Accenture help us lead this transformational recruitment program, capitalizing on Accenture's knowledge of the local IT market and relationships with regional colleges and universities."

Jonathan Keane, managing director of Accenture's Aviation practice, said, "We're excited to be working closely with Hawaiian Airlines to help manage recruiting efforts for its new IT center. Leading companies like Hawaiian Airlines see the advantage of efficient recruitment processes that deliver high-quality engaged hires to provide a competitive advantage that can positively impact business performance."

Sandra Watson, President & CEO of the Arizona Commerce Authority, said, "Hawaiian Airlines' new IT center will help enhance the Phoenix area's reputation as a regional hub for technology and innovation. This effort is reinforced by recruitment support from Accenture, which knows the Arizona market and is an important technology employer itself with more than 300 people and decades of service in our state."

Hawaiian Airlines announced last November that it would open an IT center in Arizona in the first quarter of 2019.

About Accenture
Accenture is a leading global professional services company, providing a broad range of services and solutions in strategy, consulting, digital, technology and operations. Combining unmatched experience and specialized skills across more than 40 industries and all business functions — underpinned by the world's largest delivery network — Accenture works at the intersection of business and technology to help clients improve their performance and create sustainable value for their stakeholders. With 477,000 people serving clients in more than 120 countries, Accenture drives innovation to improve the way the world works and lives. Visit us at www.accenture.com.

Accenture in the United States
Accenture is a leading professional services company, providing a broad range of services and solutions in strategy, consulting, digital, technology and operations. Serving 95 of the Fortune 100 and more than 70 percent of the Fortune 500, Accenture employs an innovation-led approach to help clients imagine and invent their future. Accenture is consistently recognized as a Fortune Blue Ribbon Company and, with an unwavering commitment to inclusion and diversity, appears regularly on Fortune's 100 Best Companies to Work For and DiversityInc's Top 50 Companies for Diversity lists. The company has more than 50,000 people and operations in 42 cities in the United States. Visit us at accenture.com/US.

About Hawaiian Airlines
Hawaiian® has led all U.S. carriers in on-time performance for each of the past 15 years (2004-2018) as reported by the U.S. Department of Transportation. Consumer surveys by Condé Nast Traveler, Travel + Leisure and TripAdvisor have placed Hawaiian among the top of all domestic airlines serving Hawai'i.

Now in its 90th year of continuous service, Hawaiian is Hawaii's biggest and longest-serving airline. Hawaiian offers non-stop service to Hawai'i from more U.S. gateway cities (13) than any other airline, along with service from Japan, South Korea, Australia, New Zealand, American Samoa and Tahiti. Hawaiian also provides, on average, more than 170 jet flights daily between the Hawaiian Islands, and over 260 daily flights system-wide.

Hawaiian Airlines, Inc. is a subsidiary of Hawaiian Holdings, Inc. (NASDAQ: HA). Additional information is available at HawaiianAirlines.com. Follow Hawaiian's Twitter updates (@HawaiianAir), become a fan on Facebook (Hawaiian Airlines), and follow us on Instagram (hawaiianairlines). For career postings and updates, follow Hawaiian's LinkedIn page.
# # #


Contacts:

Cam Granstra
Accenture
+1 312 693 5992
cameria.l.granstra@accenture.com

Kuriko Wong
Accenture
+1 346 232-3293
kuriko.wong@accenture.com

Hawaiian Airlines
For media inquiries, please visit Hawaiian Airlines' online newsroom.