The research report includes analysis of offerings from firms with business transformation services, ranging from digital strategy consulting and digital agency services to digital technology implementation and integration, cloud, mobility, artificial intelligence / automation, and robotics solutions and services.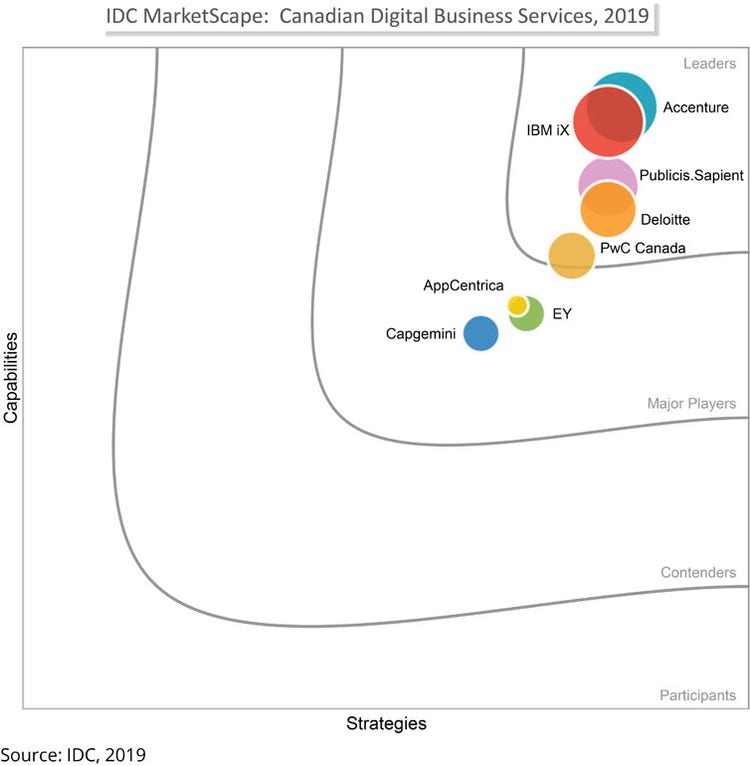 IDC MarketScape vendor analysis model is designed to provide an overview of the competitive
fitness of ICT suppliers in a given market. The research methodology utilizes a rigorous
scoring methodology based on both qualitative and quantitative criteria that results
in a single graphical illustration of each vendor's position within a given market.
The Capabilities score measures vendor product, go-to-market and business
execution in the short-term. The Strategy score measures alignment of
vendor strategies with customer requirements in a 3-5-year timeframe.
Vendor market share is represented by the size of the icons.
"Accenture is well positioned to help Canadian companies and organizations transform their businesses in order to compete globally," said Jim Westcott, research manager, Canadian Application Solutions, IDC. "Accenture helps them innovate, improve efficiencies and stay competitive in a fast-moving global environment."

Jeffrey Russell, senior managing director and president of Accenture in Canada, said, "We are proud of this recognition as a leader helping our clients drive business transformation, as we bring the best of our diverse talent together to help our clients be the disrupters, not the disrupted. Our market differentiators are recognized in the IDC MarketScape, and include Accenture's innovation hub network, which serves our clients' ever-growing need for innovation on the ground in Canada, and provides them with access to our vast global expertise."

Stephen Gardiner, managing director of Accenture Digital in Canada, said, "Accenture brings a unique blend of creative, analytic and technology skills to enable our clients to design and implement some of the world's best experiences. We help businesses and organizations find new ways to create value, and we bring diverse thinking, innovative spirit, high performing talent, and scale to help our clients transform and compete."

The IDC MarketScape assesses the characteristics that explain a service provider's success in a given marketplace and help anticipate its ascendancy. The IDC MarketScape: Canadian Digital Business Services 2019 Vendor Assessment includes analysis of eight service providers with broad portfolios spanning the IDC MarketScape's research coverage across Canada. The evaluation is based on a comprehensive and rigorous framework that assesses service providers relative to the criteria and to one another and highlights the factors expected to be the most influential for success in the market in both the short-term and the long-term.

About IDC MarketScape
IDC MarketScape vendor analysis model is designed to provide an overview of the competitive fitness of ICT (information and communications technology) suppliers in a given market. The research methodology utilizes a rigorous scoring methodology based on both qualitative and quantitative criteria that results in a single graphical illustration of each vendor's position within a given market. IDC MarketScape provides a clear framework in which the product and service offerings, capabilities and strategies, and current and future market success factors of IT and telecommunications vendors can be meaningfully compared. The framework also provides technology buyers with a 360-degree assessment of the strengths and weaknesses of current and prospective vendors.

About Accenture
Accenture is a leading global professional services company, providing a broad range of services and solutions in strategy, consulting, digital, technology and operations. Combining unmatched experience and specialized skills across more than 40 industries and all business functions — underpinned by the world's largest delivery network — Accenture works at the intersection of business and technology to help clients improve their performance and create sustainable value for their stakeholders. With 477,000 people serving clients in more than 120 countries, Accenture drives innovation to improve the way the world works and lives. Visit us at www.accenture.com

# # #

Contact:

Theresa Ebden
Accenture
+1 416 358 6741
theresa.ebden@accenture.com