June 03, 2019
Accenture Ranked No. 1 Overall in HFS Research's Top 10 Report for Energy Service Providers 2019
NEW YORK; June 3, 2019 – Accenture (NYSE: ACN) has been ranked No. 1 overall in the HFS Top 10 Energy Service Providers 2019. Accenture's leading position in the report was based on its ability to execute and innovation capability, placing it ahead of the other leading providers that HFS assessed. These included Cognizant, DXC.Technology, HCL, NTT Data, Tech Mahindra, Infosys, Epam, Tata Consultancy Services, LTI and Wipro.
The industry-specific capabilities of the service providers were evaluated across the energy value chain according to a defined series of criteria focused on innovation, execution, and the voice of the customer. The value chain functions, as defined in the report, included exploration, development and production; transportation, refining, distribution; and marketing and retail.

"We're delighted to have been named as the leader in this latest report from HFS," said Andrew Smart, a senior managing director and lead for Accenture's energy industry group. "As the energy transition gathers steam, and oil and gas companies need to balance transforming and growing their core with a pivot to new growth areas, our leading position demonstrates our dedication to partnering with them to help navigate this challenge. We remain distinguished by our industry-specific expertise and committed to delivering leading-edge innovation across the energy value chain to deliver solutions that will enable our clients to weather the storm of industry change."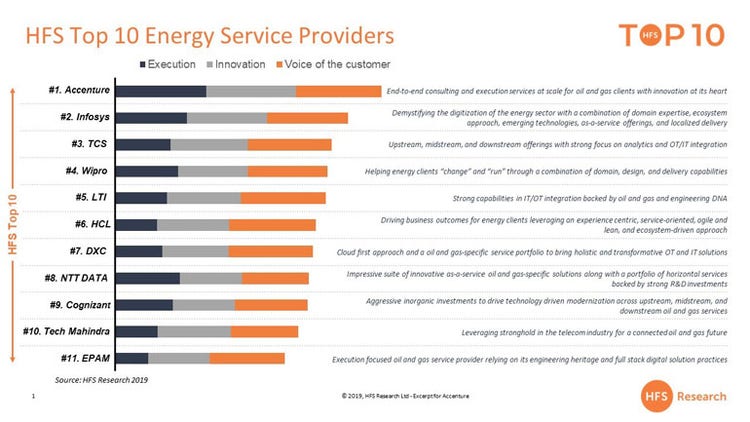 In the report, Accenture was specifically recognized as the leader when it comes to the size and experience of its energy practice, the geographic mix of its clients, its investments and development of its partnership ecosystem, its innovative solutions -- including platform offerings, deployment of intelligent automation, and development of internal intellectual property -- and its clear vision for the future of the energy industry.

[suggested_tweet tweet="Accenture Achieves No. 1 Ranking in HFS Top 10 Report For Energy Service Providers 2019"]

"The global energy sector faces two competing priorities as the 'energy transition' becomes real: finding new growth avenues while optimizing operational efficiencies, production levels and capital needs," said Saurabh Gupta, HFS Research's chief strategy officer. "Accenture is uniquely positioned to address these challenges head-on with end-to-end consulting and execution services at scale and with innovation at its heart."

Among the key strengths that contributed to Accenture's leading position in the report, HFS cited:
Consulting and execution at scale: Accenture differentiated itself from all other service providers by its ability to offer integrated end-to-end services spanning consulting, infrastructure, business process services and digital. It continues to aggressively expand its range and scale of oil and gas services with smart and focused acquisitions, such as Enaxis in 2019.
Commitment to innovation: Accenture has invested in five innovation hubs, that include a focus on the energy industry. It continues to make significant investments in emerging technologies across automation, advanced analytics, engineering services, IoT, and blockchain, investments which are enabling strong opportunities for joint co-innovation with clients.
Ecosystem: Accenture has one of the strongest ecosystems spanning technology, platform, automation, business services, and industry-specific partners.

The findings of the report were based on detailed RFIs and briefings conducted with the service providers, interviews with clients of the service providers, HFS surveys with 350 Global 2000 enterprises and publicly available information.

The HFS Top Ten Energy Service Providers 2019 can be accessed here.

More information about Accenture's services to the energy industry can found here.

About Accenture
Accenture is a leading global professional services company, providing a broad range of services and solutions in strategy, consulting, digital, technology and operations. Combining unmatched experience and specialized skills across more than 40 industries and all business functions – underpinned by the world's largest delivery network – Accenture works at the intersection of business and technology to help clients improve their performance and create sustainable value for their stakeholders. With 477,000 people serving clients in more than 120 countries, Accenture drives innovation to improve the way the world works and lives. Visit us at www.accenture.com.

# # #

Contacts:

Guy Cantwell
Accenture
+ 1 281 900 9089
guy.cantwell@accenture.com

Matt Corser
Accenture
+ 44 755 784 9009
matthew.corser@accenture.com