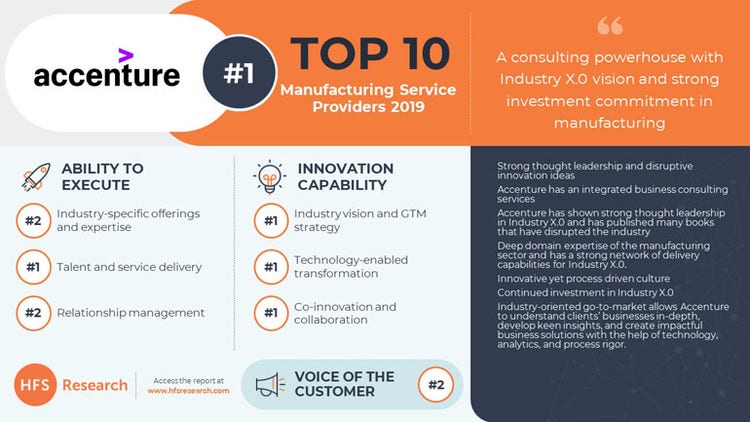 Accenture came out as a clear leader in latest HFS report on manufacturing service providers
The report states that, of all providers assessed, Accenture has the most mature services for manufacturing. These include sales and marketing, supply chain, manufacturing support, aftersales services and sustainability services.

The HFS analysts emphasize Accenture's deep expertise of the manufacturing sector, innovative yet process driven culture and industry-oriented go-to-market, which allows it to understand clients' businesses in-depth.

HFS also highlights Accenture's strong thought leadership, disruptive innovation ideas and continued investment in Industry X.0 — Accenture's approach and capabilities to help clients achieve mastery the digital reinvention of industry.

Tapati Bandopadhyay, Vice President, Research at HFS, said: "Accenture came out as a clear leader in terms of innovation abilities, strength of vision in the Industry X.0 narrative, and execution with demonstrable proof-points. Deep domain expertise and talent strength are their critical value levers that help clients pivot and transform traditional and complex manufacturing organizations into digital entities with agility. They have also been among the best ones in the industry in terms of managing acquisitions for talent, growth, technology and assimilating & leveraging the added capabilities in a dynamic and flexible manner."

Aidan Quilligan, global lead for Accenture Industry X.0, said, "Digital technologies are entering the core of industry, radically changing how products and services are conceived, designed, engineered, produced and operated. The new HFS report shows Accenture is the leader in helping industrial companies acheive mastery the digital transformation to Industry X.0, underpinned by our deep partnerships with leading industrial platform providers and our strong investment commitment in manufacturing."

Selected, recent investments Accenture has made in Industry X.0 include:
Acquisitions in the engineering and manufacturing services sector, for example: smart embedded software company Pillar Technology and hardware engineering firm Mindtribe (United States); strategic design consultancy designaffairs and automotive-focused technology consultancy Zielpuls (Germany and China); and ESP (Ireland), a consulting and manufacturing services provider for the life sciences industry;
New Industry X.0 innovation centers in Bilbao, Spain, and Essen, Germany—expanding a network of more than 20 innovation centers for industrial clients. Every center provides an immersive, hands-on environment where clients, industry and technology experts, and academics collaborate and experiment to solve business problems.
The HFS report provides insights in strengths, weaknesses and capabilities of 16 providers to business unit and IT leaders in the manufacturing industry.

About Accenture
Accenture is a leading global professional services company, providing a broad range of services and solutions in strategy, consulting, digital, technology and operations. Combining unmatched experience and specialized skills across more than 40 industries and all business functions — underpinned by the world's largest delivery network — Accenture works at the intersection of business and technology to help clients improve their performance and create sustainable value for their stakeholders. With 477,000 people serving clients in more than 120 countries, Accenture drives innovation to improve the way the world works and lives. Visit us at www.accenture.com.

Accenture Industry X.0 helps businesses acheive mastery the digital reinvention of industry when they use advanced digital technologies to transform core operations and unlock new revenue streams and business models. We support every aspect of our clients' multi-phase transformation including workforce, customer experience, R&D, engineering, manufacturing, business support and ecosystems. Visit https://www.accenture.com/industry-x0.

# # #

Contact:

Jens R. Derksen
Accenture
+49 175 57 61393
jens.derksen@accenture.com

Copyright © 2019 Accenture. All rights reserved. Accenture and its logo are trademarks of Accenture.