June 14, 2019
Accenture Ranked #1 in Google Artificial Intelligence Services, According to HFS Research

NEW YORK; June 14, 2019 – Accenture (NYSE: ACN) has been ranked number one in the HFS Research Top Ten Report for Google AI Services 2019, which assessed and rated the Google artificial intelligence (AI) capabilities of service providers across execution, innovation and client feedback criteria.
The report highlights the Accenture Google Cloud Business Group as a key differentiator, demonstrating that AI is a key strategic priority as well as a "powerful springboard from which to drive a cohesive AI strategy and manage client demands for Google technologies."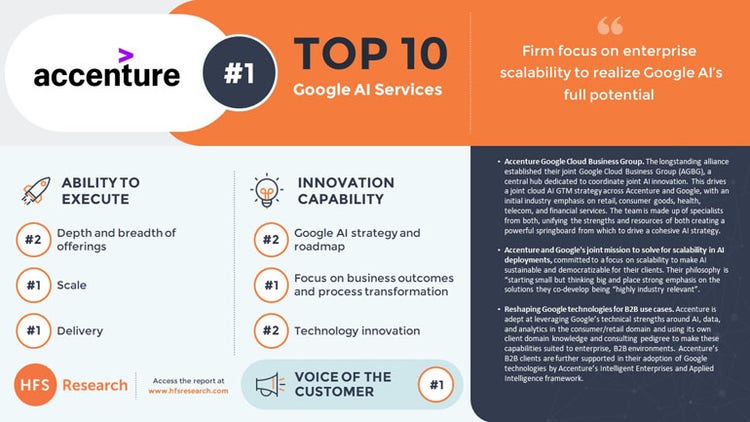 Accenture is #1 in Google AI Services, According to HFS Research

"Accenture committed and invested in its relationship with Google early on, which shows they have skin in the game in terms of making Google's technology relevant to enterprise clients," said Reetika Fleming, research director, HFS Research. "Accenture's strong ability to scale in the enterprise will help organizations realize the full potential of Google AI."

Of the 14 providers assessed, Accenture ranked number one across the following categories: scale, delivery of value, focus on business outcomes and process transformation, and enterprise client feedback. Specific Accenture strengths highlighted in the report include:
Accenture Google Cloud Business Group. In 2018, Accenture and Google deepened their longstanding alliance and established a joint Accenture Google Cloud Business Group, a central hub that unifies the strengths and resources of both alliance partners to coordinate joint AI innovation, with a focus on optimizing AI offerings for a cloud environment.
Accenture and Google's joint mission to solve for scalability in AI deployments. Accenture and Google are committed to democratize and scale for their clients, having a "starting small but thinking big" philosophy. Accenture and Google also place strong emphasis on the solutions they co-develop being "highly industry relevant." This specificity helps ensure the solutions are scalable by adapting them to each sector.
Reshaping Google technologies for B2B use cases. Accenture is adept at leveraging Google's technical strengths around AI, data, and analytics in the consumer/retail domain and using its own client domain knowledge and consulting pedigree to help make these capabilities suited to enterprise, B2B environments. Accenture's clients are further supported in their adoption of Google technologies by Accenture's Intelligent Enterprises and Applied Intelligence framework.
"Accenture continues to invest in the skills and capabilities to help our enterprise clients apply new technologies that accelerate innovation to help achieve business outcomes. Our strong Google AI capabilities are a great example of this commitment," said Brian Mckillips, managing director, Accenture Google Cloud Business Group. "Being ranked as the number one Google AI services provider demonstrates our ability to help our clients across industries embrace and scale Google AI technologies. It's a tremendous recognition of our deep technology and industry experience."

Dr. Athina Kanioura, chief analytics officer and global lead for Accenture Applied Intelligence, added, "Accenture's industry and data science knowledge, and Google Cloud's AI and ML capabilities make for a compelling combination. We're already using it to help power a number of outcome-driven enterprise solutions— from multi-channel customer interactions and improved data management, to hyper-personalization in marketing, sales and services."

Accenture has more than 2,600 Google Cloud practitioners and has delivered more than 21,000 cloud transformations in nearly every industry. The company has been innovating in cloud and AI technology for more than a decade and holds more than 650 granted patents and pending applications across its global AI portfolio, and more than 300 granted patents and pending applications across its global cloud portfolio.

For more information on the Accenture Google Cloud Business Group, visit https://www.accenture.com/us-en/service-accenture-google-business-group.

About Accenture
Accenture is a leading global professional services company, providing a broad range of services and solutions in strategy, consulting, digital, technology and operations. Combining unmatched experience and specialized skills across more than 40 industries and all business functions — underpinned by the world's largest delivery network — Accenture works at the intersection of business and technology to help clients improve their performance and create sustainable value for their stakeholders. With 477,000 people serving clients in more than 120 countries, Accenture drives innovation to improve the way the world works and lives. Visit us at www.accenture.com.

# # #

Contact:

Hannah Unkefer
Accenture
+1 206 839 2172
hannah.m.unkefer@accenture.com