January 14, 2019
Accenture Positioned as Leader in Everest Group PEAK Matrix™ Assessment for Blockchain Services

NEW YORK; Jan. 14, 2019 – Accenture (NYSE: ACN) has been recognized as a Leader in the Everest Group PEAK Matrix™ Assessment for Blockchain Services, topping its "vision and capability" scale that is a measure of Accenture's ability to deliver blockchain solutions successfully. The report commended Accenture for investing ahead of the blockchain curve, showcasing thought leadership on new business and revenue models, and developing in-house blockchain platforms.
The report titled, "Blockchain Services PEAK Matrix™ Assessment 2019: Race to Make Enterprise Blockchain Real " analyzes the blockchain services landscape and evaluates 27 service providers across several key criteria — including market adoption, portfolio mix, vision and strategy, innovation and value delivered.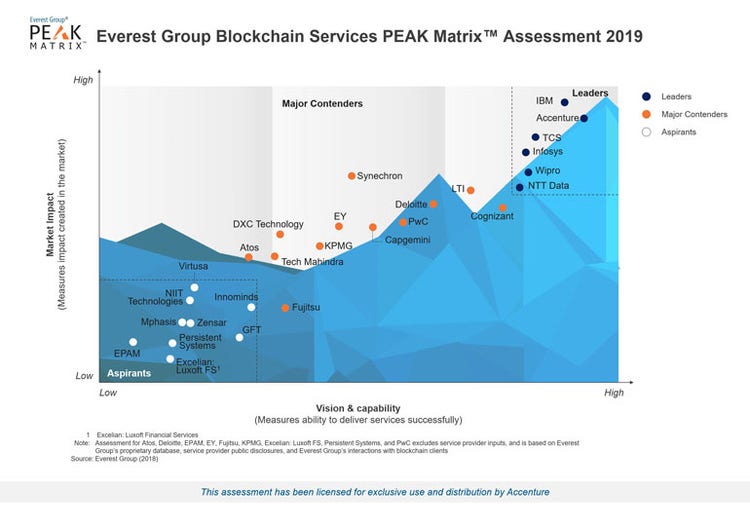 "We have maintained a strong focus on where real value can be created with Blockchain technology and appreciate this recognition of our vision and pragmatic approach to helping clients achieve large scale, end-to-end business transformation," said David Treat, managing director and Global Blockchain Lead, Accenture. "We're excited about the next phase that has started, where it is less about the technology itself and more about the valuable ways that business models can evolve."
Accenture named a leader in @EverestGroup PEAK Matrix Assessment for #Blockchain services. Learn more.


Accenture received the highest assessment for its vision and capabilities ahead of all competitors. Its strengths highlighted in the report include:
Market leading investments in research leading to patents, studios for rapid prototyping, geographically distributed innovation labs, talent partnerships, open source contribution, and consortia efforts
Ability to leverage accelerators/IP into client engagements and technical expertise across several blockchain technologies
Delivery footprint and global sourcing mix
"Enterprises across industry verticals are looking to demystify the hype around blockchain technology. As enterprises identify relevant business use cases and move towards scaling their PoCs, they face challenges such as technology complexity; lack of talent, industry and data standards; and absence of tools for quality assurance. Service providers are supporting the enterprise blockchain adoption journey by investing in building solutions, developing talent, playing the role of the blockchain technology ecosystem orchestrator," said Ronak Doshi, practice director, Everest Group. "Investments in research leading to patents, studios for rapid prototyping, geographically distributed innovation labs, talent, partnerships, open source contribution, and consortia efforts have helped Accenture to differentiate in the blockchain services market. Strong positive client feedback, along with its ability to leverage accelerators/IPs into the engagement and technical expertise across blockchain technologies have helped Accenture position itself as a Leader on the 2019 Everest Group Blockchain Services PEAK MatrixTM."

About Accenture
Accenture is a leading global professional services company, providing a broad range of services and solutions in strategy, consulting, digital, technology and operations. Combining unmatched experience and specialized skills across more than 40 industries and all business functions — underpinned by the world's largest delivery network — Accenture works at the intersection of business and technology to help clients improve their performance and create sustainable value for their stakeholders. With 469,000 people serving clients in more than 120 countries, Accenture drives innovation to improve the way the world works and lives. Visit us at www.accenture.com.

This document makes descriptive reference to trademarks that may be owned by others. The use of such trademarks herein is not an assertion of ownership of such trademarks by Accenture and is not intended to represent or imply the existence of an association between Accenture and the lawful owners of such trademarks.

# # #

Contact:

Alison Geib
Accenture
+1 703 947 4404
alison.geib@accenture.com


Copyright © 2019 Accenture. All rights reserved. Accenture, its logo, and High Performance Delivered are trademarks of Accenture.