In this year's assessment, Accenture placed high on the PEAK Matrix two axes: Market Impact, which measures market adoption, portfolio mix and value; and Vision & Capability, which measures vision & strategy, scope of services offered, innovation & investments and the delivery footprint.

This year, Everest Group also recognized Accenture as a Star Performer. This title is given to companies that have achieved the greatest year-on-year positive movement on the PEAK Matrix. Contributing to this designation was Accenture's posting of one of the highest revenue growth totals in 2018. Since 2011, Accenture has been positioned a Star Performer in procurement outsourcing.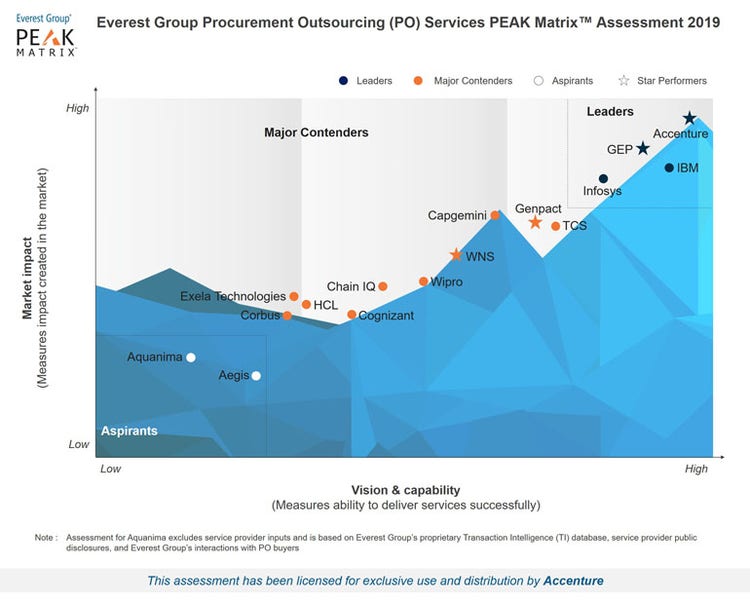 Positioned as a Star Performer and a Leader, Accenture places high on the PEAK Matrix for Market Impact and Vision & Capability

On the Market Impact of Accenture's procurement outsourcing offering, the report points to the company's strong improvement in overall buyer satisfaction in 2018 compared to the previous year. With regard to the Vision & Capability assessment, Everest Group noted several important advances from last year, including Accenture's continued investments in improving its RadixOne platform, and investments in building digital solutions, such as digital procurement agent, procurement market intelligence advisor, and category- and industry-specific market intelligence apps.

Shirley Hung, vice president at Everest Group, said, "One of the major trends to emerge this year is a shift in focus on the part of procurement outsourcing service providers away from cost reduction to driving improved business outcomes. With its high level of investment in advanced digital solutions and its comprehensive approach to building data-driven procurement ecosystems, Accenture is at the forefront of this change."

Accenture strengths highlighted in the report include its:
Focus on an integrated offering including both direct and indirect procurement spend as well as supply chain services;
Continued investments in building next-generation digital solutions and expanded capabilities of the RadixOne platform;
Buyer portal to streamline the buying process and reduce procurement involvement, primarily for low-value sourcing;
Vision for procurement which includes a people + digital collaborative ecosystem, where data, insights, and artificial intelligence (AI) work in cohesion with adaptive experienced resources; and
Deep domain knowledge, strong delivery focus and efficient sourcing & contracting processes, and proactive management of stakeholders, as noted by clients.

Keith Hausmann, global procurement business process services lead at Accenture, added, "We've invested heavily to ensure clients have the optimal capabilities to complete the end-to-end digital transformation of source-to-pay. Everest Group's assessment, with feedback from clients, shows that we continue to drive business value. It also highlights a core pillar of Accenture's procurement vision – which is always having an eye on future-proofing our clients' business operations for competitive differentiation. That's why we recently launched SynOps, an innovative human-machine operating engine that optimizes people, technology, data and intelligence, to help clients achieve previously unimaginable business results. Today, every business is a digital business and one of the keys to success will be how they use emerging technologies, such as advanced AI and automation, to enable real-time operational intelligence."

The report examines 16 PO service providers, evaluating their Market Impact and Vision & Capability using the proprietary framework of the Everest Group PEAK Matrix. Everest Group's full assessment can be accessed here.

About Accenture
Accenture is a leading global professional services company, providing a broad range of services and solutions in strategy, consulting, digital, technology and operations. Combining unmatched experience and specialized skills across more than 40 industries and all business functions – underpinned by the world's largest delivery network – Accenture works at the intersection of business and technology to help clients improve their performance and create sustainable value for their stakeholders. With approximately 477,000 people serving clients in more than 120 countries, Accenture drives innovation to improve the way the world works and lives. Visit us at www.accenture.com.

# # #

Contact:
Mylissa Tsai
Accenture
+1 917 452 9729
mylissa.tsai@accenture.com

Copyright © 2019 Accenture. All rights reserved. Accenture, its logo, and High Performance Delivered are trademarks of Accenture.