August 07, 2019
Accenture Positioned as a Leader in Workday Services Market by Everest Group

NEW YORK; August 7, 2019 – Accenture (NYSE: ACN) is named a Leader and Star Performer in Workday Human Capital Management (HCM) IT Services and is positioned as a Leader in Workday-based Human Resources Business Process Services (HR BPS), according to two separate Everest Group PEAK Matrix™ assessments.
The Everest Group Workday Human Capital Management (HCM) IT Services PEAK Matrix Assessment and Market Trends 2019 report positions Accenture as the clear Leader, ahead of all 11 providers assessed, and is identified as a Star Performer. Accenture is recognized for its "consistent value delivered through proprietary solutions under aggressive timelines and budgets" and for its "strong project execution and undisrupted service delivery." The report says, "Accenture's vision is to help clients understand the benefits of Workday transformation, focus on partnering with them to drive innovation, and extend Workday with pre-built industry solutions." As a Leader, Accenture has a strong focus on developing tools and accelerators that improve the ease of Workday implementations and has invested significantly to grow and engage talent, leveraging domain experts to provide good change management experiences.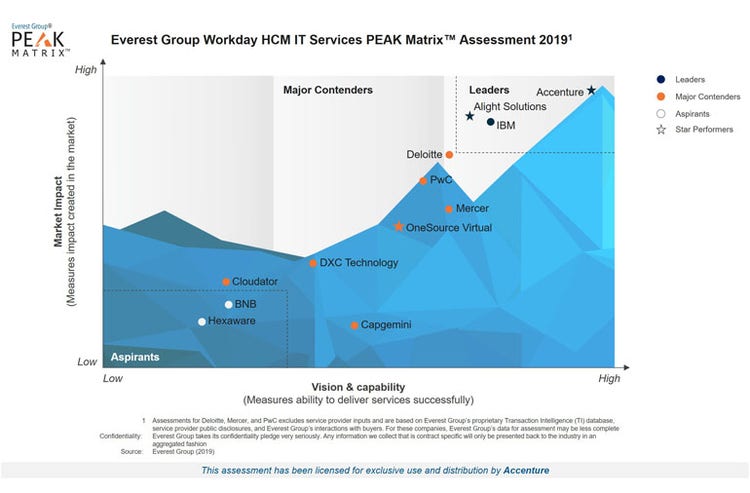 In the Everest Group Workday-Based Human Resources Business Process Services (HR BPS) PEAK Matrix Assessment with Service Provider Landscape 2019report, Accenture received the highest ratings in delivery capability. It is recognized for "strong capabilities across the consult-to-operate spectrum and its HR functional expertise across the hire-to-retire cycle, enabling it to provide holistic HR transformation solutions to clients." The report highlights Accenture's investment in robotic process automation and artificial intelligence capabilities, which complement its service delivery on Workday; as well as Accenture's SynOps model, which provides analytics capabilities combined with existing Workday analytics to cater to large and complex clients. Buyers surveyed for the report cited "Accenture's flexibility, contract management, innovation, strategic focus and Workday expertise" as key strengths.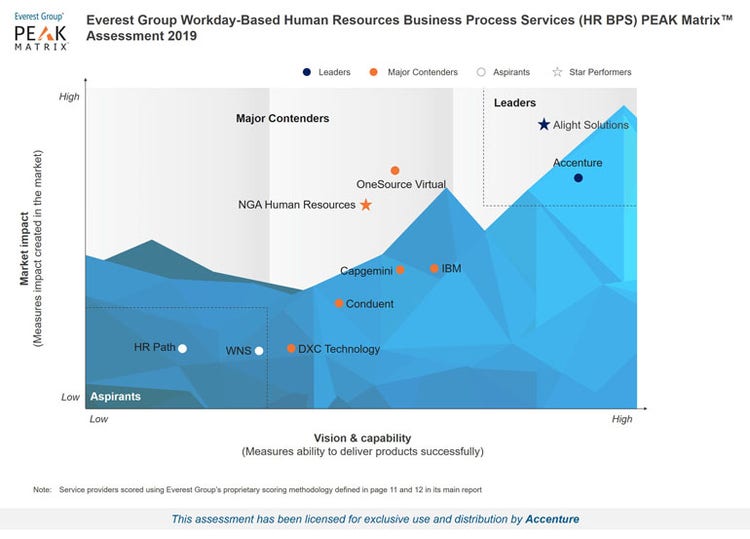 "Accenture's ability to deliver value through its domain knowledge and consult-to-operate capabilities underpins its placement in the Workday HCM IT services and Workday HR BPS market," said Yugal Joshi, vice president, Everest Group. "Its continued investments in next-generation technologies, talent, and partnerships position Accenture well to meet the evolving needs of enterprises' HR transformation journeys."

Jonathan Trew, Workday business lead at Accenture said, "Accenture is committed to helping our clients assess, strategize and manage their Workday deployments, providing the transformational end-to-end solutions, innovation, and experience needed to realize the promise of Workday's unified, cloud-based service. Being positioned as the clear overall market leader in Workday HCM IT services underscores the work that our global practice does every day to help our clients drive business outcomes at scale."

Jill Goldstein, talent and HR lead for Accenture Operations, added, "This recognition underscores our commitment to helping our clients reap long-term value from their Workday investment and ongoing HR operations. Bringing together SynOps — our human-machine operating model—with design thinking and Workday capabilities, we deliver HR services that help our clients deliver employee experiences that anticipate their spoken and unspoken needs."

About Accenture
Accenture is a leading global professional services company, providing a broad range of services and solutions in strategy, consulting, digital, technology and operations. Combining unmatched experience and specialized skills across more than 40 industries and all business functions — underpinned by the world's largest delivery network — Accenture works at the intersection of business and technology to help clients improve their performance and create sustainable value for their stakeholders. With 482,000 people serving clients in more than 120 countries, Accenture drives innovation to improve the way the world works and lives. Visit us at www.accenture.com.

# # #

Contact:

Hannah Unkefer
Accenture
+1 206 839 2172
hannah.m.unkefer@accenture.com

Jenn Francis
Accenture
+1 630 338 6426
jennifer.francis@accenture.com