January 23, 2019
Accenture Positioned as a Leader and Star Performer in Everest Group Cloud Enablement Services Market Assessment 2019

NEW YORK; Jan. 23, 2019 – Accenture (NYSE: ACN) has been positioned as a Leader and Star Performer in the Cloud Enablement Services PEAK Matrix™ Assessment 2019 and Market Trends: An Enterprise Primer for Adopting (or Intelligently Ignoring!) Cloud Native. The PEAK Matrix is a framework for identifying the relative market success and capabilities of service providers.
Accenture's strong performance in securing year over year growth saw it identified as cloud enablement services market 'Star Performer' in the Services PEAK Matrix.

In this year's assessment, Accenture has maintained its high Leader position in the area of market impact with measures that include market adoption, portfolio mix and value delivered. In the area of vision & capability, Accenture has improved from last year in measured criteria including vision and strategy, scope of services, innovation and investment, and delivery footprint.
Accenture excels because of its wide range of strategic alliances and partnerships with leading technology vendors and cloud services providers on a global scale.

According to Everest Group, Accenture is the leader in this market driven by capability building and experiences across the end-to-end cloud enablement services spectrum (i.e. consult, build/design, and manage) across industry verticals. Accenture is the only provider scoring high in six of the seven categories in the cloud enablement services assessment dashboard.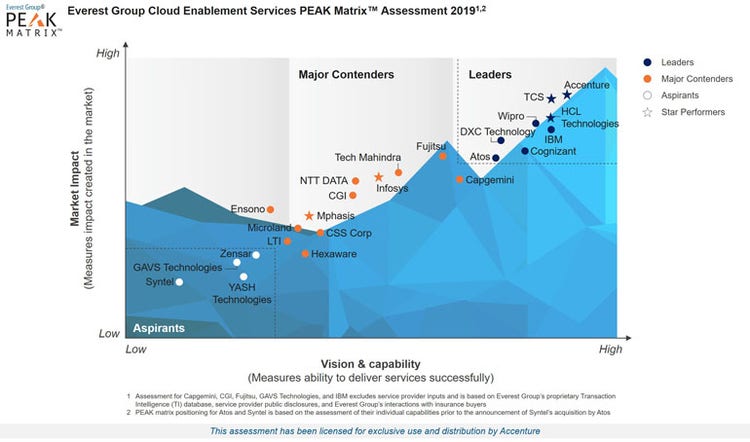 Accenture positioned as a 'Star Performer' for strong performance in securing year over year growth
in cloud enablement services market.

"Cloud is increasingly becoming a strategic enabler of enterprise business outcomes. In addition to building technical capabilities, it has become imperative for service providers to showcase the business value of cloud by bringing in industry specificity and client context to offerings," said Ashwin Venkatesan, practice director at Everest Group. "Accenture has a strong focus on providing contextualized solutions based on a client's industry-specific requirements and driving alignment between business and IT teams.

This, along with Accenture's ability to commit to business outcomes and showcase credible savings in operational and IT costs within engagements, has enabled its positioning as a Leader and Star Performer in this assessment."

Kishore Durg, Accenture Technology's cloud and growth & strategy lead, added, "For clients planning their application development strategy, cloud native moves an idea into production more quickly and efficiently. Leading the market in cloud native further demonstrates that Accenture is best suited to help clients leverage the disruptive potential of the cloud."

The report examines 24 cloud enablement and management services providers, evaluating their market impact and vision & capability using the proprietary framework of the Everest Group PEAK Matrix. Everest Group's full assessment can be accessed here.

About Accenture
Accenture is a leading global professional services company, providing a broad range of services and solutions in strategy, consulting, digital, technology and operations. Combining unmatched experience and specialized skills across more than 40 industries and all business functions — underpinned by the world's largest delivery network — Accenture works at the intersection of business and technology to help clients improve their performance and create sustainable value for their stakeholders. With approximately 469,000 people serving clients in more than 120 countries, Accenture drives innovation to improve the way the world works and lives. Visit us at www.accenture.com.

# # #

Contact:

Mylissa Tsai
Accenture
+1 917 452 9729
mylissa.tsai@accenture.com

Copyright © 2019 Accenture. All rights reserved. Accenture, its logo, and High Performance Delivered are trademarks of Accenture.