April 23, 2019
Accenture Opens Innovation Hub in Shenzhen with Focus on Applied R&D


With local talent and extensive ecosystem relationships, company's first innovation hub in China will help clients accelerate growth and innovation.

SHENZHEN, China; April 23, 2019 – Accenture (NYSE: ACN) has opened a new Innovation Hub in Shenzhen, its first in China.
The new Accenture Innovation Hub specializes in advanced applied research and development (R&D) activities in artificial intelligence (AI), robotics and Industry X.0 — which is how Accenture defines the digital reinvention of industry — to help enterprise clients in China accelerate their innovations at scale and reimagine their global business models.

As one of a growing number of Accenture Innovation Hubs with world-class applied R&D capabilities and professionals, the Accenture Innovation Hub in Shenzhen will bring the company's latest thinking, capabilities and ability to build prototypes of new solutions to help Chinese companies drive innovation. The Innovation Hub will work closely with Chinese technology companies, start-ups and academic institutions to identify and develop new concepts and propel innovation in the Guangdong-Hong Kong-Macau Greater Bay Area and beyond.

"Innovation is crucial to the sustained growth of all enterprises, and Shenzhen is the epicenter of innovation in the emerging Greater Bay Area," said Wei Zhu, chairman of Accenture Greater China. "The new Accenture Innovation Hub in Shenzhen demonstrates our strong commitment to building a more robust innovation ecosystem for our clients in Greater China and positions us to help clients apply disruptive technologies to accelerate their digital transformation journeys and stay ahead of the game."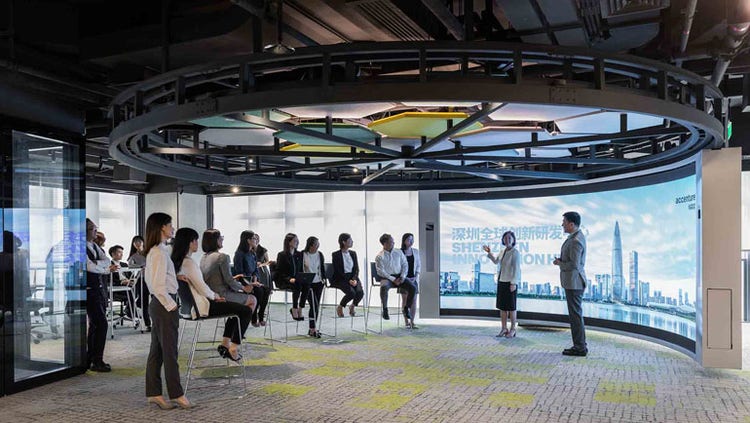 Accenture Innovation Hub in Shenzhen

The Accenture Innovation Hub in Shenzhen brings together Accenture Research, Accenture Labs, Accenture Ventures and Accenture Liquid Studios — which are integral parts of the Accenture Innovation Architecture — to help clients develop and deliver disruptive innovations by understanding, incubating, prototyping and piloting new solutions and then scaling to capitalize on those new innovations.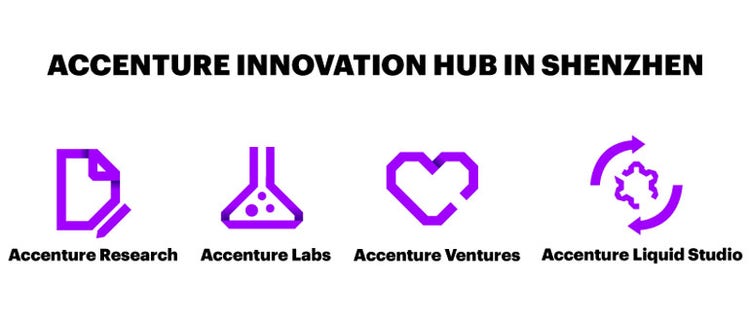 Accenture Labs shape the future of business and technology by applying leading-edge technologies, including AI and robotics, to reinvent how businesses operate and grow. The initial focus of the Accenture Lab in Shenzhen will be applying in-depth research related to AI, immersive technologies, robotics to transform the way products are designed, manufactured and experienced by users and to help support the Accenture Industry X.0 global agenda.

"As the newest member of our global Labs network, the Accenture Lab in Shenzhen focuses on applying disruptive technologies in unique ways," said Marc Carrel-Billiard, global senior managing director of Accenture Labs. "The pioneering R&D innovations we are building at the Lab will tap into the tremendous technology innovation and ecosystem in the region and be applied to create new growth for our clients in China."

Full capabilities at the Innovation Hub include:
Accenture Research, which combines industry knowledge and advanced research technologies to reveal important business trends and insights in the Chinese market.
Accenture Labs, which helps clients shape the future by incubating new concepts with breakthrough technology capabilities through applied R&D projects.
Accenture Ventures, which serves as a bridge to the global innovation ecosystem, unlocks growth opportunities for our clients by bringing them together with best-in-class emerging enterprise startups to accelerate their transformation.
Accenture Liquid Studios, which helps companies transform concepts into business solutions through rapid software application development and prototyping.
"Emerging technologies led by AI and robotics will drive the next wave of technological and industrial transformation," said Jin Jia, managing director, Accenture Greater China Technology Group Lead. "The Accenture Innovation Hub in Shenzhen will take advantage of the vast opportunities created by disruptive technologies and Accenture's world-class R&D capabilities to help companies bring innovation to life and offer better products and services to consumers, employees and clients."

The Innovation Hub also collaborates with a wide range of ecosystem partners in the Greater Bay Area to accelerate joint solutions development. Clients from across industries can experience innovation at scale through customized visits, design thinking sessions and co-innovation workshops in a highly collaborative, immersive environment.

Located in the high-tech industrial park of the Shenzhen Economic Zone, the Shenzhen Innovation Hub joins other Accenture Innovation Hubs in Bengaluru, India; Tokyo; Zurich; Canberra, Australia; Singapore; as well as 11 Innovation Hubs in North America, including in Atlanta; Boston; Chicago; Columbus, Ohio; Detroit; Houston; New York; San Francisco; Seattle; Washington, D.C. and Toronto; as well as The Dock in Dublin.

About Accenture
Accenture is a leading global professional services company, providing a broad range of services and solutions in strategy, consulting, digital, technology and operations. Combining unmatched experience and specialized skills across more than 40 industries and all business functions — underpinned by the world's largest delivery network — Accenture works at the intersection of business and technology to help clients improve their performance and create sustainable value for their stakeholders. With 477,000 people serving clients in more than 120 countries, Accenture drives innovation to improve the way the world works and lives. Visit us at www.accenture.com.

# # #

Contacts:

Irene Han
Accenture
+86 21 2305 3348
irene.ying.han@accenture.com

Minjie Zha
Accenture
+86 13564382350
minjie.zha@accenture.com