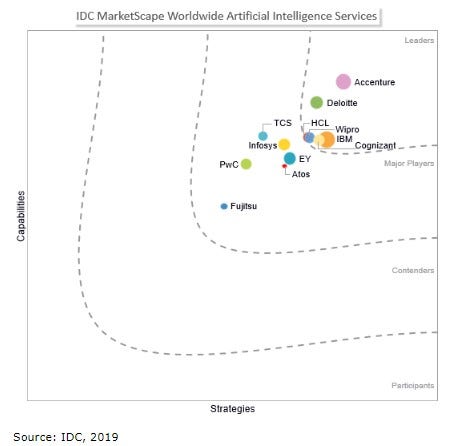 SOURCE: "IDC MarketScape: Worldwide Artificial Intelligence Services 2019 Vendor Assessment,"
by Jennifer Hamel and Ali Zaidi, April 2019, IDC # US44514819

IDC MarketScape vendor analysis model is designed to provide an overview of the
competitive fitness of ICT suppliers in a given market. The research methodology utilizesa rigorous
scoring methodology based on both qualitative andquantitative criteria that results in a single
graphical illustration of each vendor's position within a given market. The Capabilities score
measures vendor product, go-to-market and business execution in the short-term.
The Strategy score measures alignment of vendor strategies with customer requirements
in a 3-5-year timeframe. Vendor market share is represented by the size of the circles. Vendor
year-over-year growth rate relative to the given market is indicated by a plus, neutral
or minus next to the vendor name.
IDC MarketScape evaluated the Capabilities and Strategies of 12 AI services providers, including the AI services that are utilized to assess, plan, design, implement, and operate AI software platforms, AI applications, and AI-enabled automation of rule-based tasks and processes.

The IDC MarketScape recognized Accenture's deep industry and technical expertise to help clients use analytics, AI, and automation to achieve intelligence at scale, as well as Accenture's strategies around "innovation and R&D, skills, and channel improvement via alliances."

"Smart investments in both skills and technology solutions to build out Accenture Applied Intelligence gave Accenture a strong position in the AI services market," said Jennifer Hamel, research manager, Analytics and Intelligent Automation Services, IDC. "The company's industry-led, strategic approach and end-to-end services capabilities help clients achieve their desired business outcomes through AI adoption."

"We are very pleased to be named a leader worldwide for AI services," said Dr. Athina Kanioura, chief analytics officer and global head of Applied Intelligence, Accenture. "This recognition is a huge testament to the hard work of the more than 20,000 AI professionals in our company who are helping our clients apply AI to tackle business challenges and embrace new ways of working. The notion of human + machine partnership is one of the fundamental building blocks of how Accenture leverages cognitive platforms, AI and deep industry expertise to drive differentiation and scale for our clients, and this report is an acknowledgement that our approach is working."

The IDC MarketScape follows two HfS Top Ten reports ranking Accenture number one in both Microsoft AI Services and Google AI Services for 2019.

About Accenture
Accenture is a leading global professional services company, providing a broad range of services and solutions in strategy, consulting, digital, technology and operations. Combining unmatched experience and specialized skills across more than 40 industries and all business functions — underpinned by the world's largest delivery network — Accenture works at the intersection of business and technology to help clients improve their performance and create sustainable value for their stakeholders. With 477,000 people serving clients in more than 120 countries, Accenture drives innovation to improve the way the world works and lives. Visit us at www.accenture.com.

Accenture Applied Intelligence, part of Accenture Digital, applies artificial intelligence and human ingenuity at the core of business to help clients solve their most complex business problems. By deploying AI responsibly and combining it with our deep industry and analytics expertise, we enable the digital transformation of organizations, extend human capabilities, and make intelligent products and services a reality. Follow @AccentureAI and visit accenture.com/appliedintelligence.

About IDC MarketScape: IDC MarketScape vendor assessment model is designed to provide an overview of the competitive fitness of ICT (information and communications technology) suppliers in a given market. The research methodology utilizes a rigorous scoring methodology based on both qualitative and quantitative criteria that results in a single graphical illustration of each vendor's position within a given market. IDC MarketScape provides a clear framework in which the product and service offerings, capabilities and strategies, and current and future market success factors of IT and telecommunications vendors can be meaningfully compared. The framework also provides technology buyers with a 360-degree assessment of the strengths and weaknesses of current and prospective vendors.
# # #


Contact:

Kathryn Rosati
Accenture
+917 452 6662
kathryn.rosati@accenture.com