Everest Group highlighted Accenture's end to end IoT capabilities, strong ecosystem of partnerships and global delivery capabilities. The analyst noted that, "Accenture is making investments to connect clients with academia and industry experts, thereby enabling its clients to address key business issues." A distinguishing feature of Accenture's 2018 market success is its customer intimacy and partnership approach, which leads to high client satisfaction, according to the report.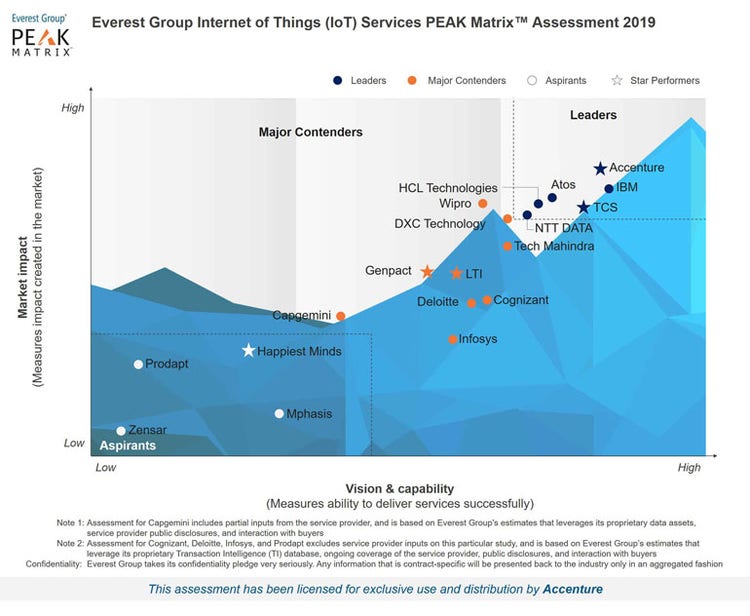 "Our IoT capabilities help companies drive new levels of monetization and efficiency from disruptive technologies and connected intelligent devices," said Aidan Quilligan, managing director and global lead for Accenture Industry X.0. "Being named an IoT Leader by Everest Group for three years in a row underscores the strength and maturity of our Industry X.0 offering, spanning Connected Products & Services, Engineering, Manufacturing, and Digital Production & Operations."

"As enterprises gain confidence in IoT and expectations from service providers rise, a blend of mature in-house solutions and advanced technologies has helped Accenture deliver transformational impact for its clients," said Yugal Joshi, vice president, Everest Group. "Leveraging its partnership programs with academia has helped Accenture foster innovation and address key business issues for clients."

The Everest Group's PEAK Matrix™ assesses the relative market success and overall capability of service providers. For this report, Everest Group evaluated 19 leading service providers for their IoT capabilities based on various criteria, including infrastructure security, device and sensor engineering, platform integration, and applications and data analytics service.

About Accenture
Accenture is a leading global professional services company, providing a broad range of services and solutions in strategy, consulting, digital, technology and operations. Combining unmatched experience and specialized skills across more than 40 industries and all business functions — underpinned by the world's largest delivery network — Accenture works at the intersection of business and technology to help clients improve their performance and create sustainable value for their stakeholders. With more than 469,000 people serving clients in more than 120 countries, Accenture drives innovation to improve the way the world works and lives. Visit us at www.accenture.com.

Accenture Industry X.0 helps businesses master the digital reinvention of industry when they use advanced digital technologies to transform core operations and unlock new revenue streams and business models. We support every aspect of our clients' multi-phase transformation including workforce, customer experience, R&D, engineering, manufacturing, business support and ecosystems. Visit https://www.accenture.com/industry-x0.

This document makes descriptive reference to trademarks that may be owned by others. The use of such trademarks herein is not an assertion of ownership of such trademarks by Accenture and is not intended to represent or imply the existence of an association between Accenture and the lawful owners of such trademarks.

# # #

Contact:

Jens R. Derksen
Accenture
+49 175 57 61393
jens.derksen@accenture.com


Copyright © 2019 Accenture. All rights reserved. Accenture, its logo, and High Performance. Delivered. are trademarks of Accenture.