June 17, 2019
Accenture Launches "Marketing Disrupted" Podcast Series to Help CMOs and Their Organizations Thrive in the Age of Digital Disruption


Seven-episode series is hosted by Accenture's Brent Chaters and technology reporter Amber Mac

TORONTO; June 17, 2019 – Accenture (NYSE: ACN) today launched Marketing Disrupted, a seven-episode podcast series focusing on key themes and challenges that chief marketing officers (CMOs) face in this age of digital disruption.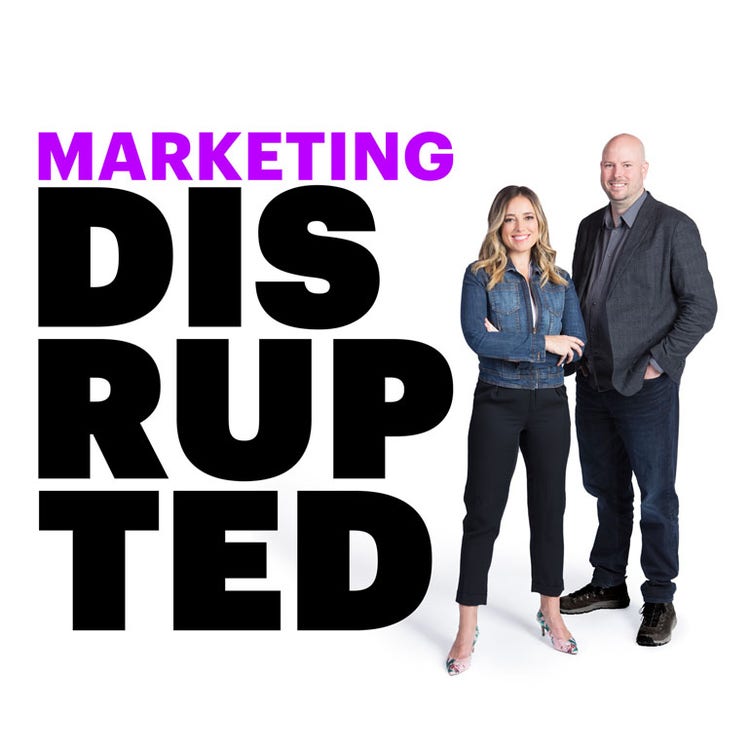 Through interviews with forward-thinking CMOs and other leaders, the series highlights the explosive pace of technology and its impact on the challenges of today's CMO.

Hosted by Brent Chaters, managing director of Accenture's Digital Customer & Marketing Transformation practice in Canada, and technology reporter Amber Mac, the series provides insights to help navigate the evolving demands and technological changes within the marketing organization, as well as within companies as a whole.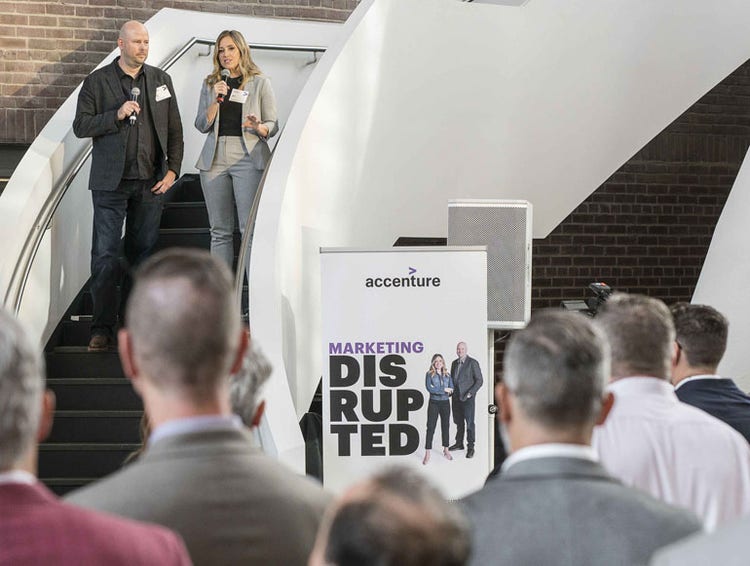 Amber Mac, technology and marketing reporter, right, and Brent Chaters, managing director of Accenture's Digital Customer & Marketing Transformation practice in Canada, launch Marketing Disrupted, a new podcast produced
by Antica Productions and Entertainment One, to help CMOs and their organizations thrive in the age of digital
disruption at an event in Toronto, Ont. on Monday, June 17, 2019.
The Canadian Press Images PHOTO/Accenture
"More Canadian CMOs are beginning to recognize the new responsibilities on their agenda, and this podcast is about understanding the value of reinventing their role in an era of profound change and disruption in order to thrive in the future marketspace," Chaters said. "It's an exciting time to be having these conversations with true leaders and experts in this space, as we at Accenture work hand-in-hand on these challenges with some of the world's largest organizations."

Mac said, "In our ever-connected world, there is no business success without marketing success. In Marketing Disrupted, we dive into what it takes stand out, make a difference, and see results. We talk to leading marketing executives, lifelong marketing celebrities, and new marketing disruptors."

Each episode of Marketing Disrupted examines key themes and explores common challenges and case studies that will inspire listeners to take new ideas, strategies and questions back to their own organizations and teams. Notable guests include:
Theresa McLaughlin ‒ global CMO, TD Bank Group;
Lara Skripitsky ‒ vice president & chief technology officer, McDonald's Restaurants of Canada Ltd.;
Diana Helander ‒ head of marketing, data and enterprise solutions, Twitter;
Justin De Graaf ‒ head of research & insights, ads marketing, Google;
Randy Weyersberg – CMO and VP of brand & marketing, OLG;
Loni Stark ‒ senior director of strategy & product marketing, Adobe;
Alexander Lvovich ‒ managing director, Volvo Car Canada;
Arati Sharma ‒ director of marketing, Shopify;
Guy Kawasaki ‒ chief evangelist of Canva; brand ambassador for Mercedes-Benz; former chief evangelist of Apple; speaker & author;
Betsey Chung ‒ SVP and chief marketing officer, TD Canadian Banking; and
Aaron Sanandres ‒ CEO and co-founder, UNTUCKit.

The seven episodes of Marketing Disrupted — available for download now, on all streaming platforms including iTunes/Apple Podcasts and Google Play — are:
Episode 1: Who is the New CMO? examines how leading CMOs have adapted from what was expected of the "traditional career path" to the new responsibilities and ways of working.
Episode 2: Balancing Data and Desire takes a deep dive into how marketers can best use Google to shape their creative messaging while understanding the future of data privacy and how to find a balance between offering highly personalized experiences while respecting customer privacy.
Episode 3: Brands Online: Marketing, Tech and Social Media explores how emerging technology and digital tools are helping brands enhance customer experience and engagement, and the advantages of making real-time adjustments to improve ROI.
Episode 4: The Art and Science of Marketing and Gaming focuses on how technology can help us understand consumers better and create personal experiences, how to prioritize industry-specific data for personalization, and how to leverage data-sharing platforms in a data sharing economy.
Episode 5: Walking the Walk discusses the role that corporate social responsibility (CSR) plays in reinforcing purpose and building brand trust with customers, understanding how to effectively embed CSR in the brand's marketing strategy, and how employee buy-in for a company's CSR strategy is essential to an engaged workforce.
Episode 6: The Little Companies That Could unpacks some of the more significant disruptions in the industry, looking at key lessons on when a company should disrupt itself, the technology marketers should consider to drive their brands, and the secrets to keeping teams motivated to reach new heights.
Episode 7: What Does it All Mean? discusses best practices for marketers today, important lessons top marketing executives have learned from, how CMOs must evolve to survive in the ever-changing marketing world, and predictions for the future of marketing disruption.
Marketing Disrupted, produced by Stuart Coxe at Entertainment One's Podcast Network, is the third podcast series sponsored by Accenture. The AI Effect, a two-season series that explored AI with a range of guests, including Toronto Mayor John Tory and Prime Minister Justin Trudeau, ranked among Canada's top business news podcasts, with more than 60,000 cumulative downloads in 82 countries.

About Accenture
Accenture is a leading global professional services company, providing a broad range of services and solutions in strategy, consulting, digital, technology and operations. Combining unmatched experience and specialized skills across more than 40 industries and all business functions — underpinned by the world's largest delivery network — Accenture works at the intersection of business and technology to help clients improve their performance and create sustainable value for their stakeholders. With 477,000 people serving clients in more than 120 countries, Accenture drives innovation to improve the way the world works and lives. Visit us at www.accenture.com.
# # #


Contact:

Theresa Ebden
Accenture
+1 416 358 6741
theresa.ebden@accenture.com