May 16, 2019
Accenture Introduces INTIENT™, an Innovative Platform to Advance the Discovery, Development and Delivery of Patient Treatments

NEW YORK; May 16, 2019 – Accenture (NYSE: ACN) today introduced INTIENT™, a technology platform that vastly improves the continuity and flow of data across life sciences enterprises, supporting the delivery of ground-breaking treatments for patients.
Building upon Accenture's market-proven platforms for research, clinical development, pharmacovigilance and patient services, INTIENT enables the rapid integration of new technology, and advanced analytics powered by Accenture Applied Intelligence.

Designed with an open architecture, Accenture INTIENT will help life sciences companies advance:
Data security, through compliant data ingestion, storage and processing;
The application of artificial intelligence and advanced analytics – including robotic process automation and machine learning – to provide novel and actionable insights;
Collaboration across the enterprise, unifying functional teams with common data insights and metrics;
Access to an external partner network, removing barriers to entry for technology, data and service providers; and
Productivity through more efficient, streamlined technology systems.

Accenture INTIENT addresses a clear need within the life sciences industry. A recent survey by IDC Health Insights*, found that more than 98% of 126 pharmaceutical and biotechnology executives said that the ability to use data from other functional areas was important or very important to achieving their company's business strategy, and that 94% said the same of the ability to apply advanced analytics and/or artificial intelligence to data from across the organization.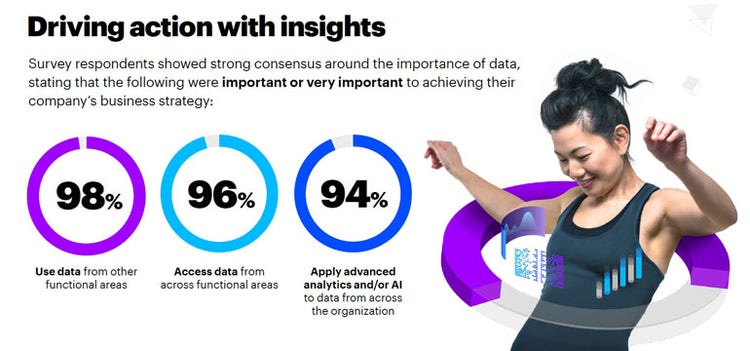 Copyright © 2019 Accenture. All rights reserved.

IDC's survey also revealed a critical disconnect that INTIENT will help to address: Although three-quarters (75%) said that improving their ability to connect, share and analyze data from across the organization is critical to their company's success, more than half (51%) said they do not have a clear path toward achieving that goal.

"Important insights that could lead to the discovery, development and delivery of promising new treatments are too often trapped within the functional silos of pharmaceutical and biotechnology companies," said Kevin Julian, a senior managing director in the Accenture Life Sciences practice. "With INTIENT, our clients will be able to generate insights from research through to patient services, and even further with our plans to expand into other functions. The results will accelerate the delivery of life-changing treatments to patients."

Alan Louie, Ph.D., research director for Life Sciences at IDC Health Insights, said, "In this recent survey, and in IDC's industry analysis, we can see that life sciences companies understand the benefits of implementing more connected, capable technology systems, yet have limited agreement on the best path forward to solve this challenge. Clearly, there is work to do for the industry to realize the potential of end-to-end connectivity, and solutions such as Accenture INTIENT could prove to be a step forward in those efforts."

In addition to offering unique connectivity and capabilities, INTIENT also includes these established platforms:

Learn more about Accenture INTIENT.

* IDC Survey, sponsored by Accenture, The Case for Connectivity in the Life Sciences, 2019

About Accenture
Accenture is a leading global professional services company, providing a broad range of services and solutions in strategy, consulting, digital, technology and operations. Combining unmatched experience and specialized skills across more than 40 industries and all business functions — underpinned by the world's largest delivery network — Accenture works at the intersection of business and technology to help clients improve their performance and create sustainable value for their stakeholders. With 477,000 people serving clients in more than 120 countries, Accenture drives innovation to improve the way the world works and lives. Visit us at www.accenture.com.

Accenture Applied Intelligence, part of Accenture Digital, applies artificial intelligence and human ingenuity at the core of business to help clients solve their most complex business problems. By deploying AI responsibly and combining it with our deep industry and analytics expertise, we enable the digital transformation of organizations, extend human capabilities, and make intelligent products and services a reality. Follow @AccentureAI and visit accenture.com/appliedintelligence.
# # #


Contact:

Kathryn Hamilton
Burson Cohn & Wolfe
+1 (202) 530-4541
Kathryn.hamilton@bcw-global.com

Anthony Hatter
Accenture
+44 7810 756 138
anthony.hatter@accenture.com