November 28, 2019
Accenture Interactive Wins Gold for Digital Agency of the Year from Campaign Asia-Pacific

TOKYO; November 28, 2019 ‑‑ Accenture Interactive has taken home the Gold in the Digital Agency of the Year category (Japan region) in Campaign's 2019 Agency of the Year awards. The annual awards were presented at a ceremony last night by Campaign Asia-Pacific, a leading advertising and marketing magazine.
This is the second time in which Accenture Interactive was recognized with the highest award of Gold for Digital Agency of the Year. Accenture Interactive — together with its Japanese subsidiary, IMJ Corporation — is a new breed of experience agency that helps businesses adopt an innovation-led approach and transform into experience-led organizations.

Accenture Interactive was awarded in the following categories:
Agency Categories – Japan region

Digital Agency of the Year – Gold for Accenture Interactive
Consultancy of the Year – Gold for Accenture Interactive
Best Culture – Silver for Accenture Interactive

People Categories – Japan region

Account Person of the Year – Gold for Todd Brininger, senior manager at Accenture Interactive
Channel/Engagement Planner of the Year – Gold for Naoki Hiraoka, senior manager at Accenture Interactive
New Business Development Team of the Year – Gold for Business Architect at IMJ
Junichiro Kurokawa, Accenture Interactive lead and CEO of IMJ, says, "Clients are looking increasingly for multi-disciplinary capabilities spanning creative, marketing, data and technology, and business consulting – an essential mix for the modern-day marketer. We're proud that Campaign Asia-Pacific has recognized our success in reinventing the agency model, in a world in which experience is the battleground and key differentiator for brands. Whether through our Japan Innovation Hub or the recently launched Fjord studio in Tokyo, Accenture Interactive continues to reinvent experiences for clients."

Running for 26 years, Campaign Asia-Pacific's Agency of the Year is celebrated as the region's most prestigious awards program recognizing inspired leadership, management excellence, outstanding business performance and overall achievements in advertising and communications industry across Asia-Pacific. Read more at: http://aoyawards.com/network/.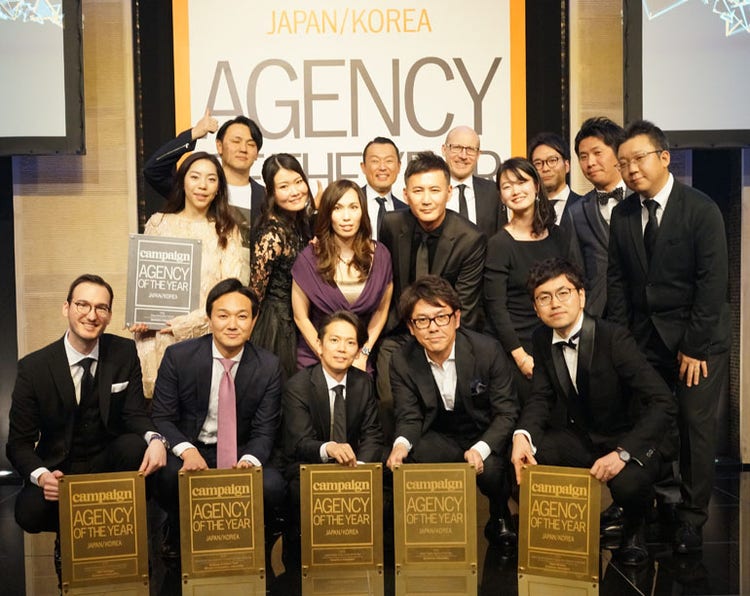 The Accenture Interactive Japan team at the award ceremony, held at the Mandarin Oriental Hotel, Tokyo
About Accenture
Accenture (NYSE: ACN) is a leading global professional services company, providing a broad range of services and solutions in strategy, consulting, digital, technology and operations. Combining unmatched experience and specialized skills across more than 40 industries and all business functions — underpinned by the world's largest delivery network — Accenture works at the intersection of business and technology to help clients improve their performance and create sustainable value for their stakeholders. With 492,000 people serving clients in more than 120 countries, Accenture drives innovation to improve the way the world works and lives. Visit us at www.accenture.com.

Accenture Interactive helps the world's leading brands transform their customer experiences across the entire customer journey. Through our connected offerings in design, marketing, content and commerce, we create new ways to win in today's experience-led economy. Accenture Interactive is ranked the world's largest digital agency in the latest Ad Age Agency Report for the fourth year in a row, and was named a 2019 Most Innovative Company in Advertising by Fast Company. To learn more, follow us @AccentureSong and visit www.accentureinteractive.com.

# # #

Contacts:

Kazumi Yamada and Junko Yoshino
Accenture Japan
+81 45 330 7157
accenture.jp.japan@accenture.com

David LaBar
Accenture
+1 646 456 4505
david.labar@accenture.com

Copyright © 2019 Accenture. All rights reserved. Accenture and its logo are trademarks of Accenture.