May 14, 2019
Accenture Federal Services Boosts Investment in Government IT Modernization with Expanded Digital Studio in Washington, D.C.


Digital Studio doubles in size to meet growing demand from federal agencies for digital services
WASHINGTON; May 14, 2019 – Accenture (NYSE: ACN) has expanded the Accenture Federal Digital Studio (Studio) in Washington, D.C., nearly doubling its size to more than 20,000 square feet and expanding its diverse team of designers, developers, data scientists, technologists and other digital experts. Together they work side by side with clients, to quickly provide the digital solutions that federal leaders need to transform their agencies.
Providing leading service-design methods and advanced technology expertise, the Studio helps federal agencies deliver better experiences for their customers and workforces and advance mission outcomes at a speed and scale beyond what is possible with traditional methods. Through AI, analytics and other advanced technologies, the expanded Studio will help clients create digital solutions with cutting-edge human-centered design and rapid prototyping approaches.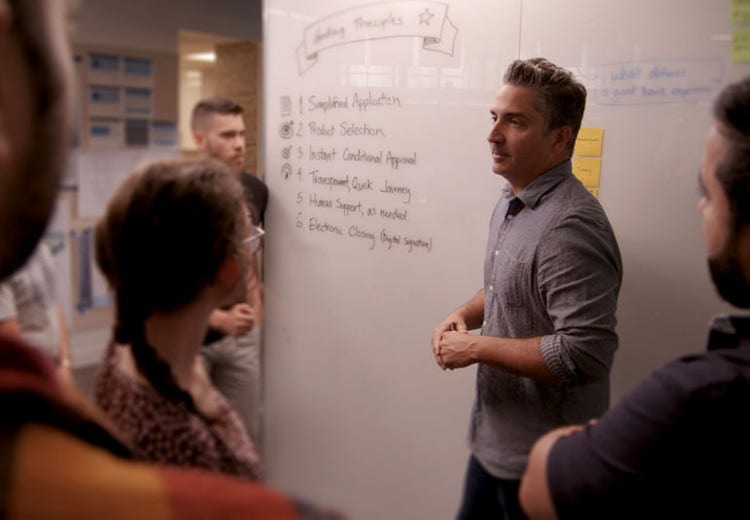 Randy Rodriguez, Digital Group Design Director, Accenture Federal Services

"Our newly expanded Studio will help government leaders gain new perspectives, embrace new technologies faster, adopt successful approaches from the private sector, and activate them for the good of our society and our nation," said John Goodman, CEO of Accenture Federal Services (AFS). "The response from clients has been tremendous. It's powerful when we work together to reimagine what is possible and create new opportunities for impact."

The Studio, which opened in 2016, features a Fjord Design & Innovation team. Fjord's 29 studios are renowned for their award-winning human-centric and service-design approaches that have transformed both public and private sector organizations.

"The need to navigate what people need amid forces of change is more critical than ever before," said Randy Rodriguez, Studio group director, Fjord Design and Innovation lead. "Every day, we embrace our opportunity to design solutions that create positive, lasting change for our clients, the federal workforce and society. "We are proud that our work is enabling government to deliver the intuitive, seamless and delightful experiences that citizens now expect."

The Studio expansion also enables clients to experience the Accenture Insights Platform for Government (AIP) Discovery Lab and the AI Innovation Hub:
The Discovery Lab is a FedRAMP certified platform as a service. It brings together leading data science and modeling capabilities to help federal customers solve their most intractable challenges. By using integrated data strategies, agencies can produce more valuable insights from their data at scale to be more agile, responsive and effective.
The AI Innovation Hub allows clients to see how a mix of AI capabilities can be used to advance what's possible and drive business breakthroughs. Working with data scientists, designers and engineers, clients can use proven commercial AI solutions and human centered design practices to redefine what they do and how they work.

Dominic Delmolino, Accenture Federal Services' chief technology officer, said, "The relationship between technology and human-centric mission outcomes has never been stronger, and collaboration is vital to delivering more value for citizens, employees and other stakeholders. By integrating and accelerating advanced technology solutions and experiences — using mixed reality, applied intelligence, machine learning, blockchain and quantum computing — the Studio helps clients move digital projects quickly from vision to roadmap to real-world deployment while advancing their IT modernization and innovation agendas."

Since the Studio opened less than two and a half years ago it has become a leading innovation partner helping unlock trapped value for agencies across all sectors of the federal government.

Recently, the U.S. Navy engaged Accenture to transform its existing readiness operations and digital capabilities for next-generation user experiences and technical solutions. Working with Navy stakeholders in supply, maintenance and logistics, the Studio helped uncover service and business process improvements, as well as technical outcomes, in a span of just six months. The joint team developed a future user experience and prototype — which includes re-engineered workflows, automated data collection, and robotic process automation — to provide a foundational design for future enterprise readiness solutions.

The Studio team is also working with the U.S. Department of Agriculture's Animal Care group to move key processes online, reducing the regulatory burden on customers by enabling them to submit documentation electronically. The team has taken a human-centered approach to system development, using extensive feedback from customers and employees and developing an online self-service tool to help customers understand their licensing and registration needs.

The Studio is part of Accenture's growing network of design and innovation studios, which include U.S. locations in Atlanta; Boston; Chicago; Columbus, Ohio; Detroit; Houston; New York; and San Francisco. Accenture Innovation studios are key components of the Accenture Innovation Architecture, a network of research, design, innovation and delivery centers that bring disruptive innovations to clients. AFS draws on this network to bring leading insights, talent, capabilities and commercial approaches to government.

About Accenture Federal Services
Accenture Federal Services, a wholly owned subsidiary of Accenture LLP, is a U.S. company with offices in Arlington, Virginia. Accenture's federal business has served every cabinet-level department and 30 of the largest federal organizations. Accenture Federal Services transforms bold ideas into breakthrough outcomes for clients at defense, intelligence, public safety, civilian and military health organizations. Learn more at www.accenturefederal.com.

About Accenture
Accenture is a leading global professional services company, providing a broad range of services and solutions in strategy, consulting, digital, technology and operations. Combining unmatched experience and specialized skills across more than 40 industries and all business functions — underpinned by the world's largest delivery network — Accenture works at the intersection of business and technology to help clients improve their performance and create sustainable value for their stakeholders. With 477,000 people serving clients in more than 120 countries, Accenture drives innovation to improve the way the world works and lives. Visit us at www.accenture.com.

# # #

Contact:

Jane Norris
Accenture
+1 571 414 4475
maryjane.o.norris@accenturefederal.com