July 10, 2019
Accenture Extends Commitment to Chicago Market with Expansion of Innovation Hub and Addition of 600 Tech Jobs in Renamed Accenture Tower


Accenture Tower will be home to company's 6,200 Chicago-based people and full breadth of capabilities to help clients rapidly co-create innovative solutions for the digital economy

CHICAGO; July 10, 2019 – Accenture (NYSE: ACN), in conjunction with Illinois Governor JB Pritzker and Chicago Mayor Lori Lightfoot, today announced that it is increasing its presence in Chicago by expanding its Chicago Innovation Hub, adding 600 highly-skilled tech jobs and growing its apprenticeship program.
By summer of 2022, Accenture will expand to seven floors of the Accenture Tower located at 500 West Madison, bringing together in one location its 6,200 Chicago-based employees.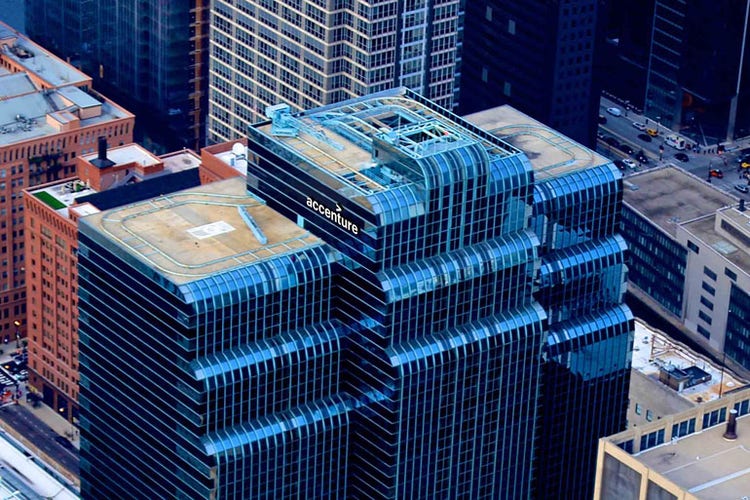 Accenture is expanding its Chicago Innovation Hub in the newly named Accenture Tower by 2022

"I'm thrilled that Accenture is expanding its footprint in Illinois, advancing its commitment to innovation and technology, and directly investing in our workforce through apprenticeships that create new opportunities for communities that need them," said Governor Pritzker. "This is the type of partnership that benefits students, workers, and the economy as a whole. It's clear the state of Illinois is open for business and I look forward to continuing to work with companies like Accenture to grow our economy and create jobs across the state."

To accommodate growing demand among its clients, Accenture will expand its Innovation Hub at Accenture Tower, a state-of-the-art destination where clients work side-by-side with Accenture teams to rapidly ideate, prototype and scale innovative products and services for the digital economy.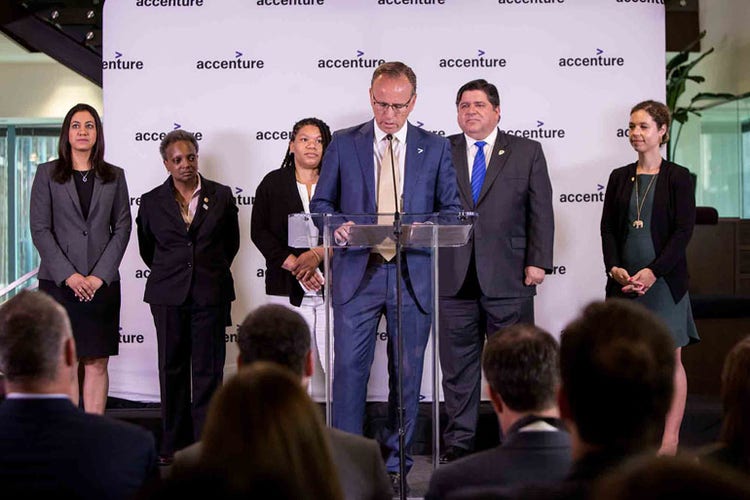 Chicago Office Managing Director Jim Coleman is joined by Chicago Innovation Hub Director Shivani Vora,
Chicago Mayor Lori Lightfoot, Accenture Apprentice Graduate Tiffany Spraggins, Governor of Illinois JB Pritzker
and Illinois Department of Commerce and Economic Opportunity Director Erin Guthrie, t
o announce Accenture's expansion in the Chicago market.

"Our clients, who are leaders in virtually every industry, are under tremendous pressure to harness the power of disruption for competitive advantage," said Pallavi Verma, senior managing director at Accenture who leads its business in the Midwest U.S. "With our continued investment in Chicago, we are bringing innovation to our clients, working side-by-side with them to reimagine their futures and solve their biggest challenges."

As part of its investment in Chicago, the company will also double its local apprenticeship program, committing to train 180 apprentices by the end of 2022. Started in 2016 in partnership with City Colleges of Chicago, Accenture's professional apprentice program provides greater opportunities to individuals who haven't had the opportunity to work in the technology industry and reskill those whose jobs have been disrupted, or will be disrupted, by technology.

"The City of Chicago is committed to inclusive growth that ensures the success of a thriving downtown extends across all of our city's neighborhoods and communities," said Mayor Lightfoot. "We thank Accenture for their continued investment in the City of Chicago, and for their partnership with the City Colleges of Chicago to expand apprenticeships that will unlock new career opportunities for our city's students."

One of FORTUNE's Best Places to Work in Chicago, Accenture is an active contributor to many of the city's technology-focused initiatives and incubators, including P33, 1871, Matter and mHub. Focused on helping grow the city's technology workforce, Accenture co-founded the Chicago Apprentice Network and also runs skills-development programs with Girls Who Code.

Jim Coleman, senior managing director at Accenture who leads its business in Chicago, said, "Our announcement today expands our longstanding commitment to this important market. The focus here is on our clients, our people and our communities, and we look forward to continuing to contribute to Chicago's fast-growing business and tech economy."

The Chicago Innovation Hub is part of a network of 11 Accenture Innovation Hubs in North America, with other locations in Atlanta; Boston; Columbus, Ohio; metro Detroit; Houston; New York; San Francisco; Seattle; Toronto; and metro Washington, D.C. These hubs are connected to more than 100 Accenture locations around the globe to seamlessly bring the best of the company's global investments and insights to its clients on the ground in North America.

Accenture in the United States
Accenture is a leading professional services company, providing a broad range of services and solutions in strategy, consulting, digital, technology and operations. Serving 95 of the Fortune 100 and more than 70 percent of the Fortune 500, Accenture employs an innovation-led approach to help clients imagine and invent their future. Accenture is consistently recognized as a Fortune Blue Ribbon Company and, with an unwavering commitment to inclusion and diversity, appears regularly on Fortune's 100 Best Companies to Work For and DiversityInc's Top 50 Companies for Diversity lists. The company has more than 50,000 people and operations in 42 cities in the United States. Visit us at accenture.com/US.

# # #

Contact:

Tina Janczura
Accenture
+1 312 719 5608
tina.janczura@accenture.com